| | |
| --- | --- |
| | Newswatch |
---
CITY TAKES OUT MANOA FOOTBRIDGE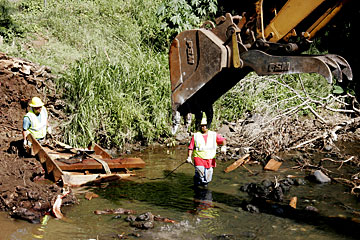 Pacific seabed quake triggers no tsunami
SYDNEY » A powerful earthquake rocked the seabed today between the Pacific island groups of Micronesia and Guam, the U.S. Geological Survey said on its Web site.
There were no immediate reports of injuries or damage, and the Hawaii-based Pacific Tsunami Warning Center did not immediately issue any warning that the quake could have generated a tsunami.
The 6.2-magnitude quake, four miles below the seabed, was centered 265 miles northeast of Yap in Micronesia and 270 miles west-southwest of Hagatna, Guam, the agency reported.
---
Police, Fire, Courts




By Star-Bulletin staff



NEIGHBOR ISLANDS
Pickup driver dies from injuries in accident
A 25-year-old Hakalau man died at the Queen's Medical Center yesterday from injuries received in a car crash on the Big Island on Friday.
The Hawaii Police Department identified the man as Keenan J. McCully.
South Hilo police said McCully apparently lost control of his pickup truck, which crossed the center line and hit a sign and utility pole.
McCully was traveling west on East Kawili Street in front of Hawaii Community College at the time of the accident, police said.
Fire rescue personnel transported McCully to the Hilo Medical Center. He was later flown to Queen's, where he died at 11:55 a.m. yesterday.
The two passengers in the pickup, a 26-year-old man and a 25-year-old woman, both from Hilo, were treated for minor injuries and released.
Police said speed appeared to be factor in the crash.
Police have ordered an autopsy to determine the exact cause of death.
This is the 35th traffic fatality on the Big Island this year compared with 39 the same time last year.
Accident proves fatal for Maui motorcyclist
WAILUKU » A 30-year-old Valley Isle man died after apparently losing control of his motorcycle and crashing in South Maui.
Joshua K. Feiteira was traveling north on Makena Alanui Road at about 4:50 p.m. Sunday when the crash occurred just south of Honoiki Street, police officer Lawrence Becraft said.
Feiteira was taken to Maui Memorial Medical Center, where he later died, Becraft said.
Traffic investigators are looking at whether excessive speed, alcohol or drugs could have contributed to the crash.
Feiteira's death is the island's 15th traffic fatality, compared with 19 at the same time last year.
LEEWARD OAHU
Police seek suspect in Ewa Beach shooting
Police are looking for a man who shot two men yesterday in Ewa Beach.
The incident took place at the 7-Eleven store near Makule and Fort Weaver roads about 2:15 a.m., police said.
Following a confrontation between two groups, a man in a black vehicle pulled into the parking lot and asked who was "making trouble" for his cousin.
Police said the suspect then pulled out a semiautomatic handgun and fired one round that struck two males, ages 17 and 19, in the shoulder. The suspect then fled in his vehicle, police said.
Police are investigating the case as an attempted murder.
EAST OAHU
Kahala Chevron store is robbed at gunpoint
Police are looking for a man who robbed a convenience store at a Kahala service station at gunpoint early yesterday. The man entered the store at the Chevron station, 4117 Waialae Ave., at 12:05 a.m., pulled out a handgun and demanded money, police said. He fled after receiving an undisclosed amount of cash.
The suspect is described as being between 17 and 20 years old, 6 feet tall and about 185 pounds, and was wearing a black T-shirt, dark shorts and a baseball cap. Anyone with information is asked to call 911.