---
[ FAST FACTS HAWAII ]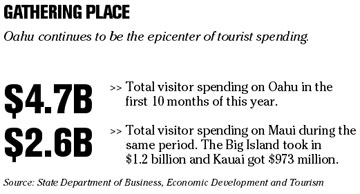 ---
BACK TO TOP


|


HAWAII
Bankoh shaking up senior management
Bank of Hawaii Corp.
will begin the new year with several senior management changes, Allan R. Landon, Bank of Hawaii's chairman and chief executive officer, announced yesterday.
The transitions, effective Jan. 2, will streamline the bank's commercial banking and investment services divisions as well as its retail banking and operations and technology divisions.
Peter Ho, formerly the executive vice president for commercial banking, has been promoted to vice chairman and chief banking officer of the Investment Services Group. As part of the promotion, Ho will become a member of the bank's board of directors and will take over responsibility of the Commercial Banking Group.
Vice Chairman Alton Kuioka, who was formerly in charge of the Commercial Banking Group, will continue as a vice chairman and member of the board, but will focus his attention on client relationships.
David Thomas, vice chairman of the Retail Banking Group, will become vice chairman and chief operating officer, assuming responsibility for the bank's Operations and Technology Division.
Vice Chairman Neal Hocklander, who was in charge of operations and technology, intends to leave the bank in June. In the interim, Hocklander will continue to serve on the Managing Committee and oversee Human Services and related activities.
Aiea to get $4 million retail center
Construction on the Pearl West Center, a new $4 million retail center in Aiea, began on Wednesday and is expected to be complete in approximately six months.
Located on the mauka side of Kamehameha Highway, the structure is being built on a site previously occupied by a Shell Oil gas station. Located diagonally from the Pearl Kai Center and the new Best Buy Waimalu store, the 9,000-square-foot center will house approximately 10 retailers. Tenant negotiations are already underway, said Thomas Campbell, a spokesman for the project, which is being developed by Honolulu-based real estate investment firm Nakamura Investment Group.
Retail interest in the center has been strong due recent population growth and lack of inventory in the area, as well as Hawaii's continued economic rebound, he said.
"We've had eight calls just this morning," Campbell said.
Hawaiian Air offers branded software
Hawaiian Airlines
has begun offering a branded computer desktop program as a marketing tool.
The Hawaii Anytime program provides local surf and weather reports, a streaming music feed from Honolulu radio station KINE, Web cam images and a calendar of events. The program also offers a vacation countdown timer and Hawaiian Air fare alerts. Rick Peterson, Hawaiian Air's senior director of e-business and marketing, said the program is aimed at "anyone who loves the islands but lives abroad."
The program, which requires a Windows computer, can be downloaded from www.hawaiianairlines.com/ hawaiianytime. The software, developed by Massachusetts firm AdTools Inc., does not collect individual user data, according to Hawaiian Air.
NATION
Delphi withdraws demands for cuts
Delphi Corp.
, after seeking to cut wages and jobs by as much at two-thirds, withdrew the demands and said it will enter talks with unions and former parent
General Motors Corp.
on a new deal.
Delphi will enter a "quiet period" as it tries to reach a "consensual" agreement, according to a statement yesterday. The company also set back by a month a deadline for voiding union contracts. If the talks fail, Delphi, the largest U.S. auto-parts supplier to file for bankruptcy, said it may return to the earlier demands.
Steve Miller, Delphi's chief executive, had sparked United Auto Workers protests across the nation with his stance. The leader joined Delphi on July 1, took the company into Chapter 11 bankruptcy on Oct. 8, and has said since that extreme measures are needed to return his company to profitability.
In other news ...
» The image of a distinctive chocolate bar on the dust jacket of a new book about the founder of the
Hershey Co.
violates its trademark, the candy maker said in a federal lawsuit. The company wants an injunction to prevent publisher
Simon & Schuster Inc.
from using Hershey-owned images to market "Hershey: Milton S. Hershey's Extraordinary Life of Wealth, Empire and Utopian Dreams," which is coming out next month.