---
[ FAST FACTS HAWAII ]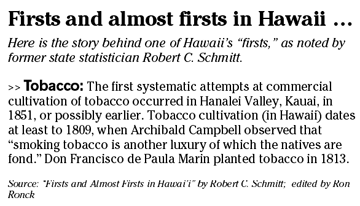 ---
BACK TO TOP


|


NATION
Go easy on the booze at the company party
It's the season of the company holiday party. There probably will be alcohol, so be careful, advises a career coaching firm.
The New York-based company, the Five O'Clock Club, offers a few tips for navigating this event.
» Don't drink excessively. You'll most likely regret it.
» Be aware that others, especially your bosses, are watching.
» Don't skip it. Being a team player means attending, in good cheer.
» Be friendly to all. No curt introductions, or exasperation. Instead of just telling people your name or what you do, explain what your team does, suggests Richard Bayer, the company's chief operating officer.
"People think they're at the party to have fun and let it all hang out," Bayer said. "But a company party is a business event and can help advance or can decimate your career. Though a holiday party may not feel like a business meeting, treat it as one."
San Jose tops 'nest egg' index
The nation's savings rate has been dismal in recent years as Americans revved up their spending.
A new study by brokerage A.G. Edwards & Sons Inc. offers some insight into areas where people are having better luck at building nest eggs. Not surprisingly, most of the areas had concentrated pockets of high-wage workers.
Topping the list was San Jose, Calif., the heart of Silicon Valley and high-tech entrepreneurial fortunes. No. 2 was Long Island's Nassau-Suffolk counties, just east of New York City.
The "Nest Egg Index" was compiled from savings propensity, 401(k) retirement plan penetration, non-401(k) retirement plans, investing propensity, net worth, owner-occupied housing value, first mortgage balance, personal debt level, home ownership, household income, cost of living and local employment rate. It covers the largest 200 U.S. cities and 318 metro areas.
Many don't like gift from work
Did you get a holiday gift at work? Did you like it?
If not, you're hardly alone. Nearly half the workers (48 percent) surveyed in a poll on corporate gifts said they didn't like what they'd gotten. The most common complaint cited was that the gifts received weren't useful, by 32 percent. Nearly a fourth, 24 percent, said the gift was "cheaply made."
The survey for San Francisco-based retailer Gap Inc. involved 1,327 adult workers, with 402 who said they had gotten a corporate gift.
What's the worst? Paper weights and calendars ranked high on the most horrid list, with coffee mugs, stuffed animals, pens, hams and fruitcakes also mentioned.
Just saying no -- to cashing in
One Wall Street executive atop a fast-growing firm is saying no to the piles of pay that make corporate America's world spin so splendidly. In a remarkable two-page letter to the chairman of his company's compensation committee, this executive requested that he receive no increase in salary, zero stock options, a smaller bonus than last year and a piece of the company's profit-sharing pie equal to that received by all employees. This, in a year when his company's revenue grew by more than 40 percent.
Who is this magnanimous executive? Ethan Berman, founder and chief executive of RiskMetrics, a private company that was formed at J.P. Morgan Chase and spun out to private investors in 1998. RiskMetrics, based in Manhattan, helps institutions and corporations assess risk in their investments; it is owned by its employees and three private equity firms. It will generate revenue of $100 million this year.