12 DAYS OF CHRISTMAS
A dozen days of gift ideas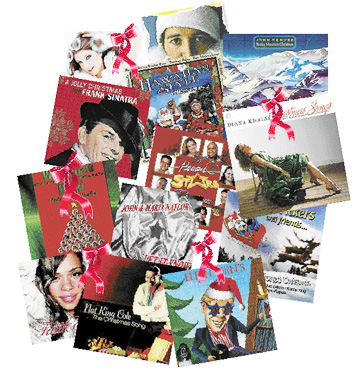 Several collections released this year offer a local spin to seasonal standards
Sixth of 12 Parts
New Christmas albums are as inevitable each year as busted budgets and shopping mall gridlock. Once in a long time there comes a new song with the impact of Elvis Presley's "Santa Claus Is Back in Town" or an album with the imagination of Phil Spector's 1963 masterpiece "A Christmas Gift for You," but they don't come often enough.
Henry Kapono's "Merry Christmas to You" remains a benchmark for imaginative local Christmas projects, but plenty more have been released each year by local artists and labels since 1989. Here is a quick look at the new titles for 2005:
» "An Old Fashioned Christmas," Opihi Pickers and Friends (Go Aloha Entertainment)
The Pickers have put out hit-and-miss albums over the years, but this is one of their hits. The "friends" turn out to be lead man Imua Garza working either solo or with Kamu Sing, Sing doing "My Christmas Prayer" with Clint Torres, and Kaipo Kapua performing solo on "The Christmas Song." Garza and co-producer Brett Ortone give the guests space to do their own thing but always maintain a sense of connection with the band's sound.
Garza makes several interesting choices with his passionate interpretation of "Mary, Did You Know?" The Pickers' instrumental arrangement of "Carol of the Bells," featuring ukulele and triangle, is also original and well executed.
The Pickers' catchy arrangement of "Mele Kalikimaka" is enhanced with an unfortunately uncredited snippet of "Santa Claus Is Coming to Town."
This is, by default, the best album of newly recorded Christmas music overall this year.
» "A Hawaii Stars Christmas," various artists (GF Production Co.)
It might not sound like a compliment, but the production values on this latest spinoff of the ever-popular "Hawaii Stars" karaoke contest are notably higher than previous releases. Eight recent contest participants are showcased on a mixed bag of Christian and secular Christmas classics, including two group numbers.
Kau'i Mead's rendition of "Joyful, Joyful" beautifully captures the spiritual foundation of Christmas. Kalani Cullen ("Mary, Did You Know?"), Frankie Villanueva ("The Christmas Song"), Siona Fruean ("O Holy Night") and Janel Akana ("Have Yourself a Merry Little Christmas") are also solid offerings, despite the unfortunate reliance on synth tracks.
Tina Nagamine's assault on "Rockin' Around the Christmas Tree," however, shows why the karaoke version will always fall short of Brenda Lee's buoyant original.
» "Hawaiian Style Christmas 2," various artists (Neos Productions)
This low-budget anthology could be a relatively good buy for shoppers, but it lacks needed annotation. For instance, is that the original HAPA singing "Little Drummer Boy," or the duo currently using the name? (It's beautiful, regardless.) And is "Christmas Wrapping" a vintage recording by the original Three Local Boyz -- Jimmy Da Geek, Alan "Da Cruzah" Oda and Lanai Boy-ee -- or something more recent? Several of the other acts are so obscure that biographical information is a must.
But give producer Patti St. John credit for some good choices amid this hodgepodge. Rodney Bejer's "Mele Kalikimaka on Christmas Day," Brothers & Sisters' "Christmas Medley" and Sunway's slightly melodramatic "Last Christmas" would be nice additions to anyone's iPod this season.
» "Let It Snow," John and Maria Naylor (Cows & Pigs Productions)
This unpretentious album by the guitarist and his singer-wife is a pleasant exception to the rule that most self-produced projects sound like demos. Their renditions of "Let It Snow," "The Christmas Song" and "Merry Little Christmas" show off their strengths. The guitar solo on "Merry Little Christmas" is a beautiful interlude on a fine interpretation of a seasonal standard.
» "Mele Kalikimaka," Waimanalo Keiki (Tradewinds)
The second reissue from the Tradewinds archives is a best bet for Hawaiian music fans looking for something traditional. It was "old school" even when it was recorded back in the mid-1970s.
Professional musicians provided most of the music but never overshadow the kids' voices. The kids' use of the ka'ekee'ke -- various lengths of bamboo tubes, and played as a group by hitting the closed end of the tube against the floor -- adds a rare but traditional sound. Translations are not included, but with one or two exceptions, these songs are all seasonal standards, with melodies known to all.
» "The Christmas Gift of Aloha," original soundtrack (Ohia Productions)
This beautifully packaged album is the soundtrack to 'Ohia Productions' seasonal musical at Ala Moana CenterStage. Roslyn Catracchia and David Kauahikaua share credit for the music, and although not all of the fresh and bright songs are Christmas music per se, the album is certain to brighten the season for many a keiki.
And give playwright/producer Lisa Matsumoto bonus points for emphasizing that Christmas is not about getting presents.
---
BACK TO TOP
|
Diana Krall's Holiday CD entry emphasizes basics
NEW YORK » Diana Krall made sure she did not overthink her "Christmas Songs" album. She just wanted to have fun.
So she lit candles, decorated a tree at a Los Angeles studio and invited the Clayton-Hamilton Jazz Orchestra -- in June.
The vibe paid off on this brassy collection of standards likely to find its way into CD players when friends and family gather for holiday parties.
"I wanted to make a happy record," she said. "I wanted to make a record that people would put on and they would all know. It's familiar. It's swinging, really swinging."
Some artists who make holiday discs make it difficult on themselves. They hunt for obscure material. They try to write new songs in a genre that has an extraordinarily high failure rate. They try to revise familiar melodies or use trendy production techniques.
Krall's guidelines were relatively simple. She stuck to American popular standards composers, time-tested melodies like "White Christmas," "Santa Claus Is Coming to Town" and "Have Yourself a Merry Little Christmas." She stayed away from religious material.
And she avoided the novelty stuff, recognizing the world does not need another "Santa Baby."
The disc is completely traditional, save for the Vancouver area resident's sly rewrite of "Winter Wonderland" to urge "frolic and play, the Canadian way."
"Christmas for me is all about coming home," she said. "I've been on the road for so many years, so Christmas has always meant coming home and seeing my family and friends and gathering together and singing together and cooking together and drinking wine together -- whatever. Just celebrating and reflecting on the past year. I always looked forward to it."
Two of the lesser-known songs on her disc are the melancholy "What Are You Doing New Year's Eve" and "Count Your Blessings Instead of Sheep." The latter she sees as a lullaby for troubled times. She was always enchanted by a version done by Rosemary Clooney, one of three women to whom she dedicates the disc for teaching her the joy of Christmas, along with her late mother and grandmother.
Clooney's music is something she always turns to around the holidays, along with Ella Fitzgerald and Frank Sinatra. Her version of "Let It Snow" is a tribute to Duke Ellington.
Music critic Kevin O'Hare of Newhouse News Service chimes in with his opinions of other new Christmas CDs available this year:
Besides Krall, another classy jazz singer, Jane Monheit, also has a new holiday album, "The Season," on Epic. The eclectic repertoire includes "Moonlight in Vermont," "I Heard the Bells on Christmas Day" and "Santa Claus Is Coming to Town."
Beach Boys co-founder Brian Wilson has released his first solo Christmas album, "What I Really Want for Christmas," on Arista. In addition to the title track, co-written with Elton John's lyricist Bernie Taupin, the CD features harmony-heavy favorites like "Deck the Halls" and "God Rest Ye Merry Gentlemen," as well as an updated version of the singer's old Beach Boys gem "Little Saint Nick."
There's also a 21-song multi-artist collection called "Elton John's Christmas Party" (HEAR Music), being sold exclusively through Starbucks Co.-operated stores. Most of the songs have been available before, but it's an impressive cast here -- Bruce Springsteen, John Mayer, U2, Chuck Berry, the Pretenders, the Band and others, as well as one new duet between John and Joss Stone titled "Calling It Christmas." The CD is a benefit to support John's AIDS Foundation.
Grammy-winner Anita Baker also delivers the goods on "Christmas Fantasy" (Blue Note/EMI), which features her rapturous voice on a mix of standards, Christmas carols and three new songs -- including the title track -- that she co-wrote.
"The First Lady" Faith Evans looks all ready for winter on the cover of "A Faithful Christmas" (Capitol), which features the urban soul favorite on a set that includes the Donny Hathaway classic "This Christmas" as well as James Brown's "Merry Christmas Baby."
Sisters Kate and Anna McGarrigle released a wonderful album with their extended family in 1998 called "The McGarrigle Hour." They've taken it a step further this time with "The McGarrigle Christmas Hour" (Nonesuch), a 15-track recording that features Kate's children Martha and Rufus Wainwright, along with Emmylou Harris and others.
The Brian Setzer Orchestra's "Dig That Crazy Christmas" (Surfdog) finds the ex-Stray Cat ripping it up on tracks like "'Zat You Santa Claus?" and "Santa Drives a Hot Rod."
Morning TV and smooth crooning fans will want to track down "The Regis Philbin Christmas Album" (Hollywood), while lovers of ultra-lite jazz will turn to Kenny G for "The Greatest Holiday Classics" (Arista). Ex-Doobie Brother Michael McDonald still sounds like a blue-eyed soul savior on "Through the Many Winters: A Christmas Album" (Hallmark), while George Winston, Jim Brickman, Liz Story and others gather for the atmospheric "A Windham Hill Christmas: The Night Before Christmas" on Legacy.
Bluegrass fans can celebrate the season with the brilliant Ricky Skaggs and his "Skaggs Family Christmas Album" (Skaggs Family) or with Tim O'Brien, Alison Brown and their band NewGrange on "A Christmas Heritage," which repackages a 1998 release. Elsewhere, a multitude of female country and Christian artists, including Jamie O'Neal, Allison Krauss and Tanya Tucker, gather for "Christmas Angels" on Capitol.
Reissues
One of the most popular holiday recordings ever has been reissued this year in the platinum-selling, long-out-of-print "Christmas Album" (Shout! Factory), by Herb Alpert and the Tijuana Brass.
Other notable seasonal reissues include Nat King Cole's "The Christmas Song" (Capitol/EMI), Frank Sinatra's "A Jolly Christmas from Frank Sinatra" (Capitol/EMI), Al Green's soulful "Feels Like Christmas" (Capitol/The Right Stuff/Hi), John Denver's "Rocky Mountain Christmas" (RCA/Legacy), the Four Tops' "Best of Four Tops: Christmas Collection" (Motown/Chronicles/UMe) and "The Best of Loretta Lynn: The Christmas Collection" (MCA/ Chronicles/UMe).