| | |
| --- | --- |
| | Island Mele |
---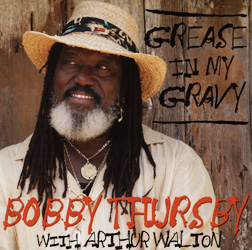 "Grease in My Gravy"
Bobby Thursby
(Samurai)
There are a good number of musicians around town who play the blues or classic R&B ("soul music"). Many are sincere acolytes and creditable disciples who do their best to sound like they grew up with it. That Bobby Thursby is the real thing is evident throughout his long-awaited album of unpretentious down-home soul music. It's the music that Thursby grew up playing way back before the mainstream media coined the term "soul music." He plays it well.
The title song offers a humorous look at male-female relationships: She wants her man eating tofu and nuts, he wants grease in his gravy, fatback and cornbread. Sad but true, some soul food staples aren't healthy choices. Thursby addresses that conundrum in fine style.
Other songs also view love from a humorous perspective. Like, what's a player to do when he's so bewitched by a woman that he can't even talk to other women without stuttering like a fool?
There are conventional love songs as well. Thursby celebrates the wonder of finding true love with "I Want 2 Thank You" and philosophizes on the issues of trust and commitment with "Pick My Lock." Both songs have the uneven rhyme patterns of old-style blues narratives. Some local artists would try using this pattern for effect and end up sounding like posers. Thursby does it naturally and everything works. Hawaii residents with a taste for authentic old-school soul will welcome Thursby's "Grease."
---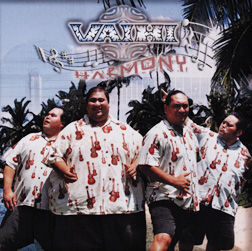 "Harmony"
Vaihi
(Vaihi Entertainment)
Vaihi introduced itself as a unique entity in local music with its debut album in 1997. Eight years later the quartet is still continuing to refine its imaginative blend of Hawaiian, Tahitian and mainstream American pop music. Their last album was entirely Tahitian albeit with a few English lyrics. With "Harmony" they return to the American mainstream but with much of the same Polynesian consciousness.
A cappella harmonies continue to be the foundation of the quartet's backyard sound. The high falsetto of Samuela "Braddah Sam" Longi Jr. is another important ingredient. A knack for providing percussion effects with old-style beat-boxing is a third. Once again, Vaihi's refreshing use of sound -- voices, instruments, studio effects -- makes their work interesting musically as well as for the positive messages contained in the lyrics.
In a market in which far too many acts dedicate themselves to copying other acts' ideas, Vaihi sets an important example with its originality.
www.vaihi.com
---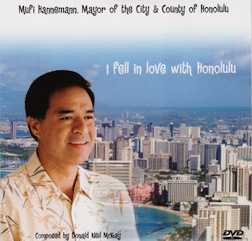 "I Fell in Love With Honolulu"
Mufi Hannemann
(Outrigger Entertainment)
Mufi Hannemann has stepped forward as Honolulu's singing mayor ever since his inauguration. He makes his official debut as a recording artist with the public release of this DVD single. Proceeds go to the Honolulu Hale Ho'okipa Project and will help refurbish historic Honolulu Hale. Unlike many local fundraiser projects, this isn't a cheaply produced "buy it for the cause" product.
The visuals are beautiful. Pi'ilani Smith becomes the focal point of the story as we watch her dancing on the beach. An assortment of scenic shots accentuates the message that this is a beautiful and romantic place. The song proves a perfect showcase for Hannemann's talents as a romantic balladeer, and David Kauahikaua's arrangement is several steps above the karaoke-grade music tracks used on many fundraiser and contest prize recording projects.
Copies of "I Fell in Love With Honolulu" were among the mementos given to those who attended the Honolulu Centennial banquet in November. It would be a great last-minute gift for friends on the mainland now that it is available to the public.
John Berger, who has covered the local entertainment scene since 1972, writes reviews of recordings produced by Hawaii artists. See the Star-Bulletin's Today section on Fridays for the latest reviews. Contact John Berger at
jberger@starbulletin.com
.