12 DAYS OF CHRISTMAS
A dozen days of gift ideas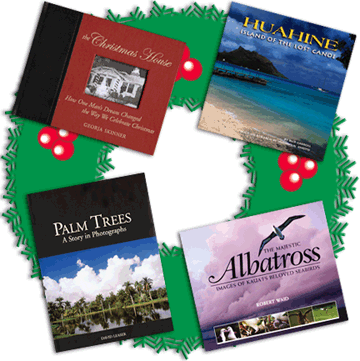 A polio patient thanks friends with a holiday home display
Fifth Of 12 Parts
Basically, two types of books are given away at Christmas. There's the book you really like that you want to share, and there's the book chosen cold that you hope the recipient will like, but you haven't read. You probably didn't even leaf through it.
We've got some examples of both kinds here, all with local connections.
Pride of place goes to "The Christmas House" by Georja Skinner (New World Library, $19.95). Skinner, a Maui-based TV sound mixer and film-industry contact, wrote this reminiscence of her father based on scrapbooks and files she and her sister found after he passed away, and what a story it is -- Hollywood should be knocking on her door.
George Skinner was an average teenage boy growing up in Los Angeles during the 1930s, living alone with father Albert, who worked in a metal shop. George's snowy childhood memories of brothers and a mother in Canada bothered him, however, and his father was purposefully vague about what happened to the rest of the family.
One day George is struck motionless by polio -- yes, it hits just like that -- and he's rushed into an iron lung. Trapped and paralyzed, he forces his father to reveal just a bit of the family past. A nurse's aide takes a fancy to him, as do his neighbors and church, all of whom pitch in during his painful rehabilitation. Even Eleanor Roosevelt makes an appearance.
Pretty much confined to his sunny California home, George hits on a scheme to thank his neighbors. Driven by equal parts Canadian Christmas memories, Hollywood kitsch and starry-eyed dreaminess, George overhauls their modest cottage into a decorated "Christmas House," completed with fake snow, colored lights, a plywood picture of Santa and recorded music.
So far as anyone knows, this was the first time a home had been decorated this way. It was a sensation, tens of thousands of visitors descended and it became a media frenzy. Soon, others were decorating. The subtitle of this book is "How One Man's Dream Changed the Way We Celebrate Christmas," and they ain't kidding.
Oh, there's more heartbreak and revelation to come -- don't forget that cute young nurse! -- and it's all made poignant by Skinner's straight-forward text and the inclusion of dozens of family photographs. The presentation, designed like a 1930s scrapbook, is value-added, and the relatively low price will make this a guaranteed gift for the Santa-obsessed.
Although Bishop Museum's in-house publishing company has been quiet for a while, they're back in a major way with "Huahine -- Island of the Lost Canoe" by Rick Carroll, based on the research of Yosihiko H. Sinoto (Bishop Museum Press, $12.95). It's a colorful, insightful account of the first scientific archaeological expedition to the South Pacific island in the 1970s -- previously, visiting scientists leaned toward current anthropology -- and Sinoto helped islanders discover all sorts of wonderful things about their past.
This is a cheerful, chatty and clever volume about the scientific process that's aimed at the average reader. It's also refreshing to see a book about Pacific archaeology that isn't apologetic and treats knowledge as a good thing.
In the gift-book area, the sort of thing that lies smartly on the coffee table, we have a couple of charmers.
For the big coffee table there's "Palm Trees -- A Story in Photographs" by Los Angeles palm enthusiast David Leaser (Westwood Pacific, $39.95). It's a handsome, full-color volume devoted to, yes, palm trees, and there are more species than you thought.
For the smaller coffee table, there's the delightfully single-minded "The Majestic Albatros -- Images of Kauai's Beloved Seabirds" by Robert Waid (Mutual, $9.95). The photographs are just OK, like that would matter to the person on your list who is, to put it bluntly, bird-brained. The rest of us will get a new appreciation of this combination of soaring beauty and earthbound awkwardness.
---
BACK TO TOP
|
Documentary idea became a hot book
Like the loyal film-industry worker she is, Georja Skinner originally thought of telling her father's tale of creating a "Christmas House" as a documentary. And that's still in the works. But a visit to the Maui Writers Conference and a positive response from agents and publishers convinced her to do it as book.
"It's a pretty amazing journey," the Maui resident says, just back from a media tour of Los Angeles -- where her inspirational book sold out at Costco and Barnes & Noble. "I have to credit Maui for that. There's a lot of magic here, and when you're in sync with the aina, anything seems possible."
Because Skinner has worked in promotion, she thought the actual writing would be a snap, because the pitch pieces she created for the book's proposals came easily. "But it wasn't effortless. It's a lot of work writing a book! A lot of help from the editors, a lot of drafts before we got there," she said.
"It helped that I was familiar with the editing process. A lot of first-time authors are so territorial about their work that they don't have patience and flexibility. This project took several years, and I was thrilled that New World agreed with my vision that the book would mimic a 1930s scrapbook. You have this vision in your head, and suddenly, there it is, in your hands."
The original documentary idea is gathering steam, and Hollywood has come calling. "I think we're going to see this as a television Christmas special before long," she said. "Whoever does it must do what the book publishers did -- honor the story, set in the 1930s, but capture the imagination of people today. That's something I learned in Hawaii, how to honor ancestors."
Is she getting a big Christmas cash bonus?
"Not yet," Skinner laughed. "But even the bill collectors are being nice to me these days."