---
[ FAST FACTS HAWAII ]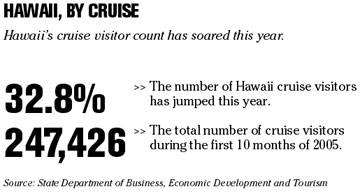 ---
BACK TO TOP


|


HAWAII
Horizon Lines raising fuel surcharge to 15%
Horizon Lines
announced plans yesterday to raise its fuel surcharge for its Hawaii, Guam and interisland trades by 2 percentage points to 15 percent, effective Jan. 2. The move follows an announcement last week by Horizon's competitor,
Alexander & Baldwin Inc.
subsidiary Matson Navigation Co., that it would raise its surcharge to 15 percent.
"Fuel surcharges are necessary to defray increases in vessel bunker fuels but also increases in the fuels required to power yard equipment, tractors and other shore side equipment," said Brian Taylor, Horizon's vice president and general manager of Hawaii and Micronesia.
Kaiser nurses will get 23% raises
Registered nurses at Kaiser Permanente hospitals and clinics have ratified a three-year contract that provides a 23 percent pay raise and language ensuring safe staffing levels. Approximately 500 of 780 eligible nurses voted in the two-day election, which concluded Wednesday; approximately 91 percent of them voted to accept the contract.
The vote came as some Kaiser nurses demonstrated this week to replace the Hawaii Nurses Association with the California Nurses Association as the Kaiser nurses' collective bargaining representative.
Aggie Pigao Cadiz, executive director of the Hawaii Nurses Association, said yesterday that the high turnout among nurses and overwhelming vote in favor of the contract shows that Kaiser nurses are pleased with the association's performance.
"We have continued to build on the gains we made in the last contract and look forward to doing so in the future," Pigao Cadiz said.
Time Warner starts family package
Time Warner Cable
yesterday became the first major cable company to introduce a family-friendly tier of programs in response to calls from advocacy groups and lawmakers concerned about offensive programming.
Time Warner, the country's second-largest cable provider with 11 million subscribers, said its Family Choice Tier would be available early next year and cost $12.95 a month. The 15 channels on the tier will include a mix of news, child-oriented programming from Discovery Kids and the Disney Channel, and speciality programming, including the Food Network and the Weather Channel.
NATION
Conrad Black accused of racketeering
Conrad Black was indicted on new charges that he led a racketeering scheme to loot
Hollinger International Inc.
, the company he founded and built into the world's third-largest publisher of English-language newspapers.
The expanded indictment also accuses him of obstruction of justice, money laundering and wire fraud. Black, 61, was charged Nov. 17 with eight counts of mail and wire fraud. Prosecutors claim he diverted money from the sale of Hollinger assets to himself and associates. He pleaded not guilty Dec. 1 to charges that each carry maximum prison terms of five years and fines of $250,000.
Ex-CEO sues company for over $70 million
BIRMINGHAM, Ala. » Former
HealthSouth Corp.
CEO Richard M. Scrushy is suing the company he founded, seeking more than $70 million for what he says was a breach of contract stemming from his March 2003 firing.
Scrushy also wants to recover legal expenses. He was fired shortly after a $2.7 billion fraud was uncovered at the rehabilitation and medical services chain.
HealthSouth board members planned to vote him off the board at a Dec. 29 shareholders meeting, but he resigned Dec. 4 and formally invoked provisions requiring back payment and other benefits.
Scrushy claims in the suit filed Wednesday that his employment agreement with HealthSouth should remain in force given his June acquittal on 36 criminal counts related to the fraud. He still faces civil lawsuits.
A HealthSouth spokesman said the company considers Scrushy's employment contract null and void.
WORLD
As ban ends, Japan gets the beef
TOKYO » The first shipment of U.S. beef to Japan in nearly two years arrived today following the easing of an import ban imposed after America's first case of mad cow disease, Japan's Health Ministry said.
About 4.3 tons of beef and 0.3 tons of innards, including tongues, arrived at Narita International Airport just east of Tokyo, the Health Ministry said in a statement.
Japanese inspectors will check the shipment to see if it meets safety guidelines laid down by Japan's government, quarantine official Yuji Kitayama said. They will be trying to confirm the age of the cows from which the meat came and ensure that the shipment doesn't contain suspect cuts from organs such as brains or spinal cords.