STYLE FILE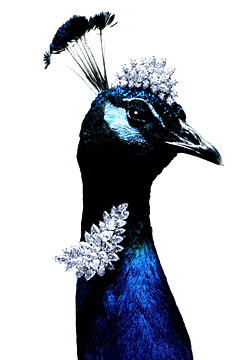 Harry Winston diamonds are as pretty as those that adorn this peacock.
Hooray for Harry
If you haven't found the Christmas gems you've been looking for, park your desires for the weekend. The Harry Winston Salon is coming to town.
Winston, immortalized in a line uttered by Marilyn Monroe in "Gentlemen Prefer Blondes," and whose jewels grace many a neck and wrist at the Academy Awards, is also called the "King of Diamonds."
Check out his sparkling creations at Ala Moana Center, mall level, beginning Monday.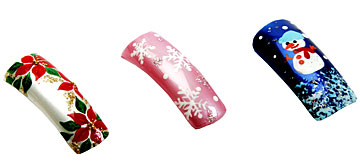 Nail down holiday fashion with images of snowflakes, poinsettia, mistletoe, snowmen, Christmas stockings and more.
Holiday hands
You've got the dress, the hair, the shoes, the makeup, the eyelashes for your holiday look. But as long as there is time, there will be one more un-addressed body part to fuss over, like your fingernails.
The holidays call for a festive touch. Beginning Wednesday at Aveda Salon & Spa at Ala Moana Center, nail technician Satoko can paint images of snowflakes, poinsettia, mistletoe, snowmen, Christmas stockings and more before the top coat goes on. Other designs are available year-round.
Manicures are $32; the nail paintings cost $10. Call 947-6141.
Meanwhile, Honolulu Nail Bar at Aloha Tower Marketplace is offering $5 discounts on standard pedicures and creative manicures and pedicures to get hands and feet in holiday shape. With the discount, prices run $30 to $45. Call 523-3456.
Also, Sephora makes the French manicure easy and accessible with a pen to even out your whites, sort of like Wite-Out for your fingertips. Layer it with a brush of top coat and you're done.
The Sephora French Tips & Toes Manicure Pen sells for $8 and has been selling so fast, there is only one left at the store. Race you for it!
Scheck trunk show
Lizzie Scheck returns to Neiman Marcus from 11 a.m. to 5 p.m. tomorrow and Saturday with a trunk show of new designs, including a holiday season snowflake necklace and an 18K holiday charm bracelet featuring candy cane, Rudolph and Christmas tree charms.
Scheck's pieces regularly adorn such style makers as Ashley Judd, Reese Witherspoon and Rebecca Romijn. Handcrafted in platinum, gold, diamonds and colorful precious gemstones, Scheck's delicate collection features personal emblems ranging from skulls to apples to doves that are layerable and wearable for everyday to dress-up occasions.