---
[ FAST FACTS HAWAII ]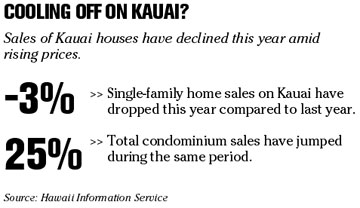 ---
BACK TO TOP


|


HAWAII
Management reshuffles at Outrigger Hotels
Perry Sorenson, who has served as the executive vice president and chief operating officer of
Outrigger Hotels and Resorts
, is retiring after a 15-year stint in the position and will serve as a senior adviser to the company.
Barry Wallace, currently senior vice president of operations, is being promoted to executive vice president of hospitality services. Mel Kaneshige, currently senior vice president in charge of the company's real estate assets, will take on additional responsibilities for new business development.
NATION
NYSE to begin videotaping traders
NEW YORK » The
New York Stock Exchange
will soon launch a trading-surveillance program in which the activities of some of the traders and brokers on the NYSE will be videotaped, Big Board officials said yesterday.
The program is a consequence of the Securities and Exchange Commission's censure of the NYSE earlier this year over the exchange's failure to police its "specialist" stock traders. Last year, the NYSE and the SEC took action against all seven specialist firms that work at the exchange, levying a combined $247 million in financial and disgorgement penalties against the companies for alleged trading abuses. Individual traders were punished later.
Blockbuster's late fees creep back
LITTLE ROCK, Ark. »
Blockbuster Inc.
stores in several states are quietly resuming late fees for customers who keep movies too long, rejecting the video-rental chain's national advertising of "No Late Fees!" because they can no longer keep popular movies on their shelves.
Many Arkansas stores resumed the late fees Nov. 21 and charges will apply again soon at various stores in Alabama, Mississippi and Tennessee. The Arkansas attorney general's office has heard complaints that the fees restarted without any notice.
L.A. moves to protect supermarket workers
LOS ANGELES » Los Angeles is set to become the first city in the nation to require supermarkets to temporarily retain workers when a store changes ownership, under a controversial plan tentatively approved yesterday by the City Council.
The plan, which faces a second and final vote next week, would require large supermarkets acquiring other stores to keep workers who have been employed for at least six months for a transition period of 90 days unless there is sufficient legal cause for them to be fired.
Growing out of concerns after the state's contentious 2003 grocery workers' strike, as well as union concerns over recent industry trends, officials said the regulation is permitted as part of the city's police powers in matters of public safety, health and welfare.
EPA hits DuPont with largest penalty ever
DOVER, Del. »
DuPont Co.
has agreed to pay $10.25 million in fines and $6.25 million for environmental projects to settle allegations by the Environmental Protection Agency that the company hid information about the dangers of a toxic chemical used to make the non-stick coating Teflon, officials said yesterday.
EPA officials said the settlement represents the largest civil administrative penalty the agency has ever obtained under any federal environmental statute.
WORLD
Disney plans first film in China
BEIJING » The
Walt Disney Co.
announced yesterday its first film production in China, adding to its efforts to break into the booming Chinese entertainment market.
The Chinese-language film, "The Secret of the Magic Gourd," began shooting in October in the eastern city of Hangzhou and is due to be released next year, Disney said. It is based on a popular children's book by the late Chinese novelist Zhang Tianyi.
Disney's partners are state-owned China Film Group Corp. and Hong Kong's Centro Digital Pictures Ltd., a special-effects house best known for its work on director Quentin Tarantino's "Kill Bill."