| | |
| --- | --- |
| | TheBuzz |
---
Mama's Island Pizza pops out pies over the Pali
MAMA'S Island Pizza opened its doors to hungry Kailuans on Sunday. It is the latest venture of
Ken Wilson Sports Enterprises Inc.
, but Ken isn't mama.
He is a former KHON reporter and was sports director for the station in the 1970s.
"I'm a former everything," he laughed.
Asked his title in the new business, he answered, "I'm mama's husband."
Marlene Wilson is Mama.
"She's kind of that mama that everyone thinks of when they think of a mama -- robust, warm, loving, caring about people, loves children, loves family, loves food ... so with her, it's a passion, to have the absolute greatest food and fabulous service," said the proud husband.
The Wilsons' goal, aside from running a successful business, "is to be very much Kailua-oriented and to have an island, laid-back feel, sort of a non-mainland, non-chain kind of approach," he said.
All restaurateurs boast about getting the best and freshest ingredients and the Wilsons are no exception.
He describes the pizza as "gourmet."
"The best ingredients means the best pizza ,and it means a price that reflects the quality that people want to serve their family," he said, as if to prepare TheBuzz for a list of astronomical prices.
Not even.
Pies range from $6.99 for a 9-inch lunch pizza to $22 for the family sized "Kailua Supreme" with everything, Wilson said.
Early indications are that the restaurant's Kalua Pig pizza will be a popular item, due to Marlene's barbecue sauce, Wilson said.
The third person to order chicken wings on Sunday ordered 24 of them.
"It's a Midwestern recipe that's unlike anything over here," he said.
The menu echoes Wilson's boast that the wings are as good as, if not better than, the ones he's eaten at the Anchor Bar in Buffalo, N.Y., which put the pupu on the culinary map of pub grub.
MAMA'S GOT A BRAND NEW BAG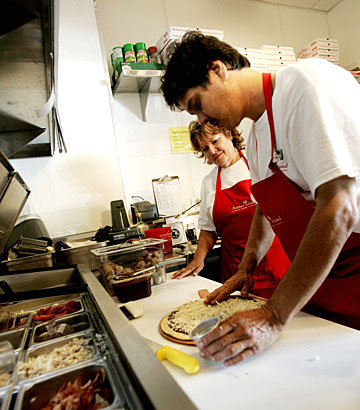 The pizzeria also offers sandwiches, salads and "our homemade cheese-and-garlic breadsticks," Wilson said.
Mama's beers include neighbor island brews and those associated with other islands of one stripe or another, such as Red Stripe from Jamaica and Hinano from Tahiti.
The restaurant seats 38 diners, 28 inside and 10 outside. It opens at 11 a.m. daily, closes at 9 p.m. Sunday through Thursday and stays open until 11 p.m. Fridays and Saturdays.
Wilson approached Kaneohe Ranch Co., Kailua's major landowner, a year ago, according to Vice President Kimo Steinwascher.
"He had spent an awful lot of time researching it and had a thorough business plan, but we didn't have any locations at the time," Steinwascher said.
In October, the Hawaii Dunkin' Donuts franchisee relinquished its lease for space right next to Foodland.
The Wilsons snapped it up, built it out and hired a staff of 15 full- and part-timers.
For most of his adult life, Wilson has lived a sports announcer's dream, in the limelight that big-league sports announcers tend to draw.
For 20 years, he was the voice of the St. Louis Blues hockey team. He's called 3,200 major league baseball and NHL games and owns a piece of the Gateway Grizzlies class-A Frontier League baseball team.
His 1980s glory days are often replayed on the ESPN Classic cable channel.
During an early 1970s mainland flight to call a University of Hawaii basketball game at Loyola Marymount for KGU-AM 760, he coined the term "Fabulous Five," he said.
The claim is bound to incite controversy, as the term is most commonly attributed to the late Chuck Leahey, a legendary Hawaii sports announcer, but if there were no controversy in sports, it would be boring.
Now it's his wife Marlene's turn to live her dream and bask in the limelight of a little gourmet pizza restaurant in Kailua town.
---
Erika Engle can be reached by calling 529-4302, faxing 529-4750, writing Honolulu Star-Bulletin, 500 Ala Moana, Honolulu 96813, or e-mailing eengle@starbulletin.com
See the
Columnists
section for some past articles.
Erika Engle is a reporter with the Star-Bulletin. Call 529-4302, fax 529-4750 or write to Erika Engle, Honolulu Star-Bulletin, 500 Ala Moana Blvd., No. 7-210, Honolulu, HI 96813. She can also be reached at:
eengle@starbulletin.com