---
[ FAST FACTS HAWAII ]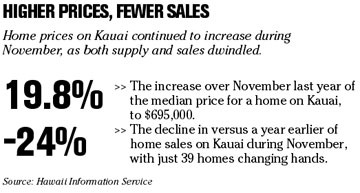 ---
BACK TO TOP


|


HAWAII
Maui luxury homes pull in $425 million
KAANAPALI » A Canadian developer announced yesterday a $425 million sellout of the first phase of its new luxury residential resort on Maui.
The first 318 units at Honua Kai on Maui's western shore went for a top price of $4.5 million, with the lowest-priced studio units going for well over $500,000, according to Intrawest Corp., based in Vancouver, B.C.
The units were sold at a sales selection event Friday attended by more than 400 people, the company said.
It said the sale was more than four times higher than any of its previous real estate developments on the U.S. mainland or in Canada.
Intrawest has developed 10 resorts in North America, and also owns Canadian Mountain Holidays, which it says is the largest helicopter skiing operation in the world.
The Maui development on 40 acres of beachfront is part of an Intrawest resort called Hokulani, which will feature 700 residential condominiums and townhouses, a spa and fitness center, restaurant and other features. The first phase is to be completed in 2008.
Greg Ashley, head of Intrawest's marketing and sales division, said the sale's success on Maui demonstrates "the continued strong demand for vacation and second home properties in truly special locations such as Maui."
NATION
Mistrial declared in Merck trial
HOUSTON » A jury's inability to reach a unanimous verdict in the nation's first federal Vioxx trial after more than 18 hours of deliberations prompted a judge to declare a mistrial and aim for second try.
U.S. District Judge Eldon Fallon said the case involving the 2001 death of a Florida man who took the once-popular painkiller for a month will be retried, and he would confer with attorneys next week to set a date.
The mistrial leaves Vioxx's maker Merck & Co. with the prospect of facing a new jury that could hear allegations that the company withheld information from the New England Journal of Medicine about a 2000 Vioxx study so the drug would appear safer than it was.
U.S. beef shipments to Japan will resume
WASHINGTON » Hours after Japan ended a trade ban imposed because of mad cow disease, U.S. meatpackers yesterday began rounding up their first shipment of beef to Japan.
The shipment is to be sent Saturday from Denver, but the industry cautioned that trade will resume slowly. Japan's market, once the biggest for American beef, was worth $1.4 billion before mad cow disease turned up in the United States in December 2003. The discovery prompted Japan and dozens of other countries to stop importing U.S. beef.
Coca-Cola, PepsiCo losing soda sales
NEW YORK »
Coca-Cola Co.
and
PepsiCo Inc.
are headed for their first annual decline in U.S. soft-drink sales in at least four decades as health-conscious consumers switch to bottled water, sports drinks and juices.
North American soft-drink sales at Coca-Cola dropped 1 percent by volume in the first nine months of the year, while PepsiCo's fell an average of 1.7 percent, according to Beverage Marketing Corp., a research firm in New York.
WORLD
Brokerage must compensate for error
TOKYO » Regulators yesterday ordered a Japanese brokerage house to compensate investors with hefty penalty payments following a massive trading error that news reports said could cost the brokerage up to $333 million.
The trading settlement unit of the Tokyo Stock Exchange said it will order Mizuho Securities Co. to pay some $7,560 per share in cash to investors who bought into recruiting firm J-Com Co. after an erroneous order placed by Mizuho.
Mikihiko Kitano, a Mizuho Securities spokesman, said yesterday the losses based on the clearing house's order would be much higher than the $225 million initially expected. The figure could be high as $333 million, Kyodo News agency reported.