---
[ FAST FACTS HAWAII ]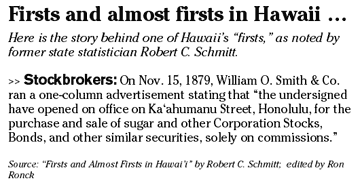 ---
BACK TO TOP


|


NATION
Many quit their jobs due to unhappiness
It's almost the height of career blasphemy in our go-go, earn-more, climb-the-ladder corporate world: Quitting your job just because you're unhappy with it. Say what? In this day and age?
Yet plenty of people do just that, with feelings about the work the biggest factor when people leave voluntarily, according to research of employee attitudes conducted for several years by Sirota Consulting LLC, based in Purchase, N.Y.
You might think a horrible boss or lousy pay would top the list of reasons people who quit offer for doing so. But no. Based on interviews with workers, the company found that only a third of those who planned to quit in less than a year said they were satisfied with their overall working conditions. Of those who said they'd stay for five years or more, 85 percent were satisfied.
The smallest difference between the groups was in salary satisfaction. Only 28 percent of those who planned to quit within one year were satisfied with their pay, while 47 percent of those planning to stay five years or more were satisfied.
It's an asset to know about allocation
You're a moderately savvy investor, stuffing your 401(k) and conversant about Roth IRA particulars. Now ponder the term asset allocation. Drawing any blanks? If so, you're not alone, according to a telephone survey of 1,000 affluent investors conducted this summer by
money-management company
AllianceBernstein
.
Asked to grade themselves on how well they understand the concept of asset allocation, 26 percent gave themselves an "A" and 41 percent suggested a "B." But in the same poll, nearly a third (30 percent) said they don't have an approach for allocating assets and rebalancing their portfolios.
What's more, a full quarter said they believe the term is just an industry buzz word.
To clarify, asset allocation means having a strategy to divide your money into a variety of investment areas, such as stocks, bonds, real estate, cash, mutual funds, annuities, etc.
Signs you might need a coach
Occasionally, nearly everyone gets stuck in a rut at work. There's too much to do, drastic staff cutbacks, poor morale, a mess in your personal life, a floundering supervisor, or countless other eventualities. Thus, there are times a career coach can help, says Janet Steinwedel, director of leadership coaching at
AstraZeneca PLC
, the British drug giant. A few questions to consider:
» Do you want your work and life to be less complicated?
» Do you want or need to accelerate results at work?
» Is there a gap in your knowledge, skills or confidence?
» Are you being asked to tackle a massive project, without enough time or resources?
» Is your work and life out of balance?
» Is there a new manager or leader in your company?
» Do you need more organization and ability to self-manage?