| | |
| --- | --- |
| | Island Mele |
---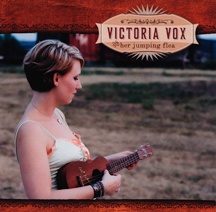 "Her Jumping Flea"
Victoria Vox
(Obus)
Victoria Vox is not a local artist, but since she plays ukulele, curiosity seekers may be interested in her music.
Vox's voice is reminiscent of Mary Hopkin, the young Welsh woman who recorded the hit "Those Were the Days" for the Beatles' Apple label in 1968. Vox's repertoire includes originals as well as selections from a mixed bag of American and European writers. Most as performed in a folkish Euro/retro style. Add vintage sound effects such as the sound of a scratchy 78 rpm record heard through a horn, and radio static, and Vox's album evokes memories of a long-gone era in pop music.
Her lyrics elsewhere are simple but deep. She sings sweetly of an unanticipated romantic interlude in "My Darlin' Beau." On "Dreamin' 'Bout You" she starts off singing with similar sweetness, but by the time she finishes the final verse, she sounds on the verge of fatal attraction. The song is memorable, to say the least.
Two selections have tenuous ties to Hawaii. "Ukulele Lady" is a Hollywood hapa-haole classic. Vox's "you-ku-lele" pronunciation, suggests a time when people on the mainland didn't know the correct pronunciation.
She also recycles IZ's popular "Somewhere Over The Rainbow/What A Wonderful World" medley, as Vox and her producers show some imagination by adding vibes, cello and guitar to the original ukulele accompaniment, but the only Hawaiian link is that IZ recorded it first.
Obus Music
P.O. Box 8333
Green Bay, WI 54308
---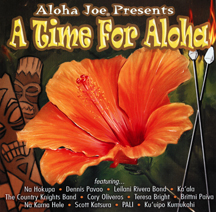 "Aloha Joe Presents
A Time For Aloha"
Various artists
(Aloha Joe Productions)
Aloha Joe is one of the pioneers in making Hawaiian music available through Web-cast radio. He's been in the business for more than a decade and in recent years has branched out as a record producer whose projects provide additional exposure for artists he features on his show. Like Dick Clark in the late 1950s, and several local radio stations in recent times, Joe is active in creating new product as well as playing it. His latest anthology is a welcome step forward, even though the contents are a hodge-podge. There's a hit or two here, a couple of Hawaiian songs, and several obscure recordings by relatively unknown acts.
The big hit here is Teresa Bright's beautiful rendition of "In A Little Hula Heaven" from her 1991 Hoku award-winning album, "Self Portrait." Ku'uipo Kumukahi, another Hoku winner, is well represented with "E Ku'u Morning Dew." Joe doesn't mention in the liner notes why the late Dennis Pavao recorded a Kalapana song, "Kona Daze," but given Pavao's place in island music, it's good to include something by him as well.
Several other selections reflect Joe's close ties to Johnny Kai's Hawaii Music Awards. Scott Katsura's imaginative reworking of "My Hawaii," the '60s Rascals' hit written by Felix Cavaliere and Eddie Brigati, stands out. Katsura deconstructs the original arrangement without losing the sentiment of the lyrics. Some of the other artists are more representative of run-of-the-mill local music.
www.alohajoe.com
---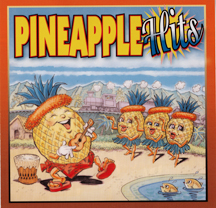 "Pineapple Hits"
Various artists
(Shaka)
Ignore the title of this low-budget anthology. Even if there were enough hit songs about pineapples to fill an album, they're not to be found here. It isn't a collection of recordings by old-time Hawaiian entertainer Johnny Pineapple either. Would that it were!
No, this is instead yet another cheaply packaged recycling project. Producer George J.D. Chun wastes plenty of liner space on a history of the pineapple in Hawaii, but provides nothing of substance on the music or the artists who recorded it. Chun mentions that the songs and/or the artists have received 57 Hoku awards, but doesn't say which ones they are. Nor does he mention that the versions of "Naturally" and "Summer Lady," by Kalapana and Cecilio & Kapono respectively, are not the original studio recordings.
It's left to the would-be buyer to decide if there are enough must-have songs here to justify a purchase. Fans of any of the acts found in this mish-mash would do better by buying the individual artist's album, like Keola & Kapono Beamer's "Honolulu City Lights" album. Or a legal download if they have a gear to burn it themselves.
John Berger, who has covered the local entertainment scene since 1972, writes reviews of recordings produced by Hawaii artists. See the Star-Bulletin's Today section on Fridays for the latest reviews. Contact John Berger at
jberger@starbulletin.com
.