GET YOUR GAME ON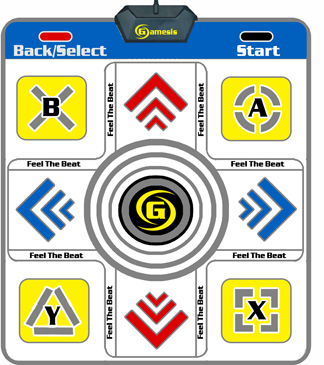 Let's dance!
There has never been a better time for gamers to put down their regular video game controllers and get their grooves on with dancing games.
Five games have been released in the last few months for Playstation 2, Xbox and Gamecube. All feature the same basic gameplay: Follow the beat, step on the appropriate directional arrow as each one scrolls to the top of the screen and try not to let your dance meter run out before the song ends.
How these games go about doing this, however, is where the differences lie.
Back for another holiday season is Konami's venerable Dance Dance Revolution series, with versions for all three consoles.
Arguably the most child- and newcomer-friendly of the bunch is Dance Dance Revolution with Mario (Gamecube). Leave the game's Mush Mode on and you'll see that this is truly a Mario game, taking the basic tenets of DDR while superimposing the humor of the Mushroom Kingdom heroes. Unfortunately, even with that twist, this game falls far short of DDR's standard.
More experienced players will look for a greater challenge, and they will certainly find it in DDR Extreme 2 (PS2). While prior PS2 editions unlocked new songs based on the number of songs already played, this game dares players to get new songs by completing certain challenges. The challenges start off easy and get progressively more difficult, meaning players of fair-to-middling skill may not get to experience all the songs.
DDR Ultramix 3 (Xbox) continues this series' fundamentally flawed interface with an odd choice of songs -- try finding a beat in "Walk This Way" or "Virtual Insanity." Otherwise, its new Freestyle mode allows players to dance a song without prearranged steps and grades them on effort. Also new is Quest Mode, in which you dance in different North American venues, trying to gain fans to become that city's top DDR player. Be sure to read the in-game instructions before you go Questing.
Competing for gamers' dollars are two new series: In the Groove (PS2) and Pump it Up Exceed (Xbox, PS2). In the Groove plays much like the DDR series but offers a wider variety of songs, as well as high difficulty levels to satisfy the most expert dancers. Pump it Up uses five arrows -- four corner and one center -- as well as a soundtrack dominated by Korean pop hits. Because of this tweak, though, most dance pads on the market are rendered incompatible, forcing the purchase of a new pad.
For those who stick with DDR, two new pads are available to ease multisystem play. So-called "deluxe" pads from Gamesis and Universal have plugs for multiple systems and include 1-inch-thick foam inserts to better simulate the arcade experience. Rubber backings make them less likely to slide around.
Universal's pad covers all the systems, with plugs for the Gamecube, Xbox and PS2. Its advantage stops there. The foam inserts are packed in the box in such a way that they curve, affecting gameplay and making the nonskid backing less effective. Trying to flatten them is a time-consuming hassle.
The Universal pad is also ultra-sensitive. Standing in the supposed neutral center of the pad often triggers an arrow button anyway, causing nonstop scrolling during song selection and other screens.
Gamesis' pad opts out of having a Gamecube plug in favor of a USB plug so it can be used for computer play. The arrows are slightly raised, unlike Universal's pad, making it easier to feel where your foot's pressing, and the foam inserts are packed flat and feel sturdier. One drawback is its reduced Xbox sensitivity; it works great with PS2 games, but the arrows don't seem as responsive with the Xbox. Whether that's an effect of the game or the pad is unknown.
There's no word on whether Gamesis will release a Gamecube pad.