MUSIC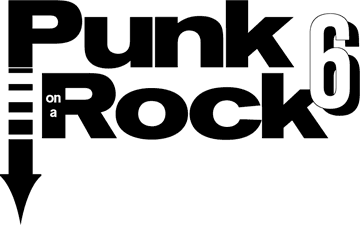 The annual festival this year gets an infusion of plain old 'rock'
This year's Punk on a Rock lineup feels more Rock than Punk. While Good Riddance and our very own 86 List will keep the punk torch a-glow, rock will be predominantly roaring through the '05 fest, featuring the stage spectacles of the hail-and-hearty Andrew W.K. (see accompanying story), the pummeling hardcore of Bleeding Through, and the '70s throwback sound of Valient Thorr.
"Punk on a Rock 6"
Featuring Andrew W.K., Good Riddance, Bleeding Through, Valient Thorr, and the 86 List

» Place: Pipeline Cafe, 805 Pohukaina St.

» Time: 5 p.m. Saturday

» Tickets: $18, all ages (those 18 and under must be accompanied by adult)

» Call: 589-1999
Bleeding Through hails from the underground scene of SoCal's sunny and privileged Orange County. Ever since the release of their defining 2003 album "This Is Love, This Is Murderous," the band has distinguished itself for its angst-ridden leadman in vocalist Brandan Schieppati, and a precise if brutal sonic attack courtesy guitarists Scott Danough and Brian Leppke, bassist Ryan Wombacher and drummer Derek Youngsma. But what distinguishes this band's sound is the lush, ambient keyboard sounds woven by the single-monickered Marta, that flow through all of the emotional savagery.
"It's awesome, we've never been to Hawaii," said the congenial Schieppati by phone from his O.C. home in Newport Beach, "although we'll probably stick out like a sore thumb compared to the other bands on the bill." Veterans of the Vans Warped Tour and Ozzfest, even though the band members dress in dark tones onstage, Schieppati said "this is not about a whole Goth thing. We're inspired by the Misfits and Johnny Cash, and even though it's not about a similar type of music, we've always dressed like that. I guess you can call us 'the band in black.'"
As a transition between their previous album and the upcoming "The Truth," Bleeding Through has a DVD that just came out called "Wolves Among Sheep" that makes for a good introduction to the band.
"We went through a lot of tour footage," Schieppati said, "and there's everything you need to know about us, like why we started the band. We've been around since 1999, but only got serious about it since probably late 2001. Bleeding Through was originally a side project -- I was in two other bands at the beginning ... and even though the music has a Pantera-type of intensity to it ... (the use of the keyboard) gives us a good dynamic, and sets us apart from other bands."
The band will offer an intense introduction to their music at Punk on a Rock, featuring music from their last album, including the screaming anguish of the lead track "Love Lost in a Hail of Gun Fire," as well as several songs from the yet-to-be-released "The Truth."
"There'll be more melody and song structure on the new album," Schieppati said, "and more in your face."
Expect more of the latter.
EARLIER this week, the bearded Valient Himself was driving cross-country to California in his band's "starship cruiser," going from Chapel Hill, N.C., and wending his way up north to pick up his fellow band members. Their names are Jjin Thorr, Eidan Thorr, Lucian Thorr, and Professor Strangees.
You see, Valient Thorr are not of this Earth. They come from Venus. An enthusiastic Valient Himself explains it this way while in transit.
"We needed a job in Venus, but it's a dead planet, and we can't find work. It's burned out, red and fiery, and about to die. We lived on the inside, and we got these transmissions from all over the galaxy. But we paid attention to the ones coming from this burgeoning, bad-ass planet called Earth, where the trees were just baby sprigs. And we thought this could be a humongous habitat for us.
"So we went there as missionaries. Not like Jesus missionaries, but world missionaries. Since then, we've been basically stuck here, but we're making the best of it. Even though we make like Earthlings, we can travel through time, slipping through the branches of time streams.
"Of all the transmissions from Earth, we chose rock 'n' roll. You know it's the only thing keeping this planet alive."
And as the songs on their album "Total Universe Man" indicate, they favored the transmissions from classic bands like Deep Purple and Rainbow, as well as "bangers like Iron Maiden."
"Like Andrew W.K., we throw out positive vibrations. ... Our new slogan is 'no hair cuts, no diet Cokes.' When we play, the sweat keeps comin', and keeps the wheels greased.
"We are artists," Valient Himself proclaimed, "and we want to make our stay here worth it. Eradicate bad art!"