---
[ FAST FACTS HAWAII ]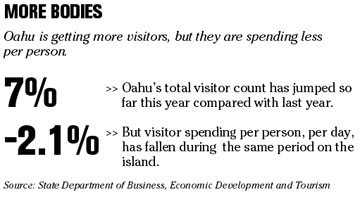 ---
BACK TO TOP


|


HAWAII
Island Air becomes independent carrier
Island Air became independent of its former parent yesterday when the carrier completed a stock purchase agreement with Aloha Airlines.
The agreement between Aloha's parent, Aloha Airgroup, and Island Air's new owner, Gavarnie Holding LLC, makes Island Air Hawaii's third-largest independent airline. The companies did not disclose the terms of the deal.
Island Air also said it had secured a $5.5 million revolving credit line with California Bank & Trust. The new credit line will provide money for customer service infrastructure improvements, training and ground equipment to support a new aircraft fleet scheduled to arrive in February.
Island Air now offers 88 daily flights in Hawaii.
Magazine gives Bankoh top ranking
Bank Director Magazine has ranked
Bank of Hawaii Corp.
the top-performing of the 150 largest publicly owned banks and thrifts in the country.
The magazine, with help from New York-based investment banking firm Sandler O'Neill & Partners, measured each institution across three categories: profitability, capital adequacy, and asset quality.
The magazine said that Bank of Hawaii didn't finish first on any one of the measures, but had "a good all-around showing" and "scored quite high" in the profitability and asset-quality categories.
Central Pacific Financial Corp., parent company of Central Pacific Bank, also made the magazine's listing, in 32nd place.
[HAWAII INC.]
PROMOTIONS
»
Hawaiian Host Inc.
has promoted
Keith Sakamoto
to president,
Dennis Teranishi
to vice chairman and chief executive officer, and
Dennis Maeda
to executive vice president. Sakamoto most recently served as executive vice president, overseeing sales and marketing. Teranishi will be responsible for working with the board of directors to develop and establish the strategic direction and business plan for the company. Maeda will be responsible for overseeing the administrative and financial activities of the company.
NEW JOBS
» Hawaii State AFL-CIO has elected
Randy Perreira
president. He is the Hawaii Government Employees Association's deputy executive director.
» Radisson Waikiki Prince Kuhio has appointed Dexter S. Sonomura finance director. He will be responsible for the overall management of the accounting and financial activity for the hotel. He has over 20 years of experience as a CPA.
» Island of Lanai Properties has appointed Mary M. Hakoda principal broker. She will be responsible for all sales and transactions of the exclusive residential properties at Koele and Manele Bay, from condominium residences to expansive lots and custom home sites. She has over 25 years of experience on major developments, homes and luxury condos.
ON THE BOARD
» The American Institute of Architects, Honolulu Chapter has elected
Peter Vincent
its 2006 vice president/2007 president elect. He serves as the principal and managing member of the architecture and design firm
Peter Vincent & Associates
.
NATION
Mortgage rates resume rising
WASHINGTON » Rates on 30-year mortgages, which had fallen for two weeks, resumed their increases this week.
Mortgage giant Freddie Mac reported yesterday that rates on 30-year, fixed-rate mortgages averaged 6.32 percent this week, up from 6.26 percent last week.
Rates three weeks ago had hit 6.37 percent, the highest level in more than two years.
Analysts said the booming housing sector, which has been cooling a bit under the weight of rising rates, should slow further in coming months. The slowdown, however, won't be enough to stop sales of both existing and new homes from setting a fifth-straight record in 2005, economists said.
Rates on 15-year, fixed-rate mortgages, a popular choice for refinancing a home mortgage, averaged 5.87 percent this week, up from 5.81 percent last week.
One-year adjustable rate mortgages were unchanged at 5.16 percent while rates on five-year hybrid adjustable rate mortgages averaged 5.78 percent this week, up slightly from 5.76 percent last week.
Continental, union reach tentative deal
HOUSTON » A tentative agreement between
Continental Airlines
and its flight attendants reached yesterday puts off, for now, concerns of a potential strike.
The deal still has to be approved by the flight attendants, however. They voted down a previous tentative agreement their union leaders reached with Houston-based Continental last March.
"We've worked for seven months on this agreement," said Larry Kellner, Continental's chairman and chief executive officer. "This is the best deal we can get."
The two sides meet at the Washington offices of the National Mediation Board, which oversees industry labor relations. Had no agreement been reached, the board might have released the parties into a 30-day cooling-off period, after which a strike would have been possible.
Luxury home builder warns of slowdown
Toll Brothers Inc.
, a leading builder of luxury homes, said yesterday its fourth-quarter profit rose a record 72 percent, but cautioned that next year's profits could fall short of Wall Street's expectations as the housing market slows down.
The Horsham-based company said home sales have weakened because of a decline in confidence among its upper-income customers, a cumbersome regulatory process that constricts home building, and the housing market's inability to sustain its red-hot growth of recent years.
WORLD
Japan trims third-quarter growth
TOKYO » Japan revised downward its economic growth for the third quarter to an annual growth pace of 1 percent from a preliminary reading of 1.7 percent, the government said today.
The figures were disappointing amid signs that Japan is emerging from a 15-year slump, but at least they still show that Japan's economy has grown for four straight quarters. And some aspects of the report, particularly capital spending, were encouraging.