---
[ FAST FACTS HAWAII ]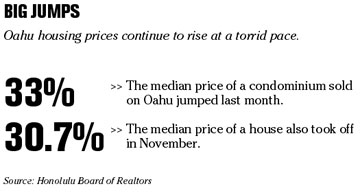 ---
BACK TO TOP


|


HAWAII
Hawaiian Airlines adds Maui-San Diego flight
Hawaiian Airlines
will expand its San Diego service by offering a nonstop daily flight from Maui beginning on June 9. The airline already provides daily service to San Diego from Honolulu.
Flight 38 will depart Maui's Kahului Airport daily at 2:05 p.m. and arrive at San Diego International Airport at 10:10 p.m. Flight 37 will leave San Diego at 10:05 a.m. and arrive on Maui at 12:35 p.m.
Hawaiian uses 260-seat, wide-body Boeing 767-300ER aircraft on its trans-Pacific flights.
Separately, Hawaiian said it was adding two round-trip flights between Honolulu and Pago Pago, American Samoa, to handle holiday travel demand. The extra flights are scheduled for Dec. 20 and Jan. 3. Both flights depart Honolulu in the morning and return in the evening of the same day.
Cyanotech may face delisting again
Cyanotech Corp.
, which produces human nutritional supplements and animal feed from microalgae, has received a warning from Nasdaq about its stock price.
The notice comes three years after Cyanotech's stock was delisted from the Nasdaq National Market and dropped to the lesser-regarded Nasdaq SmallCap Market.
The Big Island company received the notification on Thursday, after its stock had closed below the $1 bid price for 30 consecutive trading days. Cyanotech has until May 30 to close at $1 or higher for 10 consecutive trading days.
If Cyanotech fails to stay at the $1 threshold for 10 days, it could receive a 180-day extension to reach that level if all other listing criteria are met. Cyanotech said it currently meets those other criteria.
The company's shares closed yesterday at 69 cents. If Cyanotech eventually were delisted, it likely would trade on the Over the Counter Bulletin Board.
Union officials blocked from guests
A state District Court judge has ordered two union officials to refrain for three years from contacting two customers of Turtle Bay Resort.
The order prevents Unite Here Local 5 employees Ben Sadoski and Morgan Evans from contacting Nola Nahulu and Wanda Gereben, who were planning to attend special events at the property, which is involved in a labor dispute with Local 5. Nahulu and Gereben had alleged that Sadoski and Evans harassed them while trying to persuade the would-be guests to boycott Turtle Bay.
Andy Lee, a research analyst for Local 5, said the union will continue to contact other guests.
"We feel that customers have a right to know that if they come to Turtle Bay, they might have to cross a picket line," Lee said.
[HAWAII INC.]
NEW JOBS
»
First Hawaiian Bank
has appointed
Alan Armstrong
personal trust department senior vice president. He most recently served as
First American Trust
regional vice president.
» Outrigger Enterprises Inc. has appointed Sun Bee and Dennis Maher to key management positions. Bee has been appointed Embassy Suites Hotel-Waikiki Beach Walk sales and marketing director. Maher has been appointed facility operations director.
» Royal Hawaiian Shopping Center has hired three new employees. Nani Hirosane has been appointed marketing coordinator for the Festival Cos./Royal Hawaiian Shopping Center. Paul Dun will be responsible for supporting the marketing director and marketing coordinator in implementing comprehensive branding strategies for the center. Andrew Arakaki has been hired as a promotions coordinator.
PROMOTIONS
»
First Hawaiian Bank
has announced the following promotions:
Dean C. Duque
has been promoted to Lahaina branch manager.
Monte M. Mitchell
has been promoted to loan recovery department assistant vice president.
Michael T. Nishida
has been promoted to PC & Network Services manager and vice president.
Brian M. Asamoto
has been promoted to applications and database assistant vice president.
Christine M. Harauchi
has promoted to PC & LANS assistant vice president.
---
NATION
Report sees decline in housing market
LOS ANGELES » The U.S. housing market will see a sustained decline next year, causing a drag on the nation's economy but falling short of triggering a recession, according to a new economic report.
"We expect housing to start slowing the economy this quarter or the next," Edward Leamer, director of the quarterly University of California, Los Angeles, Anderson Forecast, wrote in the report to be released later today.
The cooldown in the housing sector is likely to be spread over several years, with as many 500,000 construction jobs and 300,000 financial sector jobs lost, the report said.
"Some jobs in manufacturing might well disappear as a result of weakness in housing, but this may be offset by jobs brought home or not lost to foreign competition," Leamer wrote.
The forecast said eight of the last 10 economic recessions were started by housing market slowdowns.
Previous UCLA Anderson Forecasts have suggested a decline in housing construction would begin by mid-2005.
GM replaces CFO with longtime exec
General Motors
, battling to reverse losses in North America and energize its sagging market share, replaced its chief financial officer yesterday with a longtime company executive who has experience in cost-cutting.
GM said Frederick A. Henderson, 47, the chairman of GM Europe, would take over for John M. Devine, a former Ford Motor Co. executive who joined GM in 2001.