---
[ FAST FACTS HAWAII ]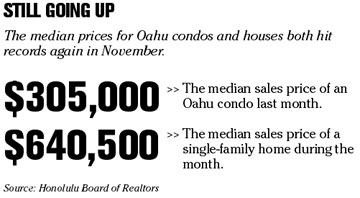 ---
BACK TO TOP


|


HAWAII
Entries sought for UH business plan competition
The Pacific Asian Center for Entrepreneurship & E-Business is looking for entrants for its 2006 University of Hawaii Business Plan Competition. The competition, now in its seventh year, offers cash prizes totaling more than $80,000 to winners in three categories: Traditional business, social enterprise and UH technology.
Teams must consist of two to five members, at least one of whom must be a full-time University of Hawaii student.
The registration deadline is Jan. 31. For more information, see www.uhbusinessplancompetition.com.
NATION
High court to rule on retaliation
WASHINGTON » For more than 40 years, federal law has prohibited employers from retaliating against employees who complain about discrimination on the job. But neither Congress, which included the anti-retaliation protection in the Civil Rights Act of 1964, nor the Supreme Court has ever defined "retaliation."
Yesterday, the justices agreed to provide the definition, accepting a case that began in a Memphis rail yard when Sheila White, the only woman working in the maintenance department, complained of sexual harassment by her supervisor. Within 10 days she was transferred from operating a forklift to the less desirable position, within the same job classification, of working outdoors on the tracks.
Three months later, after she filed a formal complaint with the federal Equal Employment Opportunity Commission, her employer, the Burlington Northern & Santa Fe Railway Co., suspended her without pay. After a union grievance, she was restored to the payroll with back pay after 37 days.
The question for the court is whether the 6th U.S. Circuit Court of Appeals correctly concluded that those events amounted to the type of retaliation that the Civil Rights Act prohibits. The appeals court upheld a jury award of $43,250 in compensatory damages to White.
In its appeal to the Supreme Court, the railway company argues that any injury to White was so minimal and transitory as to fall below the threshold of the type of adverse action that should count as discrimination. Only "ultimate employment decisions," like dismissal or demotion, should count, it argues.
UAL creditors object to awards
UAL Corp.
's creditors committee filed a "preliminary objection" to the airline's plan to give top executives and directors as much as $285 million in stock after the company exits bankruptcy.
The creditors group said in a bankruptcy court filing yesterday that UAL, parent of Elk Grove Village, Ill.-based United Airlines, has failed to provide details on the stock incentive plan after repeated requests. The committee wants information about the awards, the individuals who will get them, and how the company will allocate them.
UAL has cut aircraft and labor costs to save as much as $7 billion annually and is seeking to exit Chapter 11 in February. Unsecured creditors, which make up the committee, have been told they will receive between 4 cents and 8 cents on the dollar as part of the reorganization in the form of newly issued stock.
Housing bubble bursts in U.S. bond market
Bonds backed by home loans to the riskiest borrowers, the fastest growing part of the $7.6 trillion mortgage market, have lost about 2.5 percent since September on concern an 18-month rise in interest rates may force more than 150,000 consumers to default.
"We've been hearing about risks of a house price bubble, easy credit and loans to borrowers that really don't qualify, and now in the last couple of months we're starting to see things turn for the worse," said Joseph Auth, a bond fund manager who helps oversee $135 billion at Standish Mellon Asset Management in Boston.
"We don't know if it's going to be a hard or soft landing."
Mortgage securities with low ratings and loans from Ameriquest Mortgage Co. and New Century Financial Corp., two Irvine, Calif.-based companies that specialize in lending to the 50 million people with histories of late payments and bankruptcies, yield the most in two years.
The rise in yields reduced the value of loans made by lenders, resulting in lower profit margins and higher rates for consumers with bad credit.
The slump in the bonds is one of the first signs the housing boom is ending after the Federal Reserve's 12 interest- rate increases.