---
[ FAST FACTS HAWAII ]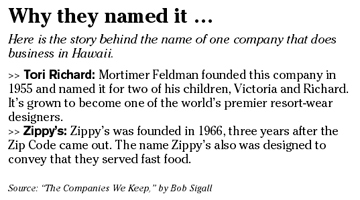 ---
BACK TO TOP


|


HAWAII
UH TIM school noticed by world tourism group
Only two schools in the United States are among the 13 schools included in the World Tourism Organization's latest list of leading tourism programs: the University of Hawaii's School of Travel Industry Management and George Washington University.
The WTO's certification reviews are administered by an independent committee of international tourism industry experts. Programs are judged to a set of standards with the goal of improving the quality of tourism education, training and research.
NATION
Some firms forego holiday parties
It's not all lavish dinners and free drinks at office holiday parties. Some companies say they'll donate to charity for natural disaster relief this year in conjunction with their annual employee fete. Nearly a fifth, 18 percent, plan to do so, up from 16 percent four years ago who gave to Sept. 11-related charities, according to an annual holiday-celebration poll of 150 companies.
Most of the companies, 62 percent, said their office events will not include gift giving, continuing a downward trend since 1999. And 75 percent said they'll serve alcohol, a figure which has remained steady in recent years, according to New York-based Battalia Winston International, a search firm.
Three-quarters said the 2005 party will cost about the same as last year, but nearly a third, 29 percent, say the parties are still more modest than the wild sorts of celebrations they had five years ago.
Seek out 'engaged' employees
Most job interviews are heavy on the preparation: What are your skills, training, educational background, learning abilities?
Given this weighting, a candidate's motivation is often an overlooked -- but crucial -- element in determining how well the person will excel in an organization, according to a study by Development Dimensions International, a human resources consulting firm.
To reduce the frequency of an unpleasant hiring surprise, the company recommends that companies pay more attention to a candidate's potential for engagement as a way to predict how they'll perform in the position.
Engaged employees have initiative and take ownership in their jobs, while the disengaged worker contributes much less and leads to quicker turnover.
The firm developed a list of six personal characteristics to help screen for likely engagement: Adaptability, achievement orientation, attraction for the work, emotional maturity, positive disposition and deep confidence in the ability to succeed.
"Measuring and selecting an engaged candidate is like hiring the caterpillar who turns into a butterfly -- not the moth who eats away the fabric of your organization," said Doug Reynolds, a vice president at Pittsburgh-based DDI.
Pricier gas might help online sales
Pricier gas costs this holiday shopping season might help online retailers. Most shoppers, 79 percent, said they'd alter their shopping habits if gas prices remain high, according to a poll of 1,813 adults who said they planned to do some online shopping this year.
Nearly half of those, 43 percent, said they'll shop online more to reduce their gasoline use.
And what's the most attractive proposition with online shopping, as opposed to the traditional sort? Three-quarters cited the ability to shop anytime, regardless of the hour. Nearly that many, 68 percent, said they liked avoiding crowded parking lots and long lines at stores.
The survey was conducted by Yahoo Small Business, a division of Yahoo Inc.