BOOKS
Diaries chronicle plight of Japanese
Elementary school educators spend a lot of time instilling in their young charges the idea that all humans are the same, even if their customs and appearances are different. It's a concept that's easy to grasp, if also easy for adults to forget during times of war, when the enemy is viewed as less than human.
"Wartime Diaries Revealed"
Samuel Hideo Yamashita speaks about his new book:

Where: Japanese Cultural Center of Hawai'i, 2454 S. Beretania St., 5th floor Diamond Head Room

When: 1 to 2:30 p.m. today

Admission: Free

Call: 945-7633

Note: The book will be available at a reduced price of $20 today only ($18 for JCCH members).<
"Leaves from an Autumn of Emergencies: Selections from the Wartime Diaries of Ordinary Japanese"
By Samuel Hideo Yamashita

University of Hawaii Press, 332 pages, softcover, $27.08 (tax included)
With our proximity to Pearl Harbor, the events of World War II are vividly remembered by all whose lives were touched by fighting, food shortages and school air-raid drills, but how many have ever taken the time to wonder about our counterparts in Japan dealing with the same issues?
Sixty years after the end of the fighting, we have a clue as to what they were thinking now that Samuel Hideo Yamashita has translated in English, for the first time, a collection of wartime diaries of eight Japanese citizens, titled "Autumn of Emergencies: Selections from the Wartime Diaries of Ordinary Japanese."
Although Japan's history of war has been presented through accounts of journalists and the military elite, the diaries chronicle the last years of World War II and its aftermath as experienced by those on the street and in the trenches: a navy kamikaze pilot, an army straggler on Okinawa, an elderly Kyoto businessman, a Tokyo housewife, a young working woman in Tokyo, a teenage girl mobilized for war work and two schoolchildren evacuated to the countryside.
"What was most striking is what the diaries revealed was different from what we had been led to believe," said Yamashita, the Henry E. Sheffield professor of history at Pomona College, by phone from his office in Claremont, Calif. "We'd always heard that the Japanese people were fanatical and supported the war completely. What I found with the adult diaries were complex, ambivalent feelings about the war.
"Many of the diarists had major reservations about the war -- even an army private who was still fighting. The women kept talking about defeat pretty early, certainly by 1943, and both were very happy when Japan's surrender was announced."
A scholar of 17th- and 18th-century Confucian works, Yamashita, who grew up in Kailua and graduated from Mid-Pacific Institute, said reading the diaries presented a refreshing break from studying elite prose.
"There are more ordinary people in the world, and in times of war, it's the ordinary people who suffer the most," he said, knowing the stories his mother and father, a 100th Battalion soldier, told of their wartime experiences. "They're the ones who bear the burden of sending their sons, fathers and uncles off to fight, and many times, they don't come back."
YAMASHITA COLLECTED 80 diaries in his research that he began in 1995 with the intention of finding WWII material for his class in modern Japan history. Most histories of Japan tend to gloss over the era.
"I think it had something to do with the beginning of the Cold War," Yamashita said. "Until the summer of 1947, Japanese were the enemy and Japan was punished. Occupation policies were very punitive until it became clear the Kuomintang (in China) were going to lose to the Communists. Then, the picture changed.
"The history highlighted became that of Japan's rapid modernization, not the war. One of the explanations was political. It was important to present Japan as an ally and friend."
This tactic has left lasting negative repercussions.
"War responsibility has never been satisfactorily resolved," Yamashita said. "Legally, it was addressed with the San Francisco Peace Treaty, but many people are not satisfied. There are lingering doubts as to whether the Japanese have owned up to their responsibility for the war.
"Various governments still use the war to gain leverage against their neighbors."
Recent controversies have centered on Yasukuni Shrine (literally "peaceful nation shrine") in Tokyo, dedicated to the spirits of nearly 2.5 million soldiers killed in battle, including convicted war criminals who died by hanging: Hideki Tojo, Itagaki Seishiro, Heitaro Kimura, Kenji Doihara, Iwane Matsui, Akira Muto and Koki Hirota, enshrined as the "Martyrs of Showa."
For many Asian nations, the shrine is a symbol of Japanese militarism and right-wing nationalism, perpetuated by an on-site museum criticized for its revisionist interpretation of the war.
Due to this perception, Emperor Hirohito stopped paying visits to Yasukuni Shrine, as has his successor, Emperor Akihito. But current Japanese Prime Minister Junichiro Koizumi has visited the shrine annually since 2001, resulting in increasing anger and official condemnation by neighboring countries.
As Japanese nationalists and revisionists grow more vocal in light of South Korea's and China's new cultural and economic might, a wave of comic books have also emerged in Japan, condemning Koreans and Chinese.
"I think if you stop people on the streets of Japan, Korea or China, they will tell you the war is not something they think about a lot," Yamashita said. "But if you talk to people with some political awareness of the history of Japan, Korea and China relations, they will acknowledge there is a danger that younger people are becoming infected by residue of wartime hatred."
IN SPITE OF HIS empathy for people who saw themselves as victims of a war-mongering regime, thereby rendering themselves blameless, Yamashita said, "In war the total population is implicated and involved because you cannot fight a total war without the support of the entire population."
This is interesting news for the 30 percent of Americans who opposed going to war in Iraq from the beginning. But Yamashita said government manipulation makes it difficult for opponents of war to speak up without being maligned.
"People are patriotic, but most importantly, they feel enormous sympathy for troops and are reticent to speak up.
"Events like the Pearl Harbor attack or 9/11 attack are so affecting, and of course politicians and policy-makers did use those events to portray the enemy as subhuman, evil and dangerous.
"If you're sending soldiers overseas, it's important to instill in your men this view of the enemy. It makes the enemy easier to kill."
He was particularly interested in the ways the Japanese government was able to manipulate and control its people through censorship, mobilization campaigns and secret police spying of neighbors on neighbors.
Children were also conditioned to be fighters. One of the most memorable passages in the diaries, Yamashita said, was that of a 10-year-old schoolgirl, Nakane Mihoku, who was evacuated to Fukumitsu, a village in Toyama prefecture, when air raids over Tokyo intensified in 1945. Without fully comprehending the circumstances, it simply represented a fun adventure to Mihoku and her classmates. On June 17, 1945, she wrote:
"Today was a spiritual training day for the whole school, and we did something different -- we did hand-to-hand combat. Iwamaru-sensei told us many different stories. Then we piggybacked the person across from us and ran and did things. The next station was Akuzawa-sensei's hand grenade-throwing class. We used small balls for hand grenades and imagined that the large ball we used for the intergrade meet was the enemy's head and threw the small balls at it. We threw the grenades with all our might, but they didn't hit their target. Then we moved to Hachikuwa-sensei's station, where we practiced striking and killing with a wooden sword. We faked to the left and faked to the right. Then after some time we went to Ishida-sensei's station. We took our clothes off and practiced spearing someone. We used our foreheads to butt the chest of the person in front of us, thrust our hands into their armpits, and pushed with our feet firmly planted on the ground. In the end, only one person was still thrusting. Then when that was done, we went to Yoshikado-sensei's station, where we practiced spearing. Yoshikado-sensei said, 'They're still there. Spear them! Spear them!' and it was really fun. I was tired, but I realized that even one person can kill a lot of the enemy."
In notes written into the diary, her teacher commented, "You really persevered, didn't you?"
IN READINGS ACROSS the nation, Yamashita said he's met many who have echoed his sentiment that the diaries revealed a side of the enemy that they had not known before.
"Older people speak up and express amazement about having seen the Japanese only in monochromatic terms.
"As a historian I would hope the book encourages people to have more empathy for others. America, in spite of 9/11, has never experienced the kind of destruction caused by the bombing of Iraq or Japan. So there's not a lot of sympathy for those on the ground being bombed.
"I would hope that (readers) learn something about the complexity of historical reality -- that it is never black and white."
For youths who don't believe a 60-year-old history has relevance today, he said: "In a democracy, you're not a full citizen if you don't have knowledge of the past and present. I don't think you could make intelligent decisions.
"With all due respect for the victims of history, we have to know what happened and know why it happened. I was drafted into the Vietnam War, and it makes me sad to see us making similar blunders again."
---
BACK TO TOP
|
EXCERPTS FROM THE BOOK
From the diary of Takahashi Aiko
A Tokyo physician's wife who was educated in California:
April 21, 1943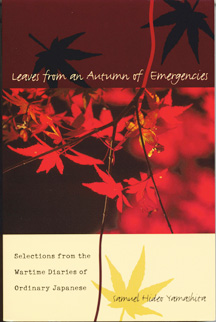 When we read the morning newspaper, we learned the cabinet ministers are suddenly being reshuffled. The prime minister, of course, will continue, but the home minister, foreign minister, education minister and agricultural minister have been reshuffled, and Prime Minister Tojo will serve also as education minister. Perhaps there were differences of opinion within the government. What exactly is happening? It's like picking colors in the dark, and for better or worse, there is no criticizing the government. It simply makes us uneasy.
That evening Kazuide-chan brought over some thread. This was a great help. Recently, whenever you wash newly made clothes, they have to be mended or patched before being worn again. We need thread for garments that are falling apart, but we're really in a fix because none is available. I just used red thread on a black background and stitched some white material with black thread, but everybody is having to do this, this is perfectly OK.
When it was evening, Rei-chan came to pick up the rice-hulling stick. Somebody thought of a way to hull the brown rice distributed to us: you put the rice into a beer bottle, filling it up halfway, and then beat it with a stick until it turns white. Most households do this -- at night or when someone has a moment. The newspapers tell us ad nauseum that brown rice is good for the body, and although it is indelicate to say this, if one looks at one's excrement after eating brown rice, the brown rice is still there. With food and such in such short supply and with less protein, it seems like such a waste, and it's a pity we can't laugh about this. We hull rice using the beer bottle method until blisters begin to form on our hands, our sleeves start to tear, and we get tired. We use the fine powder that the hulls leave in the bottle to make flour and then steamed bread, which everyone eats. When humans reach this point, perfectionists are seen as a peacetime luxury.
From the diary of Tamura Tsunejiro
A 74-year-old billiards parlor owner:
Aug. 2, 1944
The departure of the brave young conscripts was glorious: They were sent off with enthusiastic shouts of banzai, and they offered a rousing greeting as a veritable human wave and then left for the front. With the recent gyokusai (collective deaths) on Saipan, theirs is not an enviable position. Yesterday I saw a soldier in his 40s leaving with no one to send him off. He was saying goodbye to his parents, wife and children, who watched forlornly as the train disappeared in the east. In the past it was said that a human life lasted for 50 years, but the lives of today's student conscripts and young people last barely 25. Words like these are prohibited as "dangerous thoughts," but they're a sign of exasperation.
You brave old warrior, I pray, from the bottom of my heart, for your success in war. Oh, you young ones! I feel pity for you, born in a difficult time."