Tahitian surfer drowns in Pipeline wipeout
The pro rider disappeared under the lip of a barreling 15-foot wave
A well-known surfer from Tahiti apparently drowned yesterday after wiping out on a large wave at Banzai Pipeline on Oahu's North Shore.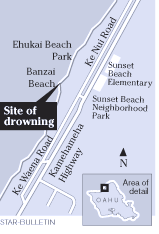 Lifeguards and surfers pulled Malik Joyeux, 25, out of the water about 10 minutes after he had gone down and disappeared. A city ambulance took Joyeux to Kahuku Hospital, where he was pronounced dead.
The city medical examiner will determine the cause of death. Lifeguards said there were no visible injuries.
Joyeux, from Moorea, is best known for riding the biggest wave ever surfed at Teahupoo in Tahiti two years ago. He was among 50 surfers at Pipeline yesterday. Lifeguards said the waves were smooth, glassy and in the 6- to 8-foot range, based on the traditional local style of measuring wave heights.
Joey Sadoy said he was in the water next to Joyeux when he saw him try to catch one of the largest waves of the morning.
"He took off really late. He made it to the bottom, but the wave was already about to barrel," he said.
Sadoy said the wave had a face height of about 15 feet. He said no one else was on the wave because they were not in a position to catch it. The wave was part of a large set that started rolling in and breaking farther offshore than earlier sets. Many of the surfers were still paddling out to the break.
Aaron Croxford was recording video from the beach and saw Joyeux wipe out.
"He got to the bottom of the wave, right where the lip was going to land, and the lip landed on him," Croxford said.
Sadoy said all the other surfers in the water immediately knew Joyeux was in trouble and started looking for him. Joyeux did not surface, but his board did -- in two pieces.
"Everyone was freaking out," Sadoy said.
People on the beach who knew what happened jumped into the surf to help look for Joyeux, Croxford said.
The city's North Shore lifeguard supervisor said the lifeguards recorded the alarm of a missing surfer at 10:15 a.m. He said they probably saw Joyeux take off and wipe out.
The surfers and lifeguards formed a line in the ocean to look for Joyeux. They found him about 100 yards offshore and about 400 yards up the coast and paddled him to shore, where lifeguards and ocean safety officials tried unsuccessfully to revive him.
---
The Associated Press contributed to this report.