| | |
| --- | --- |
| | Island Mele |
---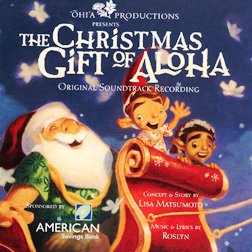 "The Christmas Gift of Aloha"
Original Soundtrack Cast
(Ohia Productions)
"You saw the show and bought the book, now get the soundtrack!" That's the obvious pitch for this new spinoff of Ohia Productions' musical at Ala Moana CenterStage. The show and a hard-bound souvenir book debuted a year ago, so a soundtrack album is a natural.
Lisa Matsumoto's pidgin musical is standard-issue Ohia Productions entertainment. A naive Christmas elf named Merry finds himself in Hawaii, meets a quick-witted menehune named Mele and learns that menehunes make toys for Santa, too. Insult humor is a basic ingredient in Matsumoto's shows, and Caucasian characters are usually the clueless targets of sharp-tongued locals, but Merry is eventually welcomed into the menehune ohana.
Tragedy strikes when Merry accidentally destroys all the toys that the menehunes have made, but the menehune children have a merry Christmas and a mele Kalikimaka anyway. Give playwright/producer Matsumoto bonus points for emphasizing that Christmas is not about getting presents.
Roslyn Catracchia and David Kauahikaua share credit for the soundtrack -- she wrote the songs and he did the instrumentation. One of the songs, "Da Candy Cane Train," sounds like a cross between "The Macarena" and "Willie and the Hand Jive," but the rest of the score is fresh, albeit written and arranged in their familiar style.
Matsumoto has included all the song lyrics in the colorful liner notes booklet, so there's an opportunity here for kids to improve their reading skills as they enjoy the story of Merry, Mele and Christmas in Hawaii.
Strictly speaking, this beautifully packaged album is a soundtrack rather than Christmas music per se but should brighten the Christmas season for many kids in Hawaii.
www.ohia.org
---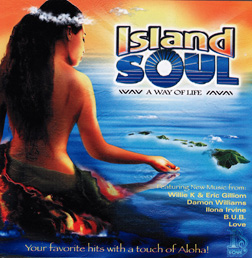 "Island Soul, Vol. 1"
Various Artists
(Rip Tide Records)
The contents of this compilation suggest that the label believes there is a market for generic Jawaiian remakes and soulless pop. Say it isn't so!
The nadir of this collection is a mechanical remake of "Soul & Inspiration" by an act called Love. While the Righteous Brothers sounded like they really couldn't "make it without you" back with their 1966 original version, Love has all the passion of someone recording a song demo by singing along to a click track.
Karaoke-style renditions of "Just Once" by Damon Williams, and "Set the Night to Music" by Dani Girl Waring and Dennis Kahula, are better but offer no new insights. Jeremy "Pito" Javier does a nice job copying Steve Wonder's "Master Blaster (Jammin')," but since Wonder's version is still around -- and Bob Marley's as well -- why bother? The same is true of Kuma's reggae-lite take on "People Get Ready" -- a good idea, but it's been done better before.
Several of the acts are better than their material. Veteran entertainers Willie K & Eric Gilliom transcend the reggae-lite format with their soulful version of "Nothing Compares 2 You." Another standout is "Soul & Inspiration (DJ Nasty Boy Remix)" as Nick "DJ Nasty Boy" Sado improves on Love's earlier take on the song by adding some vintage sound bites from "Eric B Is President."
www.pacifichawaiian.com
---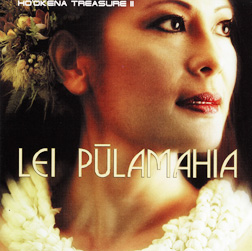 "Ho'okena Treasure II:
Lei Pulamahia"
Ho'okena
(Ho'omau Inc.)
It's crucial that Hawaiian recordings be properly documented for the benefit of people who don't have an encyclopedia knowledge of the music. This anthology is a convenient collection of beautiful songs culled apparently at random from six albums, but the annotation falls far short of adequate.
There's no mention of the two former members who contributed to the group's success. Nor is it explained how Ho'okena can count 2006 as its 20th anniversary when the group did not exist in 1985.
What should have been mentioned is that Ho'okena traces its history back to Kipona Leo Hawaii, a male acoustic quartet that won the Ka Himeni Ana Hawaiian Song Contest in 1986. Three former members of that group teamed up with Bozo Hanohano and Glen H.K. Smith and introduced themselves as Ho'okena in 1990 with the release of their debut album, "Thirst Quencher!"
Hanohano left after the release of their second album, and Ho'okena continued on as a quartet until Chris Kamaka, the fourth member of Kipona Leo Hawaii, joined Ho'okena in '99. William "Ama" Aarona, one of the three members of Kipona Leo Hawaii who founded Ho'okena, left the group before work started on "Cool Elevation" in 2003.
There are five songs here from the albums Hanohano played on, and a total of 11 from Aarona's much longer tenure. Both men should have been mentioned in the liner notes.
On the plus side, the group has provided composer's credits and a one-line comment on each song.
Ho'okena fans will need to buy this CD to keep their collections complete, but there's nothing new here except for the beautiful cover photo of the group's hula accompanist, Nani Dudiot.
www.hookena.com
John Berger, who has covered the local entertainment scene since 1972, writes reviews of recordings produced by Hawaii artists. See the Star-Bulletin's Today section on Fridays for the latest reviews. Contact John Berger at
jberger@starbulletin.com
.