---
[ FAST FACTS HAWAII ]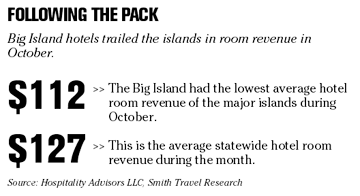 ---
BACK TO TOP


|


HAWAII
Hawaiian Telcom delays taking over back-office operations
Hawaiian Telcom Inc. will delay by two months its plan to take over back-office operations now performed by
Verizon Communications
.
Formed earlier this year, after Verizon sold its wired phone and high-speed Internet assets to the Carlyle Group, Hawaiian Telcom has been paying Verizon $8 million a month to provide back-office operations systems since the deal closed.
Hawaiian Telcom had planned to bring online its own $100 million system in early February, but said yesterday that it will wait until April 1 to do so.
Hawaiian Telcom will pay Verizon $10 million a month to use the system in February and March.
Hawaiian Air has fewest complaints
Hawaiian Airlines
had the fewest flight cancelations and complaints among U.S. carriers in October, and the best on-time service, according to a federal report cited by the airline.
The local carrier ranked third for baggage handling and for fewest oversales of seats on its planes.
NATION
U.S. economy added 215,000 jobs
The U.S. economy added 215,000 jobs in November, bouncing back from two months of weak employment growth triggered by Hurricanes Katrina and Rita.
The payroll gain was the biggest since July and almost five times the October increase, the U.S. Labor Department said yesterday in Washington. The unemployment rate held at 5 percent, in line with the average over the last decade.
Ex-Gemstar CFO settles lawsuit
Elsie Leung, a former chief financial officer of
Gemstar-TV Guide International Inc.
who was scheduled to go on trial next week, has reached an agreement to settle a lawsuit brought by the Securities and Exchange Commission.
Leung and the SEC have negotiated terms of a settlement, which still needs to be approved by the commission, according to an order filed yesterday in U.S. District Court in Los Angeles. Leung's case will be severed from that of former Gemstar Chief Executive Henry Yuen, whose trial is still scheduled for Tuesday.
The SEC in 2003 accused Leung and Yuen of reporting false advertising sales to inflate revenue at Gemstar, the publisher of TV Guide magazine, by about $248 million from 1999 to 2002.
WORLD
Regulators warn Sumitomo Mitsui
TOKYO » Japan's anti-monopoly authorities warned Sumitomo Mitsui Banking Corp. on Friday to quit engaging in unfair practices after examining complaints that the the nation's third biggest bank pressured business borrowers to buy other financial products.
The Japan Fair Trade Commission had been investigating allegations that the unit of Sumitomo Mitsui Financial Group made buying financial products a condition for loans to small and midsize companies in violation of the nation's anti-monopoly law.