---
[ FAST FACTS HAWAII ]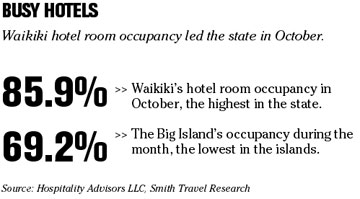 ---
BACK TO TOP


|


HAWAII
Wahoo's Fish Taco coming to Ward
California-based Wahoo's Fish Taco restaurant will open Jan. 4 at the Ward Gateway Complex.
The restaurant chain of 40 company-owned and franchised stores was founded in 1988 by brothers Wing, Eduardo and Mingo Lee.
The Hawaii restaurant will be a franchise, run by three siblings -- Stephanie, Mike and Noel Pietsch -- adult children of Title Guaranty Chief Executive Michael Pietsch.
"We are pleased to welcome the Pietsch family as our Hawaii partners," Wing Lee said. "Like us, they are three siblings who want to work together to create a new kind of dining experience."
Stephanie Pietsch said they knew the restaurant would be "a perfect fit for Hawaii" the first time they visited a restaurant on the mainland.
Wahoo's Fish Taco has a Mexican- Brazilian- and Asian-influenced menu while the restaurant has a Hawaiian North Shore vibe, according to www.wahoos.com.
The company's signature taco is made with grilled wahoo, known locally as ono, but it also uses mahi mahi and offers other meats as well as vegetarian selections.
General Manager Heather Avery will oversee the restaurant's 30 employees.
Loft@Waikiki project back on track
Almost two years behind schedule, the developer of the Loft@Waikiki has taken on a new financial partner and is set to begin construction before the end of the year.
Don Huang, who formed Urban Loft Development to build the 36-unit project at 427 Launiu St., had originally sought to begin construction on the $19.2 million development in March 2004, but like many others in Waikiki and Kakaako the project was delayed by the high cost of construction materials and the industry's labor shortage.
A subsidiary of Da Vinci Advisors, a real estate investment fund sponsor and manager with over $4 billion in real estate assets under management, has joined Huang as an investor and partner for the six-story midrise building.
Finance Factors LLC has provided a $19.2 million construction loan and a unit of KD Construction Inc. has been contracted to build the project, which is slated for completion by the end of next year.
A total of 28 units have been sold, with the remaining eight units to be released by the project's principal broker, Prudential Locations LLC, at prices starting from $827,000 fee simple. In 2003, buyers were reserving units starting at $580,000, but the developer was forced to increase pricing when the market began to heat.
Law discourages bankruptcies
Hawaii bankruptcy filings continued to be scarce last month following the start of a new federal law on Oct. 17 that made it more difficult and costly to seek financial relief.
Only 14 parties sought bankruptcy protection in November, down 93.5 percent from the 215 that filed in November 2004. In contrast, during the first 11 months of the year, bankruptcy filings jumped 55.8 percent to 4,438 from 2,848 at the same point a year earlier.
[HAWAII INC.]
NEW JOBS
»
Starwood Hotels and Resorts Hawaii
has appointed
Lynne Horan Chomicz
to account director, Hawaii region. She will be responsible for covering the company's preferred travel agency accounts, make wholesale reservation presentations and attend trade shows and events for accounts in the Midwest region. She previously served as the Sheraton Maui Resort group sales account director.
» Tapestry Interactive has appointed Jeremy Althof interactive marketing manager. He will be working on various client accounts, including Marriott International, Kauai Visitors Bureau and Mobi PCS.
---
NATION
Mortgage rates decline a second week
WASHINGTON » Rates on 30-year mortgages fell for a second consecutive week, but analysts still believe the future direction will be up as the Federal Reserve keeps tightening credit to keep inflation under control.
Mortgage giant Freddie Mac reported in its weekly survey yesterday that rates on 30-year, fixed-rate mortgages averaged 6.26 percent this week, down from 6.28 percent last week.
Rates for 30-year mortgages had hit 6.37 percent three weeks ago, the highest level in more than two years. Analysts attributed the two weeks of declines to market uncertainty over the economy.
Delta Air loses $1.14B in merely 6 weeks
ATLANTA »
Delta Air Lines Inc.
, the nation's third-largest carrier, said it lost a whopping $1.14 billion in the first six weeks of its bankruptcy case.
The Atlanta-based airline revealed the loss that amounted to $6.04 a share for the Sept. 15 to Oct. 31 period in a filing Wednesday night in U.S. Bankruptcy Court in New York. Delta filed for bankruptcy on Sept. 14.
The airline also said in it filing that it spent $2.61 billion in the first six weeks of its bankruptcy case, much of it on fuel, salaries and interest expense. It listed $17 million for "professional fees" associated with its bankruptcy case during the period.
In other news ...
Mortgage finance giant
Freddie Mac
, emerging from an accounting scandal, said yesterday it expects to report third-quarter earnings of around $600 million that reflect substantial losses from the Gulf Coast hurricanes.
WORLD
In other news ...
Japan's Finance Minister said today that the yen's tumble to its lowest level in more than two years against the dollar reflects "economic fundamentals," suggesting Tokyo is not about to act to stem the currency's slide. The dollar reached a 31-month high of 120.73 yen during the New York session, but settled at 120.60 yen at late this morning in Tokyo.