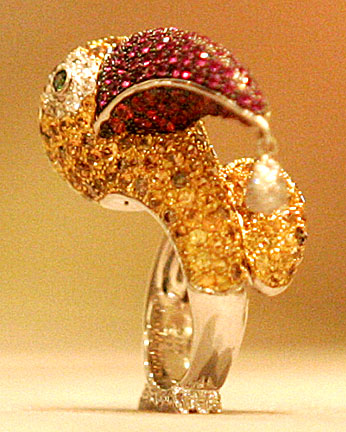 JAMM AQUINO /
JAQUINO@STARBULLETIN.COM
If you can wear one of Rosalina's rings, like this toucan, measuring an inch-and-a-half tall, you probably don't work much with your hands. The rings are $10,000 to $20,000.
Rosalina just wants to have fun, and it shows in her whimsical gems
>>
'Tis the season to sparkle
BLAME IT ON "that 40s thing."
"You know, you hit that age and you want to do something different," said jewelry designer Rosalina Lydster, who, after entering the biz 13 years ago, is recognized by her first name alone.
Her most recent coup was being named a couple of weeks ago as one of the official jewelers for next year's Academy Awards, an honor that usually goes to the biggest names in the business, such as Harry Winston and Fred Leighton.
MORE BLING
At Neiman Marcus:

» View John Hardy's Mystic Midnight Blue Topaz, plus diamond and sterling silver jewelry inspired by the frangipani and night-flowering jasmine of Bali, where the designer works. In Fine Jewelry, Level One.

» Lizzie Scheck returns 11 a.m. to 5 p.m. Dec. 16 and 17 with a trunk show of new designs, including an 18K holiday charm bracelet featuring candy cane, Rudolph and Christmas tree charms.
Not bad for a former investment banker, although her roots are in fine jewelry. The Vietnam-born designer represents the third generation of a family of jewelers, and her first attempts at design were done "just for fun and to help my mom," she said. "A lot of my pieces are still based on her style, but takes it to the next level."
That next level is a little hard to describe, because depending on what catches your eye first, you might think Jewelry by Rosalina is dark and dangerous, or sweet and romantic. Both sides were well-represented during a recent trunk show at Neiman Marcus, where her pieces are available in the Precious Jewels Salon, Level One.
On the one hand, there are "Pirates of the Caribbean"-inspired skull charms ($8,600) and pirate crosses ($24,000) set with precious stones, and on the other hand there are delicate diamond "Winter Wonderland" filagree bracelets, and necklaces dripping with delicate briolettes, designed especially for brides to be.
"I started making rings that were very 'Roman Holiday,' very dainty," she said, before qualifying, "Well, not dainty back then, but compared to what I'm doing now. From there, things just got bigger and bigger."
For those for whom size matters, her dramatic rings feature centerpiece stones measuring an inch across. One of the largest she sold was a $37,000 ring containing a 50-carat aquamarine that measured an inch-and-a-half.
Whether working with one big stone or hundreds of smaller gems, she said, "I want to give the collections a different look so people get excited when they see it. Some store buyers ask me, 'Why don't you pick a style and stick with it?' But I have all sorts of clientele, and you gotta be flexible. So I do fun, big things, and some small things, but I mix it.
"It's for different people, but an 80-year-old lady will buy a skull because she thinks it's different, and it's something she doesn't have.
"I always love what I do. If I don't enjoy it, I just move on."
The combination of counter-cultural designs and Rosalina's unapologetic break-the-rules approach to her life and work have made her the darling of socialites and young Hollywood. Among those who wear her jewelry are Jessica Alba, Paris and Nicky Hilton, Tori Spelling, Tara Reid, Pamela Anderson and Eva Longoria.
Rosalina also injects a lot of sass and humor into a business generally associated with cold snob appeal. An examination of a toucan ring, one of the creatures from her "Animal Fantasy Zoo" collection reveals a little bundle hanging from its beak, like the fabled image of a stork carrying an infant.
Thinking it's a case of mistaken bird identities, I asked, "What's that?"
"Oh, it's dripping water," she said.
"Oh, do they really do that?"
"No, it's like when you eat."
"You mean, like drool?"
"Yeah, drool," she said with a laugh. "I'm sure people make up all sorts of personal stories about these things," she said, certain of two facts: the appeal of weirdness and that quirky behavior is universal.
"One woman has six of them, and people name them, like one person calls this pink elephant Babbo, and one woman has a dragon brooch she calls Hugo."
Adrien Brody, who'll star in Peter Jackson's version of "King Kong," wears one of Rosalina's skull necklaces, as well as her King Kong ring.
The animal figures on her rings, studded with multi-color sapphires and diamonds, are instantly noticeable, standing about an inch-and-a-half over one's finger. Their bases are squared so they can also stand on one's dressing table, like a miniature piece of art.
The collection was inspired by Rosalina's children, a boy and girl, who at 9 and 12 respectively, love animals.
"My daughter said, 'Why don't you make a ring like a dog? And my son, who's born in the year of the rat, said 'I want a rat.' "
But the kids have had to wait. Her menagerie so far includes more exotic creatures: panthers, elephants, flamingos and hippos, costing $10,000 to $20,000 each. She's also created the counterpart to the elephant, the mule. Although she had no political intent when she designed them, she said they are selling equally well.
"I started creating these rings a year-and-a-half ago and I love it," she said. "A lot of people think they're hard to wear so I urge them to try them on and they get hooked on it.
"I love meeting people and coming out with crazy ideas all the time. And, of course I get to wear all my jewelry. Girl's best friend, right?"