Dec. 7 pleas honored
An Army switchboard operator attempted to sound the alarm
JUST A WEEK before the 64th anniversary of Dec. 7, 1941, an Army switchboard operator was honored for his role in nearly diverting the Japanese surprise attack on Pearl Harbor.
"It's long overdue," said George McDonald from his home in central Connecticut, speaking of his father's unheeded warnings early that day, after two radar operators called Fort Shafter to report planes 136 miles north of Oahu.
Pvt. Joseph McDonald, at the time a 21-year-old Army private, was at the end of a long 14-hour overnight shift at the switchboard. Shortly after 7:02 a.m., Pvt. Joseph Lockard, one of two operators of the Army's fledgling SCR-270 radar system at Opana Point near Kahuku, called McDonald to report a large flight of incoming planes. Although McDonald tried to get the Army to investigate the sightings, his pleas were ignored.
"I guess it's a story I've known for 50 some years," said his son, George. "I am glad the Army has recognized my father's effort."
With the help of U.S. Sen. Chris Dodd, D-Conn., Pvt. Joseph McDonald yesterday was posthumously awarded the Army Commendation Medal.
Dodd presented the medal to McDonald's family in East Hartford, Conn. Also present were U.S. Rep. John Larsen, East Hartford Mayor Melody Curry, Pearl Harbor survivor Ray Krawice, and Maj. Gen. Thaddeus Martin, Connecticut's adjutant general.
Four years ago, George McDonald sought Dodd's help in getting recognition for his father.
"Over the years, other Pearl Harbor survivors have been recognized for what they did, but my father was never so honored," he said.
McDonald, who died in 1994, was stationed at Fort Shafter's information center as a member of the 580th Signal Aircraft Warning Company the day of the attack.
George McDonald said his father "was sure that this call was serious. My father was diligent in his work."
He wanted the officer in charge, Lt. Kermit Taylor, to recall Army plotters, who had just left the night shift, to the information center at Fort Shafter. The plotters worked on a large table map of the islands and plotted all radar sightings.
George McDonald said his father also believed that the radar sightings should have been reported to Wheeler Field. However, McDonald's requests were ignored and about an hour later, Hickam Field was hit by Japanese bombs.
AN UNHEEDED WARNING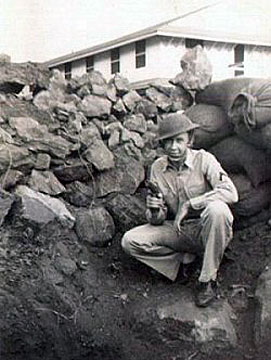 "It (the award) clarified for the historical record what efforts were made to have Lt. Tyler act on the Opana Radar warning ... Instead, the warning was ignored and dismissed as possibly a flight from the states. The rest is history," McDonald said.
Initially, the family requested that Joseph McDonald be awarded a Silver Star for his role in alerting the military of a possible attack.
However, on Aug. 19, 2005, Lt. Col. William Johnson, chief of the Army's award branch, said that McDonald's degree of action did not warrant the Silver Star and recommended that he be awarded the Army Commendation Medal.
Marvin Fast, Dodd's spokesman, said the senator "was moved by the actions of this veteran and his poignant tale. He was very glad to help to present the award to the family."
McDonald's citation said that the soldier repeatedly asked Taylor, who had been there only for a day, to consider the warning.
"However, the lieutenant was convinced that this reported contact consisted of numerous B-17 bombers that were due to arrive from the continental United States," the citation said.
"Undeterred, Pvt. McDonald continued to discuss the warnings with the radar station and again, he repeated his request to the lieutenant that further investigation of the numerous approaching planes were justified."
George McDonald, in recounting his father's story, said that radar operator Lockhard even asked to talk to Taylor. "The lieutenant took the phone and my father could hear, 'Well, don't worry about it.' After the lieutenant got off the phone, Joseph McDonald asked if he should recall the plotters or call Wheeler Field. The lieutenant replied, 'Don't worry about it.'"
After being relieved from his 14-hour shift, McDonald returned to his tent at Fort Shafter, where he had a view of Pearl Harbor.
In written recollections left to his son, the elder McDonald said he could see planes overhead.
"There were a lot of them and they seemed to play follow the leader. They were flying in single file. Finally, the lead plane dived and the others followed. They could hear the loud roar of explosions and black smoke. A radio was playing in a nearby tent. The music stopped and a frantic voice said, 'All cars keep clear of Pearl Harbor. Pearl Harbor is under attack by the Japanese.'"
There were planes diving on Pearl Harbor and Hickam Field, McDonald told his son.
"The explosions kept getting worse. Everybody was stunned. Some guys were running out of their tents with their pants half down and some no pants on at all. Everybody seemed to be running in different directions. Confusion ruled as the torpedo planes flew overhead. The planes were so low that some threw stones at them. All of the ammunition was locked up. The rocks became their only weapon."
George McDonald said: "That was my father's longest day. My father continued in the central Pacific hopping on a number of islands as the military headed for Japan. He did not talk a lot about Pearl Harbor publicly. He always questioned how many lives might have been saved if the radar warning was heeded."