---
Get a discount in return for that fruitcake
Ah, the fruitcake. We love it, we hate it, but mostly we love to make fun of it. Enter Cold Stone Creamery, which is thumbing its nose at the fruitcake all through December.
Through the Fruitcake Freedom Initiative, Cold Stone will exchange any fruitcake for a $5 discount off any medium 8-inch ice cream cake. Just bring in your unwanted fruitcake in December and claim your discount.
Cold Stone's holiday cake selections include Candy Cane Wonderland and Dark Peppermint Pleasure.
Send items to Eleanor Nakama-Mitsunaga, 7 Waterfront Plaza, Suite 210, Honolulu 96813, or e-mail her at
elnm@earthlink.net
---
BOW WOW SANTA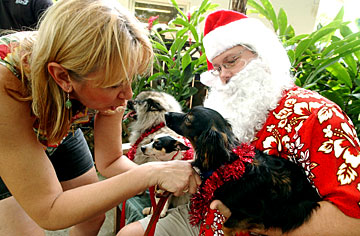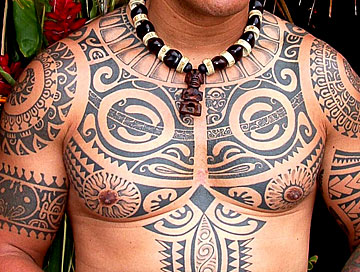 FILE PHOTO
Tattooing expert to speak at LCC
Tricia Allen, a tattooist and anthropologist, speaks on the cultural practice of Polynesian tattooing, from 10:30 to 11:45 a.m. tomorrow at Leeward Community College, Room GT105.
"Tattooing Today on Tahiti and Her Isles" will recount Allen's experiences at the Tattoo Festival in Tahiti. She has documented tattooing on the islands of Tahiti, Moorea, Huahine and Bora Bora, and contrasts the modern form with practices from the 19th century.
Allen has been documenting tattooing in the Society Islands since 1992.
Admission is free admission. Call 944-7784.
KEIKI KALIKIMAKA
Kids -- Help us trim our pages through the holidays with your hand-designed ornaments (shown here are samples from previous years).We'll run one creation daily from tomorrow through Christmas Eve, and show them all on Christmas Day. Fill out this form and send it in with your entry. First prize is 10 movie tickets and $100 cash.
Child's name:
Age:
School:
Grade:
Teacher's name:
Parent's name:
Home address:
Phone number(s):
Mail entries to:
"Keiki Kalikimaka," Honolulu Star-Bulletin Features Section, 7 Waterfront Plaza, Suite 210, Honolulu 96813.
No fax or e-mail entries.
The rules: Keiki Kalikimaka is open to children up to age 12. Entries must be submitted on plain white paper, at least 5-by-7-inches. No three-dimensional entries. Children of employees of the Star-Bulletin and Midweek are ineligible. The winner will be chosen by the Star-Bulletin staff and announced on Christmas Day in the newspaper. The judges' decision is final. Entries will not be returned.