---
[ FAST FACTS HAWAII ]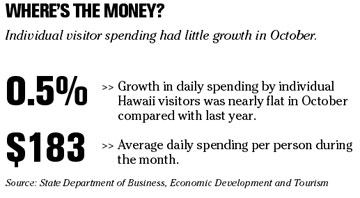 ---
BACK TO TOP


|


HAWAII
Outrigger, Hawaiian Air form check-in partnership
In the first airline-hotel partnership in Hawaii offering Web check-in service,
Hawaiian Airlines
passengers staying in Waikiki at any of four
Outrigger Hotels & Resorts
properties can now check in for flights before leaving their hotel.
Travelers can check in luggage and print out boarding passes at lobby kiosks at the Outrigger Waikiki on the Beach, the Outrigger Reef on the Beach, the Ohana East and the Ohana Maile Sky Court.
Passengers also can change their flight or seat location and upgrade to first class. Any fees for excess or overweight baggage are handled online, eliminating airport wait time.
A&B venture sells office building
A joint venture involving
Alexander & Baldwin Inc.
has developed and sold a three-story, 64,300-square-foot office building in Valencia, Calif., for $19.8 million.
The company built the Westridge Executive Plaza with an affiliate of developer Intertex Construction Co. of Valencia. The buyer was Core Realty Holdings LLC, a newly formed investment company.
Ex-Cyanotech CFO joins water firm
Jeffrey Sakamoto has been named chief financial officer of
Deep Sea Water International Inc.
, maker of Kona Deep 100% Hawaii Deep Sea Drinking Water.
Sakamoto previously was chief financial officer of Cyanotech Corp.
[HAWAII INC.]
NEW JOBS
»
Alexander & Baldwin Inc.
has hired
Aileen H. Nonaka
as human resources director. She will be responsible for the company's compensation and benefit programs for nonunion employees. She will succeed
Ramona Sayre
, who will retire in April.
» Central Pacific Bank has appointed Kathy Perkins senior vice president and retail banking division head. She previously served as the Chamber of Commerce of Hawaii's vice president of membership and worked at the Bank of Hawaii for more than 20 years.
» Maui Pineapple Co. has appointed Brian B. Orlopp vice president, strategic planning. He will be responsible for the development of agricultural business initiatives and design and implementation of agribusiness decision-support systems. He previously served as Dole Food Co.-Hawaii's vice president and general manager.
ON THE BOARD
»
LavaNet
has appointed
Kit Grant
to its board of directors. She replaces professor
Philip Johnson
, who will depart for a sabbatical. She has over 18 years of experience.
» The Hawaii Advertising Federation's board of directors has elected Chris Grant vice president. He is a KITV senior account executive. He is serving in the second year of a two-year term, he replaced Chuck Crossno, who left the market in September.
---
NATION
Gold breaks through $500 an ounce
TOKYO » Gold prices broke through the critical threshold of $500 an ounce in Asian trading yesterday for the first time since late 1987, driven by investor demand for the metal as a diversifying asset. Prices retreated in later trading.
A fourth consecutive day of strong Japanese buying sent gold above the milestone, traders said, bringing the metal's gains to 10 percent in less than four weeks.
Spot gold rose as high as $502.80 per troy ounce in intraday trading before slipping back to settle at $499.20 in New York trading.
Gold's appeal as a hedge against currency weakness, inflation and financial instabilities in general has driven the recent rise in prices, traders said.
Japanese buyers are apparently being encouraged by strong technical trends and possibly concerns about further yen weakness, Barclays Capital said in a report.
Recent reports that Russia wants to buy more gold in a bid to diversify its foreign reserves have also helped push gold higher, Tokyo traders said.
Opinion is divided on gold's next immediate move, but there is general agreement that the market could see further gains in the longer run. Some participants expect to see profit-taking in a technically overbought market, while others say sentiment seems strong enough to lift prices higher.
Settlement reached in Kmart pension suit
TROY, Mich. » As many as 150,000 employees and retirees of the former Kmart Corp. would share $11.75 million in a proposed settlement of a lawsuit against ex-company officials over the investment of pension funds in Kmart's now worthless stock.
The agreement involves those who participated in Kmart pensions from March 15, 1999, to March 6, 2003. Court documents say the people involved lost between $28 million and $300 million.
The settlement is in the best interest of the class, said Glen Connor, a lawyer for one retiree who filed a class-action lawsuit, in court papers asking for approval of the deal.