| | |
| --- | --- |
| | Hawaii Beat |
---
[OUT THERE]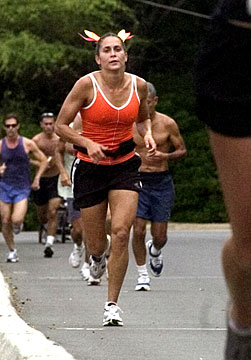 Martin and Weng are D-II All-Americans
Hawaii Pacific's Barbara Martin and Brigham Young-Hawaii's Yu Chuan Weng were chosen for the All-America teams for NCAA Division II women's volleyball.
Martin, a 6-foot-3 junior middle blocker from Brazil, averaged 4.69 kills and 1.11 blocks per game to lead the Sea Warriors to the NCAA D-II Pacific Region semifinals. She is the school's all-time leader in blocks, and she reached 20 kills or more in seven of her last eight matches.
Weng, a 5-9 senior outside hitter from Taiwan, led the nation in kills with 6.91 per game and she hit .308. She had at least 30 kills in seven matches, including two with 40 or more, and she completed her career as the Seasiders' all-time kill leader with 1,768.
Hawaii Pacific's 6-foot senior outside hitter Flavia Brakling and 5-11 senior setter Vera Oliveira, both of Brazil, were chosen as second-team All-Americans.
Brakling averaged 4.36 kills and 3.10 digs per game for the Sea Warriors. Oliveira averaged 13.19 assists per game.
Hawaii-Hilo's 5-9 junior outside hitter Taina Savage earned All-America honorable mention honors.
Hawaii's Sanders is WAC's player of week
University of Hawaii guard Amy Sanders was named as the WAC's player of the week in women's basketball yesterday.
Sanders, a senior from Huntington Beach, Calif., averaged 15 points, 5.3 rebounds and 2.0 assists to lead the Rainbow Wahine to a 2-1 record last weekend.
She scored 14 points, including the game-winning bucket with 1 second left in a 68-66 win over Texas A&M in the third-place game of the Rainbow Wahine Classic.
Sanders also had 12 points, seven rebounds and four assists in a 68-63 win over Washington State. She also added 19 points and seven rebounds in a 77-67 loss to Wisconsin.
Bryant is UH's new compliance coordinator
Bill Bryant is the University of Hawaii's new compliance coordinator, according to athletic director Herman Frazier.
Bryant fills the vacancy created when Daniel Arakaki took over as director of student affairs in the athletic department.
Bryant comes to UH after serving as compliance coordinator at William & Mary since 1997. He also spent time at Pittsburgh (1990-97), Arizona State (1987-90) and Oregon (1984-87).
Pro team leads amateurs in Burns Cup
The professional team leads the team of amateurs 7 1/2 to 4 1/2 going into today's second day of the 33rd annual Gov. John A. Burns Challenge Cup at Mid-Pacific Country Club.
The teams played two rounds yesterday. The first round was 4-ball match play and the second round was foursome (Scotch) match play.
Individual matches make up today's final round.
Three pro teams won two matches yesterday -- Reynold Lee and Phil Chun, Joey Tadeo and Norman-Ganin Asao, Kevin Carll and Regan Lee, and Kirk Nelson and Matt Pakkala.
Two amateur teams also won two matches yesterday -- Tadd Fujikawa and Chris Souza, and Jonathan Ota and Brandan Kop.
Hilo's Basilio picked to all-tourney team
Webster University (Mo.) senior forward Christian Basilio was picked to the Sodexho Classic All-Tournament team in basketball last weekend at Maryville University in St. Louis.
Basilio scored 11 points with five rebounds and two blocks in a loss to Hanover (Ind.) and scored six points with eight rebounds and another block in a loss to Transylvania (Ky.).