---
[ FAST FACTS HAWAII ]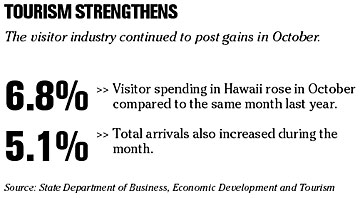 ---
BACK TO TOP


|


NATION
Federated Investors settles fraud charges
ALBANY, N.Y. >>
Federated Investors Inc.
, one of the nation's largest investment managers, has agreed to pay $100 million to settle state and federal charges that it allowed favored clients to benefit from mutual fund trades at the expense of other investors, New York Attorney General Eliot Spitzer and U.S. regulators said yesterday.
"With this agreement, virtually the entire mutual fund industry has now sworn off improper trading practices and agreed to compensate investors who were harmed," Spitzer said of the settlements with his office and the Securities and Exchange Commission.
China not manipulating, U.S. says
WASHINGTON » The Bush administration determined yesterday that China was not manipulating its currency to gain economic advantages, but it still pressed the Chinese to move more quickly to allow the yuan's value to be set by market forces.
The administration's determination, made in a currency report it is required to give Congress every six months, disappointed critics who contend that Chinese currency practices play a large role in America's soaring trade deficit.
"The administration's lack of action today hurts all Americans by refusing to acknowledge the obvious -- that China manipulates its currency," said Sen. Chuck Schumer, D-N.Y.
SEC investigates bankruptcies
The Securities and Exchange Commission is investigating the growing role of hedge funds in bankruptcy proceedings on concern money managers are overstating their bond holdings to get access to inside information.
SEC officials are trying to determine whether the funds exaggerate their stakes to gain membership on committees that oversee debt restructurings for bankrupt companies. The creditors' committees are privy to developments that may affect the value of a company's bonds, such as takeover offers, before they're disclosed to the public.
WORLD
Analyst backs Billabong deals
Billabong International Ltd.
, the world's biggest surfwear maker by market value, could spend $370 million buying branded clothing or retail businesses in Europe and the U.S., an analyst at
Citigroup
said.
Closely held surfwear makers including Rip Curl, O'Neill and Paul Frank could be subject to a debt-funded bid, Citigroup analyst Craig Woolford said in a note to clients today. Gold Coast-based Billabong could double its sales during the next five years with acquisitions and new products, Woolford said.
Chief Executive Derek O'Neill has expanded in the United States to tap rising demand for casual clothes, buying Kustom shoes, Palmers surfboard wax and Hawaii's Honolua Surf Co.