---
[ FAST FACTS HAWAII ]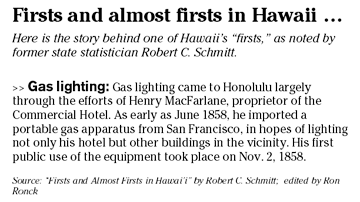 ---
BACK TO TOP


|


NATION
Some tips to curb shopping mall binges
You've resolved to do it differently this year: No more shopping mall binges or online clicking to fiscal oblivion just for holiday gifts.
If you're a little leery about how much restraint your family will exercise in the fray of the spending season, relax a bit. This process can be easier than you might think, according to the Consumer Credit Counseling Service of Atlanta, a nonprofit that helps people sort out debt payment issues. They offer a few tips:
» Set a spending limit. Base this on how much you could spend if you did it all without credit card borrowing. People who use credit cards for gifts spend an average of 30 percent more than those plunking down cash, according to the agency.
» Make a list. And then check it. (Works for Santa.) Include all the people you're certain need a gift from you. Next to the names, add the amount you feel prudent spending on them. When done, check: Is this total a huge amount of money? You might be able to cull some names, or trim the expected expenditures.
» Put some extra thought into your gifts. Typically, the most cherished gifts aren't those you got in a box from Amazon or Target. Do you have an old photo with a friend he or she may have forgotten about, or a youngster's artwork you could frame as a gift? Do you bake?
» Shop early, often and online. The sooner you start, the more information you'll have on all the products you're tracking. And the smarter you are about who sells what, for how much, shipping fees, taxes, specials, promotions, etc., the better off your finances will be.
Few firms give Thanksgiving birds
Jokes about your paycheck aside, does the boss ever give you a turkey?
Believe it or not, a few companies do give workers a free bird at Thanksgiving, according to a survey of 184 employers by Washington-based BNA Inc., which publishes financial reports and other analysis for business.
Two percent said they will give workers a turkey, down from 5 percent to 6 percent who did so over the past decade. Gift certificates for food are more common, with 7 percent offering those.
And for those who will work on the holiday, more than half the employers (52 percent) said they will pay overtime.
Another 14 percent said they give overtime and compensatory time off for working the holiday, while about 9 percent said they give the comp time only.
A twist on exec decision-making
Is your company a results-oriented dictatorship or a dysfunctional democracy where nothing really gets accomplished? In a new book, a former chief executive of luxury car maker
Porsche AG
offers an interesting take on how to achieve execution: decide like a democracy but implement like a dictatorship.
Peter W. Schutz, a former Caterpillar Inc. engineer and Cummins Engine Inc. executive, who also was Porsche's president from 1981 through 1988, contends that most managers do the opposite, making a decision and then finding that it's near impossible to get it implemented as it's sold, discussed and analyzed throughout the organization.
In the book, "The Driving Force: Extraordinary Results with Ordinary People," Schutz suggests including all the relevant people, groups and departments in the decision process, even if that takes months and produces a less-than-ideal decision.
Why? Because a flawed decision that people support can be implemented quickly, while a high-quality dictatorial decision may end up not getting implemented at all. The period for talk will be over, letting everyone focus on action.