---
[ FAST FACTS HAWAII ]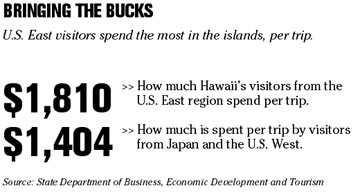 ---
BACK TO TOP


|


[HAWAII INC.]
NEW JOBS
»
Hawaii Air Ambulance
has appointed
Dr. Jason Flemming
assistant medical doctor. He will be responsible for flying on the fleet of planes owned by the aeromedical company, providing patients with much needed medical attention.
>> Dave Reed Marketing Inc. has designated Edwin C. Fajardo associate. He has over 12 years of experience in the architectural/engineering/construction industry as a project architect and project manager. He previously served as a project architect and project manager with architectural firm Naramore Bain Brady Johansen.
» The Hawaii Employers Council has hired Wendy Matsumoto Chun as senior labor relations consultant and Clayton A. Kamida as general counsel. Chun previously served as a deputy attorney general with the Employment Law Division of the state Attorney General's Office. Kamida previously worked for Torkildson Katz Fonseca Moore & Hetherington.
» McNeil Wilson Communications Inc. has appointed Nicole Pickens its corporate/ public affairs division account supervisor. She will be responsible for working on client accounts in the areas of public issues and corporate image management. She has more than seven years of experience in the public relations and marketing industry.
» Education Works, a division of Servco Pacific Inc., has appointed Derrick Isono sales manager and Luana Kaio assistant store manager. Isono will be responsible for development of the retail and direct sales divisions. Kaio will be responsible for concentrating on product selection and purchasing as well as hiring, training and development of sales staff.
» Mobi PCS has appointed three telecom industry veterans to its team: Ed Kurzenski, vice president and chief technical officer; Jim McWhirter, vice president, sales and marketing; and Barry Rinaldo, vice president and chief financial officer. Kurzenski will be responsible for the development and management of the company's wireless network and information technology. McWhirter will oversee direct and indirect sales, marketing, customer service and retail operations. Rinaldo will be responsible for all strategic financial planning, budgeting and reporting.
---
NATION
UAL lost $698M in one month
ELK GROVE VILLAGE, Ill. » United Airlines' holding company reported a $698 million net loss yesterday for the month of October, continuing to lose money as it nears the completion of a nearly 3-year-old overhaul in bankruptcy.
UAL Corp. said the loss consisted mostly of $584 million in reorganization expenses that resulted largely from the termination of its pilots' defined-benefit pension plan. It blamed the rest of the deficit on a 53 percent rise in fuel prices from October 2004 that caused the company to spend $169 million more on fuel than it did a year earlier.
Auto collisions staged, officials say
LOS ANGELES » A lawyer and 22 others were arrested for allegedly staging more than 60 auto collisions on Southern California freeways that bilked about $3 million from insurers, officials said yesterday.
The alleged ringleader Bernard Laufer, a Huntington Park lawyer, was arrested Tuesday and faces charges of insurance fraud, grand theft and conspiracy, said state Insurance Commissioner John Garamendi.
Several of the other suspects arrested during the seven-month investigation were living in the United States illegally, Garamendi said.
WORLD
Bali carrier cancels all flights
Air Paradise International
, an Indonesian airline flying between Bali and Australian cities, said it has suspended all services as demand fell after the Oct. 1 suicide bombings on the island, the nation's worst terrorist attack in almost three years.
The two-year-old airline, which carried about 20,000 passengers a month, stopped flying yesterday, the company said in a statement on its Web site. Qantas Airways Ltd. and Australian Airlines will fly Air Paradise passengers back to Australia, Qantas said in a separate statement.
Many Australians canceled travel to Bali after three suicide bombers on Oct. 1 detonated devices in two restaurants in Jimbaran, a popular Bali beach where diners eat out on the sands in the evening. Another bomb went off in Kuta to the north, where bombers using a minivan in October 2002 left more than 200 dead. The latest bombing killed 20 people. Bali is Australia's third-most popular tourist destination.
BNP Paribas reports higher profit
BNP Paribas SA
, France's largest bank and owner of Honolulu-based BancWest Corp., reported a 22 percent gain in third-quarter profit, helped by higher revenue from equity and fixed-income derivatives and increased earnings from consumer lending abroad.
Net income rose to 1.34 billion euros ($1.58 billion) from 1.1 billion euros in the year-earlier period, the Paris-based lender said in an e-mailed statement today. Profit beat the 1.29 billion-euro median estimate of nine analysts surveyed by Bloomberg.
Packaging firm to drop chemical
STOCKHOLM, Sweden » Swedish packaging giant
Tetra Pak AB
will phase out a chemical used in milk and juice cartons after traces of it were found in baby milk recently recalled by
Nestle SA
, a Tetra Pak spokeswoman said yesterday.
Tetra Pak eliminated the use of the ITX chemical for infant formula packages in October, and said yesterday it would broaden that practice to include other juice and milk cartons by the end of January even though its tests showed the chemical posed no known health risks.