---
[ FAST FACTS HAWAII ]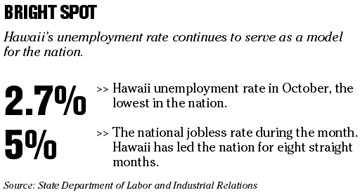 ---
BACK TO TOP


|


HAWAII
Hawaiian Air debuts new check-in system
Hawaiian Airlines
is trying to make air travel more convenient with a new system that promises to reduce check-in time to a minute or less. Online in Honolulu and coming to Maui, the system allows passengers to print boarding passes and arrange luggage check-in remotely over the Internet.
At the airport, the pre-checked passengers go to a designated area where they obtain their baggage destination tags and a single baggage receipt for all of their bags. Even oversized items like surfboards can be pre-checked remotely.
Blaine Miyasato, Hawaiian's vice president of customer services, said the system is faster and easier to use than those that simply allow passengers to pre-print boarding passes and self-check luggage once they get to the airport.
Hawaiian separately announced yesterday it has appointed William Swelbar, 47, as a new director with the company. Swelbar is the designee of the Association of Flight Attendants, and is the president and managing partner of Eclat Consulting Inc., an Arlington, Va., aviation consulting firm.
Goodwill opens Wahiawa store
Goodwill Industries of Hawaii is opening a new store in Wahiawa in time for the holidays. The new store, at 823 California Ave. in the Wahiawa Shopping Center, will be the organization's seventh retail location.
The store is slated to open by Dec. 1. It will be open from 9 a.m. to 7:30 p.m. weekdays, 9 a.m. to 7 p.m. Saturdays and 9 a.m. to 5:30 p.m. Sundays.
Goodwill plans to hire five part-time employees to help staff the new store initially, with more to follow in January.
NATION
Hollywood reaches download deal
LOS ANGELES » Hollywood negotiated an agreement yesterday with the creator of
BitTorrent
software, popular for downloading pirated movies over the Internet, in a deal aimed at reducing illegal traffic in online films.
The agreement requires 30-year-old software designer Bram Cohen to remove links to pirated versions of movies from his Web site, bittorrent.com, effectively frustrating people who search for illegal copies of films.
The agreement calls for BitTorrent to remove Web links leading to illegal content owned by the seven studios that are members of the Motion Picture Association of America.
The deal will not prevent all illegal copies from being swapped using the BitTorrent technology. Cohen said during a press conference that even after links to files are removed from his search engine, some files could still be found using other means such as google.com.