---
[ FAST FACTS HAWAII ]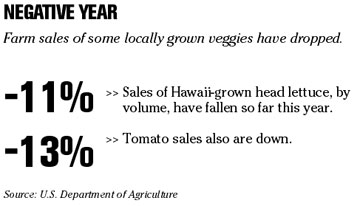 ---
BACK TO TOP


|


HAWAII
Continental Air starting daily L.A.-Maui flight
Continental Airlines
announced yesterday it will drop its nonstop Houston-Maui service in favor of a daily Los Angeles-Maui flight, effective Feb. 16.
The new flight, using a 172-passenger Boeing 757, will leave Los Angeles International Airport at 5:55 p.m., arriving at Kahului, Maui, at 9:35 p.m. The return flight will leave Kahului at 11:40 p.m., arriving in Los Angeles at 6:35 a.m. the next day.
Continental already operates twice-daily nonstop flights between its Houston hub and Honolulu, a daily nonstop flight between New York and Honolulu and a daily flight between Los Angeles and Honolulu. The airline also operates daily service between Honolulu, Guam and the Marshall Islands.
Learn how to get business grants
The state High Technology Development Corp. will host a series of meetings to teach small businesses how to apply for more than $2 billion in annual grants from the federal Small Business Innovation Research program.
Conferences will take place on Oahu Dec. 5 at the Renaissance Ilikai Waikiki Hotel, on Maui Dec. 7 at the Renaissance Wailea Beach Resort, on Kauai Dec. 8 at the Kauai Beach Hotel & Resort and on the Big Island Dec. 9 at the Waikoloa Beach Marriott Resort. Each meeting runs from 7:30 a.m. to 5:30 p.m.
The SBIR program provides grants to small companies, which use the money to develop technologies used initially by federal agencies but with potential for broader commercialization. In the past, Hawaii firms have received a total of $56 million from the program.
Aloha teams with BaggageDirect
Aloha Airlines
has teamed up with
BaggageDirect
to offer customers mobile baggage service within a 50-mile radius of John Wayne Airport in Orange County, Calif.
Travelers will be able to arrange for BaggageDirect's mobile skycaps to collect baggage from a hotel, home or business. The pickup will take place at an assigned time on the day before or day of the scheduled flight, depending on the time of departure.
Aloha already offers the service on Oahu and Maui. BaggageDirect will issue baggage claim checks and a boarding pass for each passenger upon collecting the baggage.
NATION
Sony BMG anti-piracy woes worsen
AUSTIN, Texas »
Sony BMG Music Entertainment
's troubles over anti-piracy technology on music CDs deepened yesterday as Texas' attorney general and a California-based digital rights group said they were suing the music company under new state anti-spyware laws.
The Texas lawsuit said the so-called XCP technology that Sony BMG had quietly included on more than 50 CD titles leaves computers vulnerable to hackers. Sony BMG had added the technology to restrict to three the number of times a single disc could be copied, but agreed to recall the discs last week after a storm of criticism.
Roof rule not strong enough, group says
A proposed U.S. auto-safety rule would strengthen roofs of cars and light trucks by 9 percent, not the 67 percent promised, a consumer-advocacy group said.
The rule, announced in August, would result in roofs that can withstand 1.64 times their vehicle weight, an increase from 1.5 times now, Public Citizen President Joan Claybrook said yesterday. The rule is supposed to result in roofs that withstand 2.5 times their weight, the National Highway Traffic Safety Administration has said.
"This proposal falls tragically short," Claybrook, a former NHTSA administrator, said at a news conference in Washington. "The agency should not issue this rule."
On the other side, automakers said the government underestimated the design changes that would be needed to upgrade their fleets and urged regulators to give them more time.
U.S. Internet ad revenues top $1B
NEW YORK » U.S. Internet advertising revenues have exceeded $3 billion in a single quarter for the first time, the Interactive Advertising Bureau said yesterday.
The $3.1 billion for the third quarter of 2005 was a 34 percent jump from the same period a year ago. The previous record was just under $3 billion in the second quarter; online ad revenues break records most quarters.
The bureau projects that revenues for the year could exceed $12 billion, well above the $9.6 billion total last year.