| | |
| --- | --- |
| | Island Mele |
---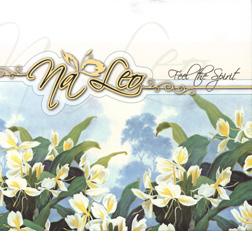 "Feel The Spirit"
Na Leo
(Na Leo)
The trio of Nalani Choy, Angie Morales and Lehua Kalima Heine has been one of Hawaii's biggest music acts for over a decade, and they've been self-contained, self-managed and self-produced almost as long. That makes this beautifully packaged new album another milestone for them. With the WorldSound ohana behind them, Na Leo has allowed an outsider to step in as producer, and successfully reinvented themselves as a mainstream pop act. It's a gamble, but it pays off.
In choosing to emphasize the trio's individual voices rather than three-part harmonies, veteran Los Angeles-based producer Keith Olsen does a beautiful job stretching the trio beyond their successful Hawaiian and Hawaiian pop sound. "Kiss Me," a Nalani Choy/Bryan Kessler composition, has just enough alt-rock edge that it stands out from the others but doesn't seemed forced. "Simple As A Sunrise" and "Saving Forever," both by Kalima Heine and Daniel Ho, sound more like vintage Na Leo, but have an added polished pop feel. "All Is Right With Me," by Morales and Kessler, will appeal to anyone who has experienced a death in the family.
Na Leo has not always chosen wisely when doing other artists' hits in the past, but they do nicely with "Love You Inside Out," the 1979 Bee Gees hit. They take another look at one of their own hits with a new recording of "Flying With Angels."
www.naleo.net
---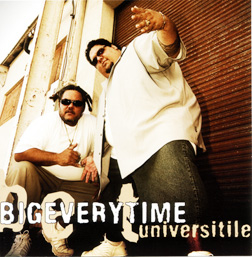 "Universitile"
Big Every Time
(Wayoutwest)
A key element in the success of B.E.T. is the artistic tension between Tim "Papa T" Troxell and Joe "J.D" Daniels. The Hawaiian-Caucasian mixed Troxell has been one of Hawaii's top "rasta mon" for over a decade and the inspiration for countless local wanna-bes. Daniels, of Samoan and African American ancestry, is a master of smooth contemporary soul sounds. Their success at balancing those elements had made B.E.T. one of the significant acts on the local music scene, and this album finds them again on top of their game.
Papa T, J.D. and producer "Radical Rob" Onekea open strong with hardhitting reggae songs perfect for airplay over our "island music" radio stations. B.E.T. addresses social issues with "Liliuo Free," a look back at the criminal overthrow of the legitimate Hawaiian government.
J.D. steps forward as an appealing romantic lead on the urban side. Guest vocalist Paula Fuga sits in to add a woman's perspective on "Phatty Fatty," B.E.T.'s wholehearted shout-out to large-sized females. The song's tone is light, and the feeling sincere.
With Onekea providing the instrumental support behind them, B.E.T. music reaches up to a new level -- again.
www.bigeverytime.net
---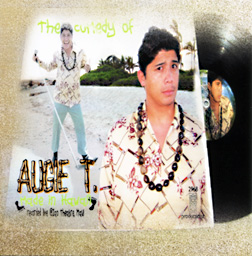 "Made In Hawaii"
Augie T
(2968 Productions)
Augie Tulba makes full use of the creative possibilities involved in recording this "live" album. It includes a radio-ready song parody, "Don't Cha (Tuff Like Me)," as well as his stand-up comedy. The album's packaging contains a comic Q&A session, a look back at what's happened over this year, and a bit of practical advice for his fans.
Tulba reaffirms his spot as a top local comic, with his natural use of pidgin and his emphasis on the experiences of working class local folks. He talks at length about his experiences as a physically abused child in Kam IV housing. Hisrelationship with his gay son also provides much of the material.
He also excels at describing universally shared experiences in ways that can make, say, going to the Celine Dion show seem funny yet meaningful, or lead his audience to the conclusion that although tourists may unintentionally say stupid things, they are usually well-intentioned.
His comments on political correctness are well-reasoned as usual. On the other hand, he lapses back into the toilet humor of his early days with a lengthy piece on his experiences with a Japanese bidet.
www.augietulba.com
John Berger, who has covered the local entertainment scene since 1972, writes reviews of recordings produced by Hawaii artists. See the Star-Bulletin's Today section on Fridays for the latest reviews. Contact John Berger at
jberger@starbulletin.com
.