---
[ FAST FACTS HAWAII ]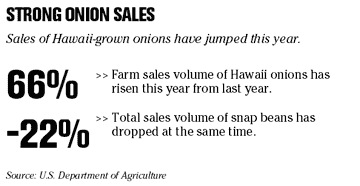 ---
BACK TO TOP


|


HAWAII
Hawaiian Air CFO's role expanded
Peter Ingram, chief financial officer of Hawaiian Airlines, has been named to the same position with parent company
Hawaiian Holdings Inc.
He will now have dual responsibilities.
Ingram will replace Randall Jenson, who will remain a member of Hawaiian Holdings' board of directors. Jenson is associated with Ranch Capital LLC, whose investment group, RC Aviation, is the largest investor in the airline. RC Aviation, in conjunction with the carrier, produced the reorganization plan that brought the airline out of bankruptcy in June.
Ingram was named last month as the airline's new CFO, with the position to be effective Dec. 1. Ingram spent the past 11 years with AMR Corp., parent company of American Airlines and American Eagle Airlines. Steve Jackson, who held the interim CFO at the airline, had been in that position since August 2004.
NATION
Raid nets 125 illegals at Wal-Mart site
SCRANTON, Pa. » An immigration raid at a Wal-Mart distribution center under construction led to the arrests of 125 illegal workers, all of whom will be deported, federal officials said yesterday.
The workers from Costa Rica, El Salvador, Guatemala, Honduras and Mexico were detained Thursday at the construction site in eastern Pennsylvania, according to Immigrations and Customs Enforcement. Some of the 125 used fake documents to obtain employment with subcontractors, officials said.
The arrests came after search warrants were executed for six companies at the site outside Pottsville, about 80 miles northwest of Philadelphia.
Delphi CEO threatens shutdown
Delphi Corp.
Chief Executive Steve Miller said all of the company's U.S. plants will have to close unless unions agree to wage cuts to help the largest U.S. auto- parts maker exit bankruptcy.
Miller said in an interview yesterday that he hasn't received union counteroffers to his proposal, which includes slashing wages to as low as $10 an hour. He also has proposed reducing the number of U.S. hourly workers to about 10,000, from 33,650, according to the United Auto Workers. UAW President Ron Gettelfinger has called the offer an "insult."
"We are going to try and save as many jobs as we can, but at the current wage rates we would have to close down all of our U.S. plants," Miller said. Delphi will pay an average U.S. wage of $26.97 an hour this year, he said.
GM, Chery Auto settle legal claims
DETROIT »
General Motors Corp.
said yesterday it has reached a settlement resolving all legal disputes with Chinese automaker
Chery Automobile Co.
, which had been accused of pirating the design of GM's Spark minicar.
GM had said its Spark looks similar to the Chery QQ, and the world's biggest automaker had filed lawsuits trying to prevent Chery from selling the car in various markets, including Asia and Eastern Europe.
GM also had threatened legal action against Chery because of its name. GM says "Chery" sounds too much like "Chevy," the nickname of its Chevrolet brand. Chery agreed in September that it won't market its vehicles under the Chery name in the United States.
Under the settlement, GM and Chery won't take further legal action against each other. Further details of the settlement weren't released. GM said the two automakers will concentrate on developing their separate businesses.
UAL preparing to leave bankruptcy
CHICAGO » United Airlines is "marching forward" toward exiting bankruptcy early next year, Jake Brace, chief financial officer, said following a court hearing here yesterday.
Brace said United's domestic business continues to improve this month, as fuel prices decline and competitors take out U.S. capacity.
United, a unit of UAL Corp., filed for bankruptcy protection nearly three years ago, in December 2002. A judge has approved the airline's plan to exit bankruptcy, with final hearings scheduled for Jan. 17 and 18.