---
[ FAST FACTS HAWAII ]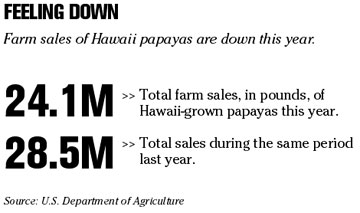 ---
BACK TO TOP


|


[HAWAII INC.]
NEW JOBS
» Japanese Guide to Hawaii-Ai has hired
Yukashi Smith
as associate editor/writer. She will oversee advertiser editorials, covering feature stories, the Aloha Letter and calendar of events while developing new editorial features and her own column for the monthly visitor publication. She previously worked as a writer in Japan and Hawaii for the last 10 years.
» Kahala Nui has hired Marilyn Israel as assistant executive director. She has over 25 years experience in health care, human services and senior housing.
» Hawaii State Federal Credit Union has hired Lauren Nahme as chief financial officer. She will be responsible for directing, coordinating and controlling the accounting and investment functions of the credit union. She previously served as controller for Ono Construction.
» Coldwell Banker Pacific Properties has appointed Bradley Begonia marketing services manager. He will oversee the marketing services center's operations. He previously worked at Delta Construction Corp.
PROMOTIONS
»
Outrigger Enterprises Inc.
has promoted
Alan White
to senior vice president and chief information officer. He most recently served as operations and information technology vice president. He replaces
Joe Durocher
, who recently retired from the company.
» Bennet Group Strategic Communications has promoted one staffer and hired several new employees. Alyson Helwagen has been promoted to vice president. She was previously a newspaper travel editor, magazine editor and freelance writer. Sharon Chen and Lee Tokuhara have been hired as account directors. Angie Flaherty has been hired as an assistant account executive.
NATION
Mortgage rates lift for 10th straight week
WASHINGTON » Rates on 30-year mortgages edged up slightly this week, posting the 10th consecutive increase and keeping rates at the highest level in more than two years.
Mortgage giant Freddie Mac reported yesterday that the nationwide average for 30-year, fixed-rate mortgages rose to 6.37 percent, slightly higher than last week's 6.36 percent average.
Both weeks represented the highest level since 30-year mortgages were at 6.44 percent in early September 2003.
The 30-year mortgage is now nearly a full percentage point above its low point of this year of 5.53 percent set the week of June 30. But analysts said even with the increases the 30-year and adjustable rate mortgages remain well below their averages over the past decade.
GM boss tries to reassure workers
DETROIT »
General Motors Corp.
Chairman and CEO Rick Wagoner told employees yesterday that the world's largest automaker has no plans to file for bankruptcy despite heavy losses in its North American division and the threat of a strike at
Delphi Corp.
, its major supplier.
GM shares climbed more than 6 percent, bouncing back from their lowest level in 18 years.
Media baron Conrad Black indicted
CHICAGO » An arrest warrant has been issued for former press baron Conrad Black following a federal fraud indictment charging that he and three other executives swindled the
Hollinger International
media empire he once controlled out of millions of dollars.
Black, 61, a former Canadian citizen who is a member of the British House of Lords, was also charged yesterday with siphoning thousands of corporate dollars to pay for a vacation in Bora Bora, a surprise birthday party of his wife and apartments on Park Avenue in New York.
"For years, Conrad Black lived large on millions of shareholder dollars," U.S. Attorney Patrick J. Fitzgerald told reporters in unveiling the charges at a news conference.
HP's results beat expectations
SAN JOSE, Calif. >>
Hewlett-Packard Co
.'s fiscal fourth-quarter sales jumped 7 percent, but net earnings fell 62 percent after the computer and printer company took a $1.1 billion charge for a restructuring first announced in July.
Still, the results yesterday firmly beat Wall Street expectations as all its divisions -- from personal computers and printers to enterprise servers, software and services -- reported gains in sales. HP also boosted its earnings forecast for the first quarter.