---
[ FAST FACTS HAWAII ]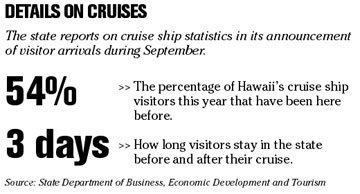 ---
BACK TO TOP


|


[HAWAII INC.]
NEW JOBS
>> Kauai Beach Hotel & Resort has hired
Janet Lindsey
as associate director of sales. She previously served as the leisure sales director for the Mauna Kea Resort on the Big Island. She began her career as a hotel reservationist with the Mauna Kea Beach Hotel.
>> Mental Health Kokua has appointed Pamela Menter safe haven director. She previously worked as a mental health counselor at the University of New Mexico Psychiatric Center.
>> Kamehameha Schools has appointed Christopher J. Pating vice president of strategic planning and implementation. He will oversee the schools' offices of strategic planning, policy analysis and system evaluation. He previously worked for the schools as education plan project director.
>> Rider Hunt Levett & Bailey has appointed Cassie Yap cost manager and Nic van der Lee project manager. Yap will be responsible for a range of functions including feasibility studies, cost estimating and control and value engineering. Van der Lee will help provide project management services to the Hilton on its Waikikian Project.
NATION
Longs' earnings jump 44 percent in quarter
Longs Drug Stores Corp.
yesterday reported net income of $8.9 million for its third quarter, a 44 percent increase from $6.2 million in the same period last year.
The results came on revenue of $1.12 billion for the quarter, 1.8 percent higher than the $1.1 billion in the year-ago quarter.
For the first nine months of its fiscal year, the company earned $38.6 million, or $1.01 per diluted share, compared with $18.9 million, or $0.50 per diluted share, the year before, which included net expenses of $0.18 per diluted share for legal settlements.
Warren F. Bryant, chairman, president and chief executive officer of the chain, called the results "our best earnings performance for the first nine months of any year during the past six years."
The company said it estimates total sales for its fourth quarter ending Jan. 26, 2006, will increase 2 percent to 4 percent, and same-store sales will increase 1 percent to 3 percent compared with the fourth quarter of last year.
Longs has 476 stores in Hawaii, California, Washington, Nevada, Colorado and Oregon.
O'Hare expansion can continue
CHICAGO » A federal judge cleared the way yesterday for the city to resume buying properties in the path of a planned expansion at O'Hare International Airport aimed at reducing some of the nation's worth flight delays.
U.S District Judge David Coar dismissed a lawsuit filed by two suburban towns and the owners of a cemetery who oppose the $15 billion project.
WORLD
S&P cuts JAL's credit rating
Japan Airlines Corp.
, Asia's largest carrier, had its long-term credit rating cut to "B+" from "BB-" by
Standard & Poor's
, after the company had a loss in the first half and said it expects a loss for the full year.
The new rating is four notches below the investment grade. The outlook for the company's long-term corporate credit rating is "negative," S&P said in a statement today.
The Tokyo-based airline is being hurt by a surge in jet fuel prices and a slump in domestic travel demand triggered by a series of safety lapses that began to surface this year.
Chinese shun online purchasing
NEW YORK » A typical Chinese Internet user is a young male who prefers instant messaging to e-mail, rarely makes online purchases and favors news, music and games sites, according to a new study.
The only major public opinion research tracking Internet use in China, the survey was conducted in five cities by Guo Liang of the prominent Chinese Academy of Social Sciences in Beijing, the government's main think tank.
According to the study, released today at the Brookings Institution in Washington, about two-thirds of survey participants use the Internet for news -- often entertainment-related -- or for online games. About half download music and movies.