Pedestrians' deaths raise alarm
Communities and the governor call for more attention to safety
Four days before Christmas, on a sunny morning in Kalihi, 82-year-old Santiago Comilang was walking his normal Sunday route to the Co-Cathedral of St. Theresa when he was struck and killed by a sport utility vehicle in the crosswalk by the church.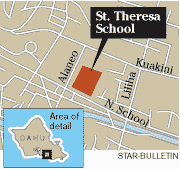 Nearly two years after the accident, community members are calling for the city to speed up the installation of a traffic light at the crosswalk, frequently used by churchgoers and students at St. Theresa's School. The project is expected to be put out to bid later this month.
In addition, residents want an accounting of other pedestrian safety and transportation projects planned for Kalihi. A report on plans will be made at a neighborhood board meeting at 7 tonight in Maemae Elementary School's cafeteria.
The discussion comes as other community groups -- from Makakilo to downtown Honolulu -- are also pushing the city and state to make pedestrian safety a priority and after a string of accidents last month pushed the number of pedestrian deaths statewide up to 30 so far this year, just one short of the tally in 2004.
Last week, Gov. Linda Lingle asked lawmakers to look at strengthening a new pedestrian safety law in response to increased worries that the state is poised to surpass last year's No. 4 national ranking in pedestrian fatalities per capita. In one weekend last month, three pedestrians died in unrelated crashes.
"We must find additional ways to make the streets safer for pedestrians," Lingle said in a news release. "These recent fatalities serve to highlight this problem."
The new pedestrian safety law requires drivers to stop and yield to pedestrians who are in the motorists' half of the roadway or approaching closely from nearby lanes. Some have criticized the law, though, saying it is hard to understand and enforce.
"I think the revised crosswalk law is a good start," said state Transportation Department spokesman Scott Ishikawa, "but it's going to take some time for something to change. This year, we're already at 30 pedestrian fatalities. The drivers have to stop for the pedestrians, and I think the pedestrians have to follow the rules."
After a service on Saturday at the Kalihi co-cathedral, Elisa Comilang walked out of the church quietly with her arms around her daughter's waist.
Santiago Comilang was her cousin, and she cannot pass by the crosswalk in front of the church without thinking of him.
"Every Sunday, he came that way," she said, adding that a stoplight would make the crossing safer.
"I'm concerned about that crosswalk," added Blesilda Savedra, who also attends the Catholic church. "It's not good for the kids."
Residents say near-misses happen at the crosswalk -- which crosses North School Street in Kalihi -- all the time.
City transportation officials, meanwhile, say the project could take longer than originally expected because of a shortage of construction materials nationwide, with so much going to hurricane-affected regions.
The project does not yet have a start date, said city Transportation Services Director Alfred Tanaka. "It's an important project and we are pursuing it," he said, "but this is the normal procedure to bid a project."