DRAWN & QUARTERED
Comic-book artist goes fishing for a sense of the islands
Maui-born Reid Johnson was putting the finishing touches to his life-size wall painting last Wednesday evening, the day before his show was scheduled to open at the Christopher Henry Gallery in New York City.
"Night Fisher"
A comic book novella by R. Kikuo Johnson

(144 pages, Fantagraphics Books, $12.95)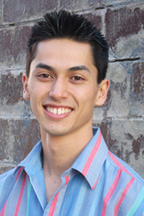 Reid Johnson
Book signings.

Thursday: 7 p.m. at Barnes & Noble, Kahala Mall

Friday: 7 p.m. at Barnes & Noble, Ala Moana Center

Saturday: noon at Borders Books & Music, Kahului, Maui
"It's somewhat of a departure for me," he said in a telephone call. "It's a whole new media, a big wall drawing of 15 boxers slugging each other in the face." Besides that daunting piece of art, Johnson said there would be "a few new pieces, drawings, prints, stuff I've done in the past three years," and, more important, original art from his debut graphic novel, "Night Fisher," which uses his Valley Isle home as backdrop for a coming-of-age story.
The art show opening also served as a book-release party. Writing under the name R. Kikuo Johnson (Kikuo being his middle name), he's fast making a name for himself in the alternative-comic field, and will be in Hawaii this week for three book-signing appearances.
"So far, I'm only doing promotions in Hawaii," he said. "It makes for a good excuse to come back home."
"Night Fisher" is an impressive and assured debut for Johnson, illustrated by his black-and-white chiaroscuro-style panels. It tells the story of prep student Loren Foster, who moves from Boston to Maui with his single father.
Loren is very much the stranger in a strange land, although after six years he's grown more comfortable in his island surroundings. He will soon graduate from high school, maybe even go to the University of Hawaii, and he's found a good friend in Shane Hokama.
But when Shane gets caught up with a troublesome bunch who run a batu factory out of their house, Loren begins to smoke "ice" on a regular basis. When Loren and his friends are caught stealing from a construction site in Kihei, Loren comes face to face with his future, one that remains ambiguous at book's end.
All the while, Johnson uses Maui as an integral part of his captivating and naturalistic story, one grounded in the culture, people and nature of the islands.
JOHNSON started writing "Night Fisher" while studying abroad in Rome as a junior from the Rhode Island School of Design. Born and raised in Makawao, he "never felt more American in my life, and Hawaiian as well, than when I was there," he said. "I started thinking about my own life and Hawaii, and big chunks of the story come from my growing up back there. ... While the emotional backbone of the whole book rings true, not necessarily all of its details come solely from my life."
Johnson attended the private Seabury Hall, and he admits that "all of the images of the Winthrope prep school in the book are dead ringers of Seabury." But compared with Loren Foster's open-ended future, Johnson settled on attending the Providence, R.I., art school, graduating with a Bachelor of Fine Arts degree in 2003.
His grandparents live in Kailua, and Johnson's parents include a "very loving mom" who's a drama teacher at King Kekaulike High School and his dad, a comptroller at Wailuku Hospital.
Self-described as "quarter Filipino, quarter Japanese and the rest haole," Johnson said: "When I started 'Night Fisher,' it felt so much like a memoir that I found it that much easier to write honestly under the R. Kikuo Johnson name. That way, I could admit to things that I didn't like about myself and others.
"I began by writing out a lot of the early action in the book, where the protagonist meets this new crowd and hangs out with them. They represent the underbelly of parts of Maui."
A small part of Johnson's inspiration comes from the fictionalized memoir work of Milton Murayama ("All I Asking for Is My Body"). "It's the decision to play it straight and not editorialize. Too often, Hawaii is depicted as either surfer culture, an idyllic tourist paradise or a place of angry demonstrations by sovereignty supporters."
But the professed comic-book geek says his main influences are other cartoonists and screenwriters. Johnson said the biggest influence on "Night Fisher" was Canadian comic book writer Chester Brown's "I Never Liked You," an equally stark autobiographical look at adolescent relationships.
"I've always loved comics, ever since the third grade." But it was an on-and-off love affair that went from Wolverine, the popular X-Men character, to Bone, the lovable, little Tolkienesque hero. "But it was Brown that brought me back to comic books a third time. 'I Never Liked You' is so honest and affecting and simple.
"To me, reading a great comic book, I'm in bliss. ... I love the medium because it can be such a beautiful and intimate one. When I pick up a comic book, it's like looking at someone's hand moving across the page. It's not like film, where there's a filter of technology. Comic books can be timeless, even though it's an out-of-date medium that began in the 19th century."
BUT BEFORE returning to comic books for good, Johnson turned his back on his first love. "People in art school were not enthusiastic about comics at all, like it was a false drawing style -- and I believed it. For over two years, I was strictly a painter, doing impressionistic landscapes of Hawaii like a 'real' artist. I made a decent living at it -- although I felt I was selling mostly to my aunt and uncle -- and I got some stuff in a few galleries on Oahu and Maui.
"But, finally, I got so sick of it. They were just exercises. I wanted something bigger. No opinions were expressed, I never found my voice and while I had a little success, it was not fulfilling."
So from his Brooklyn, N.Y., home, Johnson finally committed to comic book art, although he still works a day job, as a waiter at the Ruth's Chris Steak House next to Rockefeller Center. "It took me three years to do 'Night Fisher,' (during) the last of which I graduated from Rhode Island."
But Johnson's story is still a success. Right out of the gate, his work was accepted by Gary Groth, co-publisher of his favorite independent comics house, Fantagraphics Books. A week after his cold submission of "Night Fisher," Groth was back with a publication schedule ready to go.
Now wearing the tag of "exciting young talent," Johnson is following up with a different look in a collection of short strips to be published in Fantagraphics' quarterly anthology of emerging artists, "Mome."
"I'm warming up for something big," Johnson said. "But I can't help but be drawn back to Hawaii. It's just an amazing, inspiring place, filled with its own hypocrisy and beauty."
---