---
[ FAST FACTS HAWAII ]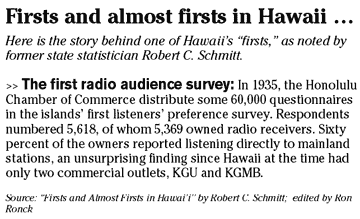 ---
BACK TO TOP


|


HAWAII
Panel to discuss marketing success
The Hawaii Women's Business Center is celebrating its eighth birthday tonight with a gathering at the Dole Cannery Ballroom, at 650 Iwilei Road.
The event will begin at 5 with informal networking and refreshments, then an hour later feature a panel discussion titled "Inspiring Success! Marketing & Sales Tools for Small Business."
The panelists will be Mark Rosenbaum, research director of the University of Hawaii Center for Retail Excellence, Patti Jo Chang, general sales manager for Sports Radio 1420, and Ron Martin, author and president of Success Dynamics Inc.
Admission is $40, which includes pupus, beverages, materials and parking. For more information, call the Hawaii Women's Business Center, 526-1001.
NATION
'Sins' to avoid at job interviews
The job market may have turned around, and your company is welcoming a veritable flood of new faces. Perhaps you're also in the ranks of the recruitable, or even actively looking. Your resume, clothes and contacts are all geared for the quest. So how is your interview game?
The Ladders.com, a career Web site for positions that pay above $100,000 annually, has compiled a list of "deadly sins" you're wise not to commit during a job interview.
» Don't be an arrogant boob. "Treat every person you come in contact with as though someday, they'll be your boss, or you'll be theirs," the company counsels.
» Don't be greedy and mention how many weeks of vacation you want, a company car or how much you "need" for base salary. You first must get an offer.
» Don't badmouth your boss. Even if your current supervisor is a jerk, moron, or both, the person interviewing you identifies far more with your boss than with you. Find common ground on challenges endemic to the industry, not a recitation of your horrendous workplace.
» Don't narrate your life story. Build a rapport with the interviewer about your skills, experience, training and ability to complement their company, not every detail back to how you creamed that guy going for the winning touchdown back in '91 at San Diego State.
» Don't spill your fantasies. Sure, many of us would like to cruise the South Pacific or return to school for a literature degree, but you're there to land a new job you ostensibly need, not just to chat.
Most want second jobs to cut debt
The holidays are approaching, those exuberant days of office parties, packed airports and family snarls. It also can be a time of a second job, as retailers rush to add seasonal workers.
What's the appeal for job hunters? Debt reduction, according to a survey of 5,300 seasonal job seekers. More than half, 61 percent, of those aged 22 and older said they're hunting seasonal work to pay off debt. Even 11 percent of teens 14 and 15 said they were seeking debt relief, too. The survey was conducted by SnagAJob.com Inc., in Richmond, Va.