| | |
| --- | --- |
| | Island Mele |
---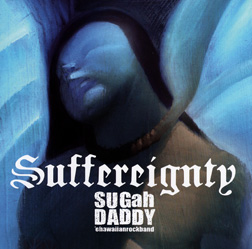 "Suffereignty"
SUGahDADDY
(Daddy Leopard)
The rock band has addressed social issues in its songs before, but this thematic album is a significant step into the political arena. "Suffereignty" follows the examples set by Henry Kapono Kaaihue's 1993 masterpiece "KAPONO" and Peter Apo's 1990 compilation "Hawaiian Nation: A Call for Sovereignty" in demonstrating the power of music as a means of political education.
The title song defines "suffereignty" as being what native Hawaiians experience when they squabble among themselves instead of working together. The lyrics refer to the familiar story of Hawaiian crabs in a bucket -- when one starts to climb out, another pulls it back down. While SUGahDADDY doesn't endorse any particular politician for leadership, it does note that native Hawaiians began to lose power when they didn't work as one.
There are some powerful statements on this album. The opening "Pali Uli" tells the story of a people "lost at sea" with their homeland overrun by strangers. "Anahola" attacks the shameful pattern of mismanagement within the Hawaiian Homes Administration throughout most of the past century.
"Office of Hawaiian Despair" and "Corner of Kuhio" reinforce the message that things haven't gotten much better for native Hawaiians as a group over the years.
SUGahDADDY has defined itself from the beginning as a "hawaiianrockband." After exploring a blues/rock sound on previous albums, the quintet has moved to a more progressive folk-rock style that works well.
www.suggahdaddy.com
---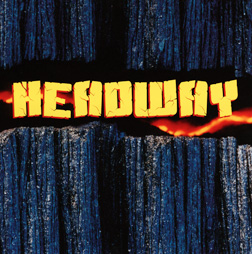 "Headway"
Gyula Schreiber
(Gyula Schreiber)
Guitarist Schreiber teamed up with a handful of talented local studio musicians to realize his dream of bringing a collection of original melodies to life. The tunes range in style from light pop to the fusion jazz sound popular in the early 1980s.
Give Schreiber credit for showing restraint as an arranger. Unlike some other self-produced projects, Schreiber often keeps his guitars well back in the mix. On the title track, for example, the rhythm section is as prominent as his guitar work.
Flautist/saxophonist Ricky Holmes and a three-man brass section add rich melodic shadings elsewhere. Like many instrumental albums, this one becomes more interesting after several listenings, as the craftsmanship of the arrangements comes into focus.
GSM Publishing
575 Cooke Str. #A 2225
Honolulu, HI 96813 USA
---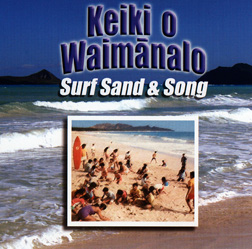 "Surf, Sand & Song"
Keiki O Waimanalo
(Tradewinds)
Margaret Williams founded Tradewinds Records in 1958, with Noelani Kanoho Mahoe as both a label recording artist and musical director. (Mahoe is now the conservator of the label's archives.) While this latest reissue is a welcome one, it likely will be of interest primarily to the families of the children who made these recordings two or three generations ago.
The choral arrangements and the children's voices are beautiful and the repertoire will certainly please folks who speak and understand Hawaiian. The selections include classics by Lili'uokalani and Johnny Noble, as well as more recent compositions by Mahoe and Alice Namakelua.
While the music is pretty, the reissue falls far short in providing no information on the meaning or history of songs, nor anything on Keiki o Waimanalo. Surely these kids' names are known, so why not give them due credit? And such tiny photos! What's up with that?
And the artists on the five bonus tracks should have been identified as well.
Tradewinds Records
2338-A Booth Road
Honolulu, HI 96813 USA
John Berger, who has covered the local entertainment scene since 1972, writes reviews of recordings produced by Hawaii artists. See the Star-Bulletin's Today section on Fridays for the latest reviews. Contact John Berger at
jberger@starbulletin.com
.