---
[ FAST FACTS HAWAII ]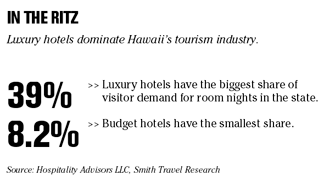 ---
BACK TO TOP


|


HAWAII
Chinese travel execs cruising the islands
Starting today, more than a dozen travel industry executives from Guangdong, China, are scheduled to cruise the islands aboard
Norwegian Cruise Line
's Pride of America.
NCL America and United Airlines are sponsoring the so-called familiarization tour, which is a result of Gov. Linda Lingle's trade mission in June to China.
The delegation will see the sights and meet with state tourism leaders.
NCL America operates two U.S.-flagged ships in Hawaii, the Pride of Aloha and Pride of America, and the company is bringing in a third ship next year, the Pride of Hawaii.
NATION
U.S., Canada to end air restrictions
The United States and Canada agreed to end aviation restrictions between the two nations in September 2006, removing limits left in place in 1995.
The accord will allow airlines such as AMR Corp.'s American Airlines and ACE Aviation Holdings Inc.'s Air Canada to continue routes between the nations to third countries. It also will let planes for cargo carriers such as United Parcel Service Inc. make deliveries to multiple cities on a single cross-border flight. Both practices had been banned under the 1995 accord.
The new agreement "will mean better service at lower prices for the passengers and shippers," U.S. Transportation Secretary Norman Mineta said in a statement yesterday in Washington, D.C.
The Canadian accord gives the United States 73 so-called open skies agreements, which remove all restrictions on where aircraft can fly between countries, what kind of planes are used and what prices are charged. Air traffic between the two nations totaled 18.9 million passengers last year, the most for the U.S. with any country, Mineta said.
Sony ditches antipiracy technology
WASHINGTON » Stung by continuing criticism, the world's second-largest music label,
Sony BMG Music Entertainment
, promised yesterday to temporarily suspend making music CDs with antipiracy technology that can leave computers vulnerable to hackers.
Sony defended its right to prevent customers from illegally copying music but said it will halt manufacturing CDs with the "XCP" technology as a precautionary measure.
The antipiracy technology, which works only on Windows computers, prevents customers from making more than a few copies of the CD and prevents them from loading the CD's songs onto Apple Computer's popular iPod portable music players. Some other music players, which recognize Microsoft's proprietary music format, would work.
Sony's announcement came one day after leading security companies disclosed that hackers were distributing malicious programs over the Internet that exploited the antipiracy technology's ability to avoid detection. Hackers discovered they can effectively render their programs invisible by using names for computer files similar to ones cloaked by the Sony technology.