ATTENTION PASSENGERS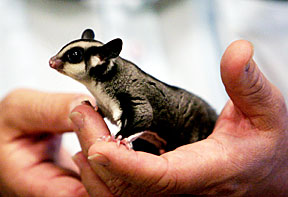 Smuggling evidence found on airplane with marsupial
SOMEONE apparently was attempting to smuggle a small marsupial on a flight from Las Vegas to Honolulu, because a crew found a pouch and animal food in the trash, according to a state official.
On Monday the ground crew of Omni Flight 108 found a package of animal food with its label partially torn off and a small leopard-print pouch that might have been used to carry the sugar glider, said Janelle Saneishi, spokeswoman for the state Department of Agriculture. Both items were found in the trash bin in one of the aircraft's lavatories.
The 10-inch sugar glider, Petaurus breviceps, was captured that day by passenger Ron Takakawa while he watched the movie "The Longest Yard" next to his sleeping wife, Keun Yi.
A man seated on the other side of Keun Yi saw something move and was startled, waking her, Saneishi said. The sugar glider jumped on Keun Yi's knees before jumping to Takakawa's knees.
Saneishi said Takakawa cupped it in his hands and handed it to a flight attendant, who placed it in a box.
The sugar glider is being kept at the Plant Quarantine Branch until arrangements can be made to have it transported out of the state. Sugar gliders are prohibited in Hawaii. The package of animal food and pouch were turned over to agriculture inspectors.
"Many animals are illegal in Hawaii because they have the potential to cause harm to agriculture and the environment, and may pose health risks to animals and humans," said Sandra Lee Kunimoto, chairwoman of the Board of Agriculture.
"As this latest incident demonstrates, exotic animals have a knack at escaping from captivity, and the worst-case scenario would be for these types of animals to become established and/or spread diseases," Kunimoto said yesterday in a news release.
According to the Department of Agriculture, sugar gliders are omnivores that feed on insects, nectar and the sap of eucalyptus and acacia trees, which include native koa. Though the animals might appear harmless, sugar gliders can damage trees by stripping off the bark to encourage sap production. If they were to become established in the isles, the marsupials would compete with other native species for insects, state agriculture officials said.
Native to Australia, Tasmania and New Guinea, sugar gliders are kept as pets on the mainland.
Un-inspected mammals can carry parasites and other diseases that are not in Hawaii, such as rabies and Lyme disease.
Possessing illegal animals carries a maximum fine of $200,000 and maximum sentence of three years in jail. People with illegal animals are encouraged to turn them in under the department's Amnesty Program, which offers immunity from prosecution.