---
[ FAST FACTS HAWAII ]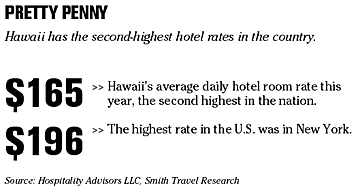 ---
BACK TO TOP


|


Japan Airlines cuts wages
TOKYO » Japan Airlines Corp. sank into a loss for the first half through September, thanks to soaring fuel prices and safety concerns, prompting the nation's top carrier to announce today an average 10 percent pay cut for its workers.
The wage cuts will be introduced from Jan. 1, 2006, to March 2008, and the company will hold talks with labor unions, it said in a statement outlining reforms. Board members' pay will be reduced by 23 percent to 40 percent, it said.
Japan Airlines, known as JAL, posted group net loss of $102 million for the six months -- the airline's first half-year loss in two years. The Tokyo-based company had recorded $705 million profit the same period a year ago.
Japan Airlines revised its earnings forecast for the full year ending March 31, 2006, to a $397 million loss.
NATION
Newspaper circulation drops 2.6 percent
Daily U.S. newspapers reported a 2.6 percent circulation drop for weekday editions, with large metropolitan publications faring worse than the average, adding pressure to an industry beset by revenue and profit woes.
The country's 789 daily newspapers tracked by the Audit Bureau of Circulations reported average daily circulation of 45.2 million copies for the six months ended Sept. 30, the Newspaper Association of America said. The Vienna, Va.- based trade group said Sunday circulation declined 3.1 percent.
The slide represents an extension of a 20-year slump in U.S. newspaper circulation, from an average 62.3 million daily copies in 1985. The decline has promoted advertiser defections to faster-growing mediums such as Google Inc.'s Web sites.
Gannett Co.'s USA Today, the biggest U.S. newspaper by circulation, reported flat sales at 2.22 million copies, while Dow Jones & Co.'s Wall Street Journal posted a slight decline to 2.08 million and the New York Times reported a small gain, to 1.13 million, according to the Audit Bureau of Circulations.
Wal-Mart execs knew about illegals, feds say
SPRINGFIELD, Mo. » A pair of senior Wal-Mart executives knew cleaning contractors were hiring illegal immigrants, many of whom were housed in crowded conditions and sometimes slept in the backs of stores, according to a federal agency's affidavit.
The affidavit, unsealed last week, was part of an investigation of Wal-Mart by federal immigration officials that led to the 2003 raid on 60 Wal-Mart stores in 21 states, and the arrests of 245 illegal workers. The retailer agreed to pay $11 million in March to settle the case. It has maintained that top executives neither knew of nor encouraged the practice, but that is contradicted by the newly released documents.
The affidavit was filed by the Bureau of Immigration and Customs Enforcement to secure search warrants for a 2003 raid on Wal-Mart Stores Inc. headquarters in Bentonville, Ark.
Qualcomm suing Nokia over GSM
NEW YORK >>
Qualcomm Inc.
is suing
Nokia Corp.
for alleged patent infringement, firing back quickly in a widening dispute over next-generation wireless technologies one week after Nokia and five other companies filed an antitrust complaint against Qualcomm in Europe.
The suit, filed Friday by Qualcomm in a federal court in San Diego, charges that Nokia cell phones sold in the United States infringe on 11 patents for improving wireless Internet access and data transmission on the dominant cellular standard -- GSM, or Global System for Mobile.
Stern suspended for self-promotion
Viacom Inc.
radio show host Howard Stern, who will be moving to
Sirius Satellite Radio Inc.
in January, was suspended for a day by Viacom's Infinity Broadcasting.
Stern won't appear on Infinity's 20-plus stations today, and will return tomorrow, Infinity spokeswoman Karen Mateo said yesterday. She declined to comment on the reason for the suspension.
Stern's Howard 100 news channel on Sirius said the host was suspended for talking too much about his move to satellite radio, said Stern spokesman Matthew Traub
WORLD
Millions needed to fight bird flu
Poor nations need hundreds of millions of dollars and expert disease trackers to help avert a flu pandemic whose cost might reach $800 billion, health officials said at a conference in Geneva.
Representatives from Indonesia, Laos and Cambodia said they need cash now to detect the earliest signs the avian flu has become dangerous to humans. Indonesia needs at least $130 million to control outbreaks among birds -- crucial to preventing the flu's spread to people, said Sri Mulyani Indrawati, the country's minister of national development planning.
---
Star-Bulletin news services