| | |
| --- | --- |
| | Newswatch |
---
China among nations to buy stealth secrets
A 61-year-old Maui man who helped design the B-2 stealth bomber and has been charged under federal espionage statutes sold military secrets to China, ABC News reported last night.
Noshir S. Gowadia, who worked to build the stealth as a design engineer at Northrop Corp. from 1968 to 1986, was charged on Oct. 26 with one count of willfully communicating national defense information to a person not entitled to receive it.
An affidavit filed in federal court accused Gowadia of selling secrets on the B-2 bomber's classified technology to representatives from at least eight countries, but did not release which nations were involved.
ABC reported last night that unidentified government sources told it that Gowadia sold secrets to China, including classified information on the stealth's protection against heat-seeking missiles.
FBI officials in Honolulu have refused to comment on the investigation.
ABC also said that Gowadia's case has helped spur the creation of special units at all FBI field offices in the country aimed at combating Chinese espionage.
If convicted, Gowadia faces 10 years behind bars. He remains in federal custody after being denied bail on Oct. 29.
UH hosts physics and astronomy open house
Residents interested in such complex subjects as nanophysics, cosmic ray physics and astronomy research can learn more about them at an open house Nov. 19 at the University of Hawaii-Manoa Physics and Astronomy Department.
The activities will begin at 8:30 a.m. in the Hawaii Institute of Geophysics Auditorium with an overview of events presented by faculty and students at Watanabe Hall and Krauss Annex.
Group visits will be led to 10 sites until 11 a.m., and people can visit them informally from 11 a.m. to 12:30 p.m.
Visitors can learn how particle detectors are used in experiments studying anti-matter, how free-electron laser technology is used to make beams of light-using electrons, and how electron microscopes are used to study particles of atomic dimensions.
Students will guide hands-on activities to illustrate physics principles and visitors can play with toys that illustrate physics principles. For more information, see the News & Events section of the Physics & Astronomy Web site at www.phys.hawaii.edu.
TAKING NOTICE
---
» Hawaiian Cement awarded scholarships to three college-bound children of its employees in 2005. Recipients of $8,000 awards were Kellie Tanigawa, a graduate of Pearl City High School and daughter of mechanic John Tanigawa; and Chanel Shiraishi, of Kapolei High School and daughter of Robert Shiraishi, a batch plant operator. Joshua Malehorn, a Kalaheo graduate and son of sales manager Jim Malehorn, has received a $4,000 scholarship.
» Achievement Rewards for College Scientists- Honolulu has presented its 2005 Scholar of the Year award, worth $6,000, to Karen Maruska, a zoology graduate student at the University of Hawaii at Manoa. Eight other doctoral students received $5,000 awards for outstanding performance, including: Kimberly R. Andrews, zoology; Mirella Vasquez Brooks, nursing and dental hygiene; Michael Cress, information technology management; Gaur Johnson, civil and environmental engineering; Elizabeth J. McGrath, astronomy; Wallace "Marty" Meyer, zoology; Chrystie Naeole, cell and molecular biology; Lynette Ramirez, mechanical engineering.
» Maryknoll School honored three of its alumni with achievement awards for their community service. They are: Madge Goto Watai, class of 1945, a retired Superior Court judge and a hearing judge in the State Bar court of California; Charlene Wong Lum, class of 1960, a grade school teacher at Maryknoll for over 35 years and a teacher in California and Massachusetts; Dr. Richard S.K. Young, class of 1965, now a faculty member at Yale Medical School and chairman of the pediatrics division at the Hospital of St. Raphael in Connecticut. He is also a lieutenant colonel in the Medical Corps of the Connecticut Army National Guard who recently returned from a one-year tour in Iraq.
» The Rita Thompson Music Scholarship Fund has given five scholarships to pianists: Evan Lin of Momilani Elementary School; Michelle Morimoto, home school; Sandra Tang, Moanalua High School; Blaise Tom, Saint Louis School; and to percussionist Casey Kawahara, Highland Intermediate School.
---
Police, Fire, Courts




By Star-Bulletin staff



EAST OAHU
Text-messaging driver hits truck on Kalanianaole
Police said a head-on crash on Kalanianaole Highway happened yesterday when a man trying to text-message on his cell phone drifted into the oncoming lane, colliding with a pickup truck.
The accident happened about 2 p.m. near the Halona Blowhole, a fire dispatcher said. No one was seriously injured.
Police were investigating the crash yesterday and could not say whether charges would be filed against the driver of the BMW sports car. Ages for the drivers were not immediately available.
HONOLULU
Arson evidence found in Kaimuki house fire
Honolulu police said a house fire Wednesday in Kaimuki was intentionally set.
The fire caused roughly $1,200 in damage to the laundry area of a Pahoa Avenue home about 4:30 a.m., police said.
Investigators said later that there was evidence of an incendiary used to start the blaze, indicating arson.
Police seek 2 men from furlough center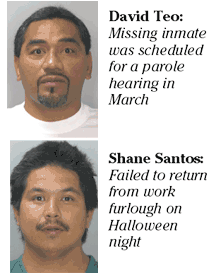 Police are looking for two men who have escaped from the Laumaka Work Furlough Center in separate incidents.
Police want the public's help in finding David Teo, 42, who failed to return to Laumaka at 8 p.m. Oct. 31. Teo was scheduled for a parole hearing in March.
Teo is described as Samoan, 5 feet 10 inches, 232 pounds, with black hair and brown eyes.
Police are also looking for escapee Shane Santos, who failed to return to the Laumaka Work Furlough Center at 9 p.m. Oct. 31. Santos, 36, was up for parole Nov. 22.
Santos is described as Hawaiian, 5 feet 9 inches, 257 pounds, with black hair and brown eyes.
Anyone with information on either men is asked to call CrimeStoppers at 955-8300, or *CRIME on a cell phone.
UH investigating 2 pellet gun shootings
University of Hawaii at Manoa campus security is seeking information about two incidents last week involving pellet guns.
A student was shot in the arm with a rubber pellet Oct. 27, and the body of a cat was found shot with some sort of air gun, according to UH officials.
Both the shooting and discovery of the dead cat took place near a campus dormitory. Anyone with information about either incident is asked to call campus security at 956-6911.
NEIGHBOR ISLANDS
Kauai girl, 17, last seen at home Oct. 7
Kauai police want help finding a 17-year-old girl last seen at her home on Oct. 7.
Shadow Snodgress is 5-foot-4, 110 pounds, with hazel eyes and curly brown, shoulder-length hair. She has a scar on her right arm and scars on her left hand.
Anyone with information is urged to call police at 241-1711, 241-1696 or CrimeStoppers at 241-1887.
Owner of buildings blamed for Kauai fire
Fire destroyed a warehouse and damaged a nearby garage on Crossley Road in the Wailua Homesteads on Kauai last night.
Residents of four neighboring homes were evacuated shortly the fire was reported at 6:30 p.m.
It took 21 firefighters about an hour to bring the fire under control.
Kauai Fire Department investigator David Bukoski said the fire started after the owner of both buildings failed to put out all hot spots after burning weeds with a propane torch in a controlled burn.
Gerald Ibson went into his home to eat dinner thinking he had doused all the hot spots, according to a Kauai County news release.
Neighbors came over shortly afterward to tell that his warehouse was on fire.
No one was hurt in the fire. Damage estimates were not available.
Prison escapee faces multiple charges
A 23-year-old man who escaped from the Hawaii Community Correctional Center last month with two other inmates has been charged with several counts, including second-degree escape, first-degree robbery, kidnapping and second-degree assault on a police officer.
The robbery and kidnapping charges stem from an Oct. 22 incident in which Kole Race-Joaquin and an accomplice allegedly rammed into a truck, beat the 26-year-old owner and took his 34-year-old friend against her will.
The two allegedly fled in the man's truck.
The woman, who knew Race-Joaquin, was found the following day in good health. Both victims suffered minor injuries, but did not require medical attention.
Race-Joaquin escaped from the correctional center on Oct. 2 with two other men, both captured last month. He was arrested Wednesday after a "low-speed vehicle pursuit" and attempt to flee on foot, police said.
He is being held on $300,000 bail at the correctional center. He escaped with inmates Shawn DeCosta, 25, and Frank Enos, 31.
Enos was arrested Oct. 13 in Puna. DeCosta was found in Kohala on Oct. 19.
LEEWARD OAHU
Police arrest man, 19, found in stolen car
Police arrested a 19-year-old man after officers found him sleeping in a stolen vehicle in Waianae on Tuesday night.
The owner of the vehicle called 911 after he saw his vehicle near Maili Beach Park with the suspect inside about 11:25 p.m.
Police discovered the suspect sleeping and noticed a damaged ignition and no car keys. The suspect was arrested for investigation of detaining stolen property.
Man, 43, arrested in bat attack on brother
Police arrested a 43-year-old Waianae man after he allegedly broke his brother's arm and foot with a bat yesterday.
Both the suspect and the victim, 49, live with their mother and got into an argument in the living room. During the argument the suspect grabbed a wooden baseball bat leaning against the wall and struck his brother five times on his left arm and right leg, police said.
The suspect was arrested for investigation of second-degree assault and the victim was taken to the Waianae Coast Comprehensive Health Center for treatment of fractures in both his arm and foot.
Radio station "posse" help car-theft victim
An auto theft victim got her stolen car back thanks to Honolulu police and the "KSSK Posse" yesterday.
Police said that at about 6:40 a.m., a 34-year-old woman heard her Toyota Scion being started outside her Mililani home. She looked out and saw it being driven away, with three men inside. She ran outside, but the suspects sped away.
After notifying police, the victim called the radio station KSSK, which broadcast an all points bulletin to its listeners. One listener called in and said she saw the vehicle in the Kapolei area, where police had also broadcast an all points bulletin.
An officer spotted the suspects traveling Waianae-bound on Farrington Highway near Kamokila Boulevard and stopped the car. The occupants of the vehicle fled on foot. Police caught and arrested the driver, a 24-year-old man, for investigation of auto theft.