---
[ FAST FACTS HAWAII ]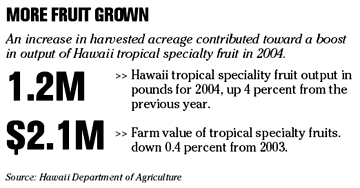 ---
BACK TO TOP


|


HAWAII
ABC plans 2-story building in Waikiki
ABC Stores
has announced that it plans to construct a two-story commercial building on the corner of Kuhio Avenue and Olohana Street.
ABC Stores purchased the site, which is adjacent to the condominium development Lanikea at Waikiki, for an undisclosed price from A&B Properties during the first quarter.
The retail building, which is being designed by ADM Retail Planning & Architecture Inc., will have an ABC retail store on the ground level and a restaurant tenant on the second level. The Hawaiiana design will feature a large, open corner plaza with fixed seating and tropical landscaping.
NATION
Continental loses $115M in October
HOUSTON »
Continental Airlines Inc.
said yesterday it lost about $115 million in October and expects to post a "significant loss" for the fourth quarter and all of 2005.
Chairman and Chief Executive Lawrence W. Kellner said he hoped that a recent pullback in fuel prices would mean losses in November and December losses wouldn't be as large.
Kellner gave the outlook in a recorded message for employees, and the company also disclosed it in a filing with the Securities and Exchange Commission.
Officials had warned last month that they expected a loss in the fourth quarter, but yesterday's filing was the first time the Houston-based carrier had put a dollar figure on October results.
Continental, the No. 5 U.S. carrier, earned $61 million in the July-September quarter on record sales of $3 billion.
Fed chair nominee's hearing set
WASHINGTON » The Senate is wasting no time putting White House economist Ben Bernanke in place to succeed Alan Greenspan upon the Federal Reserve chairman's retirement Jan. 31.
Unlike President Bush's nominee to succeed Sandra Day O'Connor on the Supreme Court, Bernanke is getting a quick one-day confirmation hearing Nov. 15 before the Senate Banking Committee.
The panel released the schedule a day after the Senate Judiciary Committee informed the White House that it won't be taking up Judge Samuel Alito's nomination to the Supreme Court until Jan. 9.
Bernanke, 51, a former Federal Reserve governor and Princeton University professor, is chairman of the White House's Council of Economic Advisers. If approved by the Senate, which is expected, Bernanke would succeed Greenspan, 79, who will step down on Jan. 31 after 18-plus years at the helm of the central bank.
Guidant deal deadline passes
INDIANAPOLIS » Legal problems for struggling medical device maker
Guidant
grew yesterday as a deadline to close a $25.4 billion acquisition by
Johnson & Johnson
passed with no apparent movement by either side.
The two companies had a self-imposed deadline to close the deal yesterday, but efforts stalled Wednesday when New Brunswick, N.J.-based J&J said it might not proceed because of sweeping recalls and regulatory investigations that have hit Guidant since June.
Guidant has said that neither company is depending on the deal for future financial success, but that J&J is still obligated to complete the takeover.