---
[ FAST FACTS HAWAII ]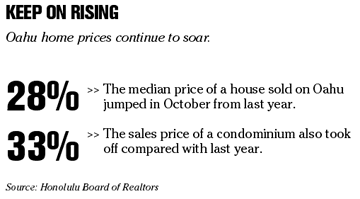 ---
BACK TO TOP


|


HAWAII
2 local tech firms get investments
Two Honolulu tech companies received financing yesterday, with
Servco Pacific Inc.
investing $1.3 million into medical device maker
Hoana Medical Inc.
and several investors putting $2.15 million into
Nanopoint Inc.
, a nanotechnology firm.
Hoana is making a product that can track vital signs of patients without any wires or connections. Servco is an 86-year-old local conglomerate that includes auto sales, insurance and real estate.
The group of investors in Nanopoint included Advantage Capital Partners, Global Venture Capital, the UH Angels and others in California and Hawaii.
Tesoro triples quarterly earnings
SAN ANTONIO » Oil refiner and marketer
Tesoro Corp
., which operates the largest refinery in Hawaii, said third-quarter income more than tripled on sharply higher refining margins in a market squeezed by tight supply and heavy demand.
Net income totaled $226 million, or $3.20 a share, compared with $65 million, or 93 cents a share, in the year-earlier quarter. Recent results include a tax charge of $5.6 million, or 8 cents a share for insurance premium expenses related to damage from hurricanes Katrina and Rita. The year-ago quarter includes charges of $12 million, or 18 cents per share, for debt payment.
Revenue jumped 53 percent year-over-year to $5 billion from $3.3 billion. Refining margins surged to $13.87 per barrel, compared with $8.27 per barrel last year.
The company also said it doubled its quarterly dividend to 10 cents per share, payable Dec. 15 to shareholders of record Dec. 1.
Top Hawaii attorneys to be honored
Several of Hawaii's most distinguished attorneys will receive the "Legal Legends of Hawaii" award tonight during the annual dinner of the Hawaii State Bar Association.
Honorees will be retired Hawaii Supreme Court Chief Justice William S. Richardson; Senior Federal Judge Samuel P. King; retired Family Court Judge Betty Vitousek; C.F. Damon Jr., founder of Damon Key Leong Kupchak Hastert; former Deputy Attorney General Alana Wong Lau; and the late Hawaii Supreme Court Justice Bert T. Kobayashi Sr., who died last month.
The event will be held at 8 in the Tapa Ballroom at Hilton Hawaiian Village.
Hawaiian Airlines tops other carriers in service
Hawaiian Airlines
scored better than all other U.S. carriers in September for most on-time service and fewest complaints and cancelations, according to the U.S. Department of Transportation's monthly Air Travel Consumer Report.
The airline ranked second for baggage handling and third for oversales of airplane seats.
NATION
Hawaii operations boost Boyd
LAS VEGAS » Casino operator
Boyd Gaming Corp.
, which operates daily charter flights to Las Vegas from Honolulu, said third-quarter profit slipped as the company paid off debt during a quarter saddled with hurricane costs.
Net income slipped to $32.9 million, or 36 cents a share, from $35.5 million, or 40 cents a share in the prior year.
Vacations Hawaii, the company's Honolulu travel agency, had revenue of $12.8 million, up 15 percent from $11.1 million a year earlier. Boyd said the Hawaii market helped boost revenue 8.2 percent for the company's downtown Las Vegas properties.
Boyd said last quarter's results included a loss of $17.5 million, or 13 cents a share, for debt repayment, as well as $7.3 million, or 5 cents a share, in expenses related to damage from the quarter's hurricanes. Per-share earnings excluding those items and others were 57 cents versus 38 cents a year ago.
Four of the company's Louisiana and Mississippi properties were damaged, disrupted or closed at some point during the quarter, beginning with the arrival of Hurricane Katrina in late August. Boyd said a strong performance in its "key growth markets" of Las Vegas and Atlantic City lifted results.
Mortgage rates hit 16-month high
WASHINGTON » Rates on 30-year mortgages climbed to the highest level in 16 months last week, marking the fourth straight week they have been above the 6 percent level.
Mortgage giant Freddie Mac reported yesterday that the nationwide average for 30-year, fixed-rate mortgages rose this week to 6.31 percent, up from 6.15 percent last week. It was the highest level since 30-year mortgages were at 6.32 percent in June 2004.
Rates on all other types of mortgages were also up this week, reflecting growing nervousness in financial markets about inflation pressures, triggered in part by the better-than-expected 3.8 percent growth rate the economy turned in during the July-September quarter.
One-year adjustable rate mortgages rose to 5.09 percent. This was up from 4.91 percent last week and pushed the one-year ARM to its highest level in 3 1/2 years.
[HAWAII INC.]
Promotions
»
CB Richard Ellis Hawaii Inc.
has promoted
Jay J. Schalow
and
Rebecca J. Deren
to real estate managers,
Framil Valdez
to senior analyst and
Heather Clark
to assistant real estate manager. Schalow will be responsible for managing a portion of the Kamehameha Schools' Kakaako portfolio and the Kakaako Commerce Center. Deren will be responsible for managing Kauai Village Shopping Center in Kapaa, Kukui Marketplace in Lihue and the
Grove Farm Co.
portfolio on Kauai. Valdez will be responsible for transitioning properties by providing specialized data and oversight of lease administration. Clark previously served as property accountant. She will be responsible for assisting the senior staff at Koko Marina Shopping Center.
» Bennet Group Strategic Communications has promoted one staffer and hired several new employees. Alyson Helwagen has been promoted to vice president from account director. She was previously a newspaper travel editor, magazine editor and freelance writer. Sharon Chen and Lee Tokuhara have been hired as account directors. Angie Flaherty has been hired as an assistant account executive.
» Pacific Allied Products Ltd. has promoted John McDermott to PET division manager. He has more than 27 years experience in the plastics industry.
» ResortQuest Hawaii has appointed Clinton Owen as general manager of the ResortQuest Islander on the Beach on Kauai. He will be responsible for the management of the property and guest services. He previously served as the Islander's real estate sales coordinator and general manager of ResortQuest Maui Condominium & Homes.
On The Board
» The Hawaii Transportation Association has elected
John Jackson
president. He has worked for
Kahului Trucking & Storage
for 15 years.