---
[ FAST FACTS HAWAII ]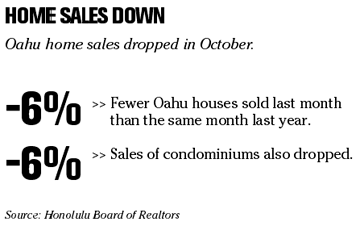 ---
BACK TO TOP


|


Aloha Air dispatchers ratify new contract
Aloha Airlines
, seeking its second round of labor concessions since entering bankruptcy last December, said yesterday that the union representing 30 dispatchers and crew schedulers at the carrier has ratified a new contract.
The carrier also has reached tentative agreements with its mechanics and clerical, passenger-service and ramp-service employees, but those contracts have yet to be ratified. Aloha is still negotiating agreements with its pilots and flight attendants and is seeking court approval to terminate their contracts and the pilots' pension plan.
The new contract with the Transport Workers Union, if approved by the U.S. Bankruptcy Court, would run through April 2009.
Only 6 in state seek bankruptcy
Hawaii bankruptcy filings virtually dried up in October after a federal law took effect on Oct. 17 that made it more difficult and costly to seek financial relief.
Only six parties sought bankruptcy protection between Oct. 17 and the end of the month, compared with 1,457 during the first 16 days of October.
A&B to develop California center
Alexander & Baldwin Inc.
is teaming up again with
Intertex Properties
to develop a 120,600-square-foot retail center in Valencia, Calif., that will be called Bridgeport Marketplace.
The center will be built by joint venture Bridgeport Marketplace LLC on just more than half of a 27.8-acre parcel that was purchased last week for $6.6 million from Newhall Land & Farming. Five acres of the parcel will be dedicated to the City of Valencia for parks. The balance will be sold to a third party.
The project marks the fifth time that A&B's real estate subsidiary has worked on a joint project with Intertex, a Valencia-based developer and general contractor.
Rotary to honor McPhee, Denny
The Rotary Club of Honolulu posthumously will honor Roderick F. McPhee and Martin Denny with Record of Lifetime Achievement Awards at a ball and auction at 5:30 p.m. Saturday at the Sheraton Waikiki.
The event is sold out.
McPhee, president of Punahou Schools from 1968 to 1994, was president of the rotary club from 1975 to 76. Denny, a musician and originator of "Exotica" music, was a longtime member and frequently entertained at rotary meetings. Both McPhee and Denny died earlier this year.
Proceeds will support current rotary projects such as Foster Family Programs of Hawaii; Families in Crises, a drug intervention program; literacy programs in Hawaii public schools; the Children for Peace program; and the Mobile Health Clinic in the Philippines.
Horizon Lines' profits sink 71%
Horizon Lines Inc.
, the second-largest ocean shipping company in Hawaii behind
Matson Navigation Co.
, said yesterday that net income fell 71 percent in the third quarter to $2.8 million from $9.5 million largely because of nonrecurring expenses related to the company's initial stock offering in September.