---
[ FAST FACTS HAWAII ]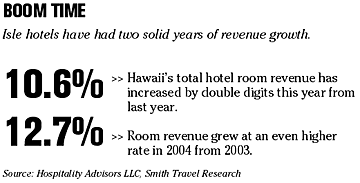 ---
BACK TO TOP


|


Pleasant Holidays offers free Shuffles
Pleasant Holidays
customers who book a four-night trip from Hawaii to the mainland will get a free iPod Shuffle digital music player for travel now through Jan. 15.
Trips must be booked with Pleasant Holidays through Nov. 30, and must include hotel accommodations for at least four nights and air fare to the 13 cities served by Pleasant Holidays in five western states.
Apple Computer's price for a Shuffle starts at $99.
Hoku Scientific adjusts earnings
Hoku Scientific Inc.
has corrected its results for the three and six months ended September 30 to record a liability of $56,000 related to its former offices in Honolulu.
The result was a decrease in basic earnings per share to two cents from three cents per share, which Hoku had reported last month for the quarter that ended in September.
Hoku, a fuel-cell technology developer, moved to new headquarters in Kapolei in August. The $56,000 expense includes an estimated three months of rent the company must pay for its empty former space in Honolulu.
Bankoh, CPB win top honors
Bank of Hawaii
won the U.S. Small Business Administration's top honors for the third year in a row for providing the most loans under a program run by the agency.
The bank provided 133 loans totaling more than $9.5 million during the agency's last fiscal year. Central Pacific Bank also took top honors for 73 loans totaling $4.86 million.
Naomi Masuno of Central Pacific, responsible for 31 loans, was named Lending Officer of the Year for 2005.
The awards were presented at a breakfast last week in downtown Honolulu.
Nanopoint named award finalist
Nanopoint Inc.
, a Honolulu-based company that builds ultra-high resolution intracellular imaging products, has been named a finalist for the 2005 World Technology Awards.
The awards honors individuals and corporations in the tech sector who were viewed by their peers as being the most innovative and whose work has the greatest likelihood of long-term significance. An awards ceremony is scheduled for Nov. 15 in San Francisco.
[HAWAII INC.]
NEW JOBS
» The Kauai Visitors Bureau has appointed
Maile Horner
travel industry sales manager. She will be responsible for North America travel trade and the Kauai Destination Specialist program. She most recently worked for Primm Valley Casino Resorts in Nevada as sales coordinator.
» Windward Mall has hired Janna Herrington as a marketing assistant. She previously worked for Airbrush Hawaii.
» Aloha Airlines has appointed Richard Scholl maintenance and engineering vice president. He has 45 years of experience in aviation. He replaces John Brom, who left the company earlier this year.
PROMOTIONS
>>
Hawaiian Commercial & Sugar Co.
has promoted the following personnel to vice presidents:
Frank E. Kiger
, vice president, factory operations;
Rick W. Volner Jr.
, vice president, farming operations;
John T. Jackson
, vice president, strategic planning;
Douglas R. Jones
, vice president, agricultural services;
Glenn M. Wilbourn
, executive vice president,
Kahului Trucking & Storage Co. Mae H. Nakahata
has added the title of director of crop control.
Lee A. Jakeway
will transfer to director of energy development and planning.
» Kaanapali Golf Courses has promoted Calvin "Cal" Poouahi to superintendent. He will oversee the maintenance and upkeep of both the north and south golf courses and the renovation of the south course.
» Hilton Waikoloa Village has promoted Andrea Hennings to sales manager. She will be responsible for territories including Hawaii, Pacific Northwest and Midwest territories as well as Europe and Canada. She has more than nine years of experience in sales in the hospitality and broadcast media industries.
» Territorial Savings Bank has announced three employee promotions and one appointment. Robert Takeshita has been promoted to assistant vice president and the company's downtown branch manager. Priscilla Yamamura has been promoted to assistant vice president and Kahului, Maui, branch manager. Marc Hirai has been promoted to assistant vice president and Kaimuki branch manager. Laurie Imanaka has been appointed McCully branch manager.